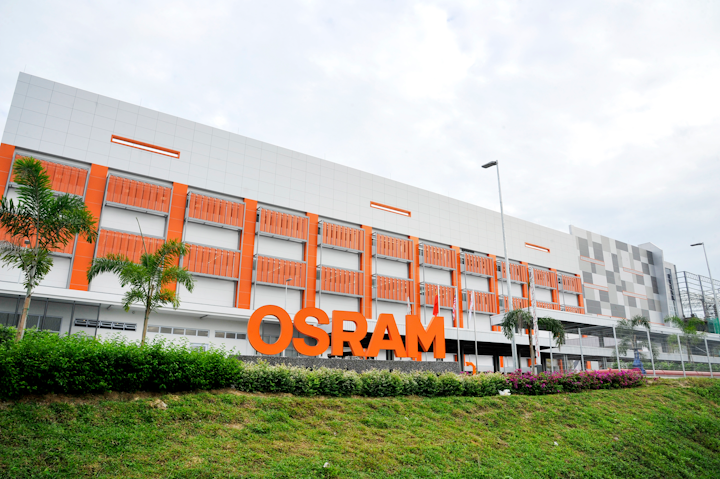 The company bidding for Osram via the stock market has opened the buying process with a plan that augurs shutdowns at Osram's expensive new Malaysian plant, a dose of job protection in Germany through 2022, and a possible reprieve for Osram's Internet of Things (IoT) lighting group, which had been under threat.
Austrian sensor firm ams, which failed in its first attempt to buy Munich-based Osram a month ago, is now free to buy shares in its second attempt, following approval of its offer document by the German Federal Financial Supervisory Authority. It is offering shareholders €41 ($45.28) per share until midnight Dec. 5, central European time.
The new offer, which ams formulated two weeks ago but which could not go live until regulators approved it, seeks a minimum of 55% of Osram shares. In its earlier attempt, ams at first sought 70%, a level it lowered to 62.5%. Its quest fell short at 51.6% as the bid expired on Oct 1. AMS itself owns 19.9%, but it is now starting completely over to achieve levels above that.
The first plan had encountered resistance including from German employee groups worried about job losses. In a new 78-page offer document posted on its website, ams said it will indeed cut jobs in Germany, but that it will apply "an employment protection on the sites in Germany" through Dec. 31, 2022.
Even with that, it did not seem to completely rule out German job cuts, as it spelled out provisions it might take "in case of potentially necessary redundancy dismissals." Those measures would include cutting temporary workers, trimming work weeks to under 40 hours, job transfers, partial retirement, and others.
The document states that ams will honor existing pension and partial retirement plans for Osram employees.
And it said that it will cut jobs at Osram's Munich headquarters while also running Munich as a co-headquarters along with ams' Premstaetten, Austria home.
Reductions are also likely at Osram's newfangled but underutilized Kulim, Malaysia plant, as ams said that an Osram acquisition "may or may not lead to a concentration of the front end manufacturing in Regensburg (Osram's main manufacturing site in Germany) by moving lines from Kulim to available clean room spaces there."
Osram opened the $440 million state-of-the-art Kulim LED production facility to great fanfare in November 2017, with ambitious plans to expand it amid an anticipated demand for optical chips supporting not just lighting but all sorts of other things, such as autonomous vehicles, fitness devices, health gadgets, augmented and virtual reality glasses, and more.
But Kulim has not been spared the job cuts that have also hit other Osram operations amid disappointing optical-chip market developments.
In one twist that could resuscitate the future of Osram's IoT lighting business, the new offer document pulls back from ams' earlier notion of selling off Osram's digital group, which is the entity responsible for tying lighting into the Internet by embedding sensors and chips that help collect data.
The first time around, ams had characterized the digital group as "non-core" to a would-be combined Osram/ams and indicated its intention to find a new owner for the group.
But in its new offer document, it presents a different outlook, noting that it is "willing to jointly review and evaluate" those intentions.
AMS made its first offer — the one that expired on Oct. 1 — through an ams subsidiary called Opal BidCo GmbH. It is making its new bid through a different subsidiary, ams Offer GmbH.
Osram and ams have yet to finalize the organizational details — such as jobs — that would define a combined entity. The offer document states that the two companies are still hashing out a "Business Combination Agreement" that would spell out how €1.4 billion ($1.5B) ams would absorb €4.1B ($4.5B) Osram. One thing they are clear on is that they will retain the Osram brand.
AMS hopes to create a company that combines its sensor expertise — ams is big in the cellphone market — with Osram's photonics.
Osram itself has been emphasizing it photonic chip capabilities. It recently introduced new infrared LEDs for use in augmented and virtual reality, for instance.
Osram is scheduled to report its 2019 fiscal year-end results on Tuesday.
MARK HALPER is a contributing editor for LEDs Magazine, and an energy, technology, and business journalist (markhalper@aol.com).
*Editor's note: ams reports financials in USD while Osram reports in EUR; currency is provided in both EUR and USD for consistency. Currency is provided at the latest valuation as of time of publication.