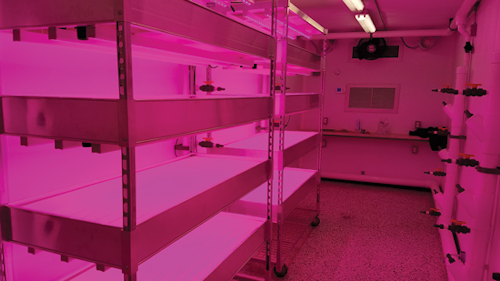 MAURY WRIGHT explores how a health-conscious Texas grocery store is using vertical farming and SSL in a recycled shipping container to offer customers the freshest possible herbs, lettuce, and other greens.
Transportation costs and time are the enemies of getting fresh produce to consumers, and are a significant driving force behind the proliferation of LED-lit vertical farms located near urban population centers. For example, Green Sense Farms located in Indiana has a vertical farm in a warehouse that uses 8000 4-ft linear LED fixtures to grow micro greens, herbs, and lettuce for supply to the greater Chicago area. But Texas grocer Central Market wants to reduce transportation time and cost even more dramatically, and has a vertical farm with solid-state lighting (SSL) in a recycled shipping container located outside the backdoor of one of its Dallas-area stores. Customers at that store can opt for store-grown lettuces (Fig. 1) and herbs that have a commute of about one minute to reach the produce section.
Interested in articles & announcements on horticultural lighting?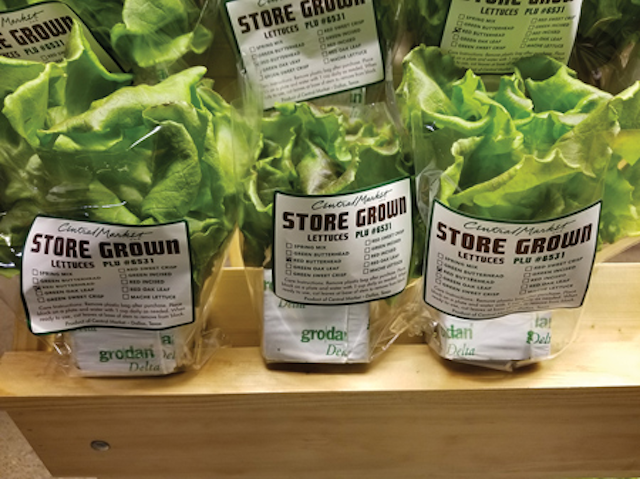 FIG. 1. Store-grown produce such as lettuce is branded at the Central Market in Dallas and sold in a dedicated area with the plants live and roots attached in soil-less media.
Central Market is an offshoot of mainstream grocery chain H-E-B. There are about ten of the specialty stores located around the state of Texas. Visit one and it feels something like a Whole Foods market on steroids. There are even more specialty items in every part of the store. When we visited the Central Market on East Lovers Lane in Dallas, for example, there was a tomato display that seemed to be around 20 ft long or more and housed dozens of heirloom varieties. The variety in every department — bakery, fish, meat, cheeses, and more — was amazing and all appeared to be absolutely top quality.
The grocer sources products from all over the world including wines and cheeses, but there is a clear focus on freshness in the produce section. The store doesn't exclusively sell organic products, but the company's website says that out of 700 varieties of fruits and vegetables, 150 are organic. Moreover, the organic label may not even be the critical qualification in the vertical-farming era where hydroponically-fed lettuces and greens don't even require washing.
Motivation and business model
Central Market had a number of reasons that led it to experiment with growing its own produce at the aforementioned store location. There are hard costs associated with transportation and soft costs with spoilage. Some produce may be harvested three weeks before making its way into a consumer's meal and most everyone agrees fresh tastes better. The executives behind the Central Market project have said that taste and quality are driving forces behind the experiment. Moreover, the potential exists for using LED-based horticultural lighting with tunable light recipes to change the taste or the look of a plant, although such research is in the early stages. Light recipes will be a hot topic at our upcoming Horticultural Lighting Conference set for Oct. 17 in Denver, CO (horticulturelightingconference.com/usa/; see "Cultivating horticultural science knowledge in Colorado" below).
Of course, the cost of any such local-farming initiative is a critical item. Central Market has not released any information about the cost of what is called a Growtainer by its manufacturer, GreenTech Agro. Ultimately, the cost to buy, install, and operate the vertical farm will have to achieve return on investment if the hyper-local initiative is to progress beyond one store. Central Market has said that the store-grown produce will be priced similarly to the same type of products from its other specialty suppliers.
The store is selling the produce with the plants still alive in small pots with the roots in hydroponic soil-less media. A customer could carry a purchase home and plant it if so desired, but the primary intention is that consumers will enjoy produce that's essentially harvested minutes before preparation. The cost of the various greens and herbs was in the $4 range when we visited the store.
The project took about two years for realization of the Growtainer out back of the Dallas store. Glenn Behrman is president of GreenTech Agro and also operates a horticultural-centric consulting business called CEA Advisors. Behrman worked with Central Market in defining what the grocer wanted to accomplish and delivered the customized Growtainer. When we visited with Behrman at the Dallas store in June, the Growtainer had been in operation almost eight weeks, and store-grown produce had been on the shelf for just a few weeks. Lettuce can take five to six weeks from planting to harvest and some herbs can take as little as two weeks.
Growtainer architecture
Central Market's Growtainer was built using two shipping containers. A 40-ft-long container houses the growing space with four layers of racks of growing space running the length of the container on each side of a narrow aisle. Behrman designed the rectangular metal racks and has them custom manufactured to hold the hydroponic liquid that circulates thought the soil-less media to the roots of each plant (Fig. 2). The water and nutrients can be individually supplied to any of the racks in the Growtainer.
FIG. 2. An under-construction image shows the grow racks installed on one side of the Growtainer; you can clearly see on the right side where there are no racks that there is plumbing enabling each rack to receive a customized nutrient and water mix.
A separate 13-ft-long section of a second shipping container has been welded onto the 40-ft container, forming a 53-ft unit. The smaller section houses the climate control, hydroponic, and other systems vital to Growtainer operation. Fig. 3 shows part of the water- and nutrient-control system.
The closed-loop control system maintains environmental variables such as temperature, humidity, and carbon dioxide levels, and feeds the plants on a set schedule. Before any water is pumped into any part of the growing chamber, sensors check water characteristics such as pH balance and for appropriate levels of nutrients. The system can mix in more fresh water or nutrients to create the desired balance before circulating the water.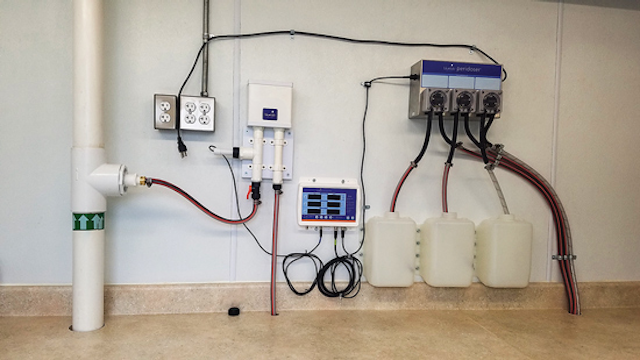 FIG. 3. The water and nutrient mix is constantly tested and adjusted as different groups of plants are fed.
Indeed, Behrman stressed a number of times that successful vertical farms are all about balance. He said you could have perfect light and bad plant food and get nowhere. Bad light and perfect food would also deliver poor results. Behrman has been involved in the horticulture sector for 45 years.
Once the water is circulated through the growing racks, it is returned into a storage tank for reuse. Behrman installed an ultraviolet (UV) light to treat the reclaimed water so that if one set of plants in the Growtainer suffered from some pathogen, the water would not spread the pathogen. Our Horticultural Lighting Conference in Chicago last October featured a Closing Plenary talk about UV light and plant pathology. And of course the water is always rebalanced for each usage.
The Growtainer uses linear GreenPower horticultural fixtures from Philips Lighting. Since the target plants are all leafy greens, the mix of red and blue LEDs in the fixtures are all the light needed for effective yield. As we covered in the aforementioned prior article, biomass products can need a broader spectrum. The current Growtainer implementation does not vary the light recipe based on plant stage or cultivar. Many people in the horticultural industry believe that changes in the recipe can improve yield. Behrman doesn't seem to buy that concept for now, although he said he is continuously researching and experimenting with LED lighting.
Making the farm operational
Distributor Hort Americas worked with Central Market and Behrman in outfitting the Growtainer with the required equipment and supplying nutrients, growing media, and other consumable supplies. Moreover, Hort Americas employees worked in a consultative role in getting the farm operational, but when we visited the operation had been handed over to two store employees who spend significant portions of each day on the farm.
The LED lighting is on for 18 hours a day. The circadian cycle of plants is another topic that will be discussed at our upcoming conference. It's clear that some cultivars need a rest period, although there are some that believe leafy greens could benefit from longer exposure than other types of plants and perhaps 24 hours of light. The grocery store will surely adapt the operation over time based on yield.
When the Growtainer had first been installed, Central Market had said in a Dallas News article that the store-grown operation would focus at first on a short list of crops including red and green leafy lettuce, butter lettuce, spring mix, regular basil, Thai basil, and wasabi arugula. The latter couple of herbs would fulfill a store goal of providing fresh access for foodies and chefs to ingredients not typically grown in the area.
When we visited the store, the product offering had already expanded quite a lot. There was kale mix, mizuna, and some additional herbs. Fig. 4 shows some red lettuce. The store stations an employee near the store-grown display on a regular basis to mind the plants and answer questions. That employee said the produce department is still monitoring what resonates with consumers, and with relatively short growing cycles the local farm can adapt quickly.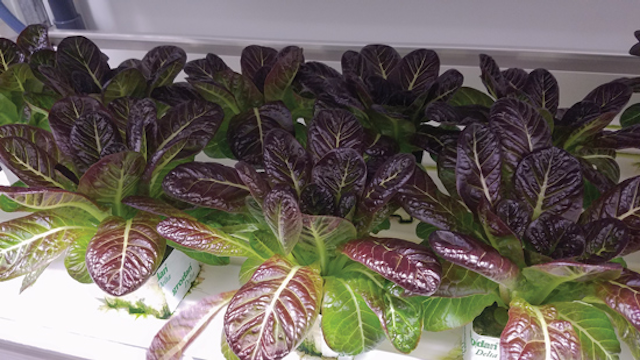 FIG. 4. Leafy red lettuce looks very fresh and appealing under white light.
Other container installations
The Central Market project is certainly not the only container-based vertical farm in operation. In the article we mentioned at the top of this story, we covered an operation called Local Roots that is using container-based vertical farming in the heart of downtown Los Angeles to supply local chefs. That company has also contemplated selling fully-operational container farms to others.
Still, Greentech Agro may have the most experience in the area. The company was partnered with the horticulture department at Texas A&M University for a few years and worked with the university to install two Growtainers. That relationship has come to an end.
Greentech Agro also supplied two Growtainers to the Community Food Bank of Eastern Oklahoma near Tulsa. Those Growtainers were funded by a grant and are allowing the food bank to supply fresh produce all year long.
FIG. 5. Spanish biotechnology firm Bioibérica may use Growtainers for plants that will be developed into pharmaceuticals.
Perhaps the most interesting installation was at the Spanish facility of the biotechnology company Bioibérica. As HortiDaily chronicled, Behrman worked with Dutch firm Stolze on the project located near Barcelona. The biotech company is initially using the Growtainer to produce greens for its onsite cafeteria. But Behrman told LEDs Magazine that, long term, the company is studying the capabilities of container-based vertical farming and would potentially use the technology to grow some of the plants that are used in pharmaceutical formulation in such Growtainers.
Still, it remains to be seen whether hyper-local farming can compete with growers like Green Sense, who combine the scale of traditional farming in warehouses with locations near the consumer. Green Sense has its products in customers' hands within 24 hours of harvest, including chefs and through retailers such as Whole Foods. And the transportation distance is well under 100 miles.
Behrman, however, said Central Market will consider adding Growtainers to other store locations depending on the success of the first installation. The grocer repeatedly declined our request for an official interview. Ultimately, it seems that the entire H-E-B chain would benefit from access to locally grown greens. One thing's for certain: The horticultural lighting world will remain a dynamic and exciting space in the coming years.
---
Cultivating horticultural science knowledge in Colorado
A new generation of farmers is leaning toward LEDs for horticultural lighting. Earlier this year, we'd written that the Horticultural Lighting Conference Europe in Eindhoven was a success in attendance and participation, bringing together academics, growers, and professionals in the LED lighting supply chain.
As Maury Wright has demonstrated here, operations large and small can benefit from applying the science of SSL to their horticultural ventures. But suppliers and growers still need to learn and collaborate to ensure that quality products generate a quality food supply.
Novel ideas such as the container farming method explained in this article are placing new demands on lighting and other systems that enable plant growth, especially in smaller urban spaces.
Other needs are also clamoring for attention in this expanding application area — from addressing the fundamentals of SSL for the grower, to the more complex problem of how to characterize and measure the utilization of LED light for optimal crop benefits, and what role UV LEDs can play in establishing healthy, robust plants. (For more background on UV LEDs in horticulture applications, read a Q&A with DNA Group's Emily Vaughn.) These are just a few examples of how science and technology can converge for incredible results that extend beyond the business economics of the LED and lighting markets — even as far-reaching as a positive impact on global welfare.
Look for that model of inquiry and alliance to continue, and seize the opportunity to mold the discussion this October in Denver, CO during the US Horticultural Lighting Conference (horticulturelightingconference.com/usa/) at the Denver Marriott City Center. — Carrie Meadows