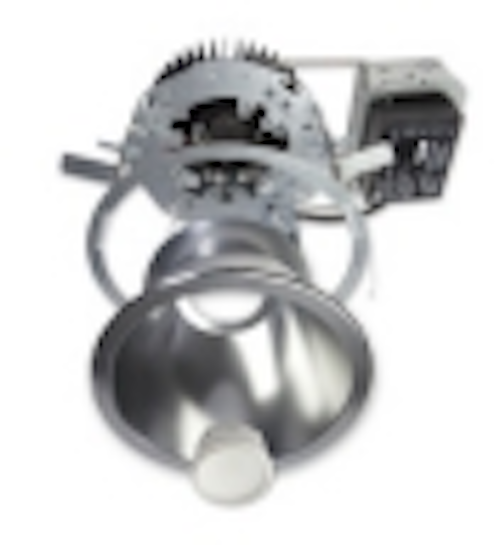 GE Lighting has announced the Lumination RI Series of LED downlights in 6-, 8-, and 10-in. diameter models delivering up to 4000 lm of high-CRI light for high-ceiling applications in settings such as retail. The company has also added the RS Series of solid-state lighting (SSL)retrofit products designed for use in existing low-ceiling incandescent, halogen, or compact fluorescent (CFL) recessed cans.
High-ceiling products
The RI Series is designed for installation into settings with ceiling heights ranging from 20 to 40 ft. SSL products are especially beneficial in such applications because of the maintenance requirements associated with legacy lamps. The long life of LED-based luminaires eliminates lamp replacement. The RI products are rated for 50,000 hours of life.
GE LED module product manager John Koster said, "With the long life and high lumen output of the RI Series, facility managers can rest easy knowing their maintenance dollars will no longer be going toward lifts and scaffolding for lamp replacements." Still, the RI Series does not compromise on performance with a CRI of 90 that can serve in high-end retail applications.
The light source in the RI Series is the GE Infusion LED module that is based on the Zhaga Book 5 specification. That twist-lock module provides for future lamp-like upgrades or maintenance through field replacement and also the ability for GE to offer many different lumen and CCT packages up front with the same basic fixture designs. The company also used the Infusion technology in the first Lumination-branded downlights — the DI series announced at the end of 2013.
"GE incorporated the Infusion downlight module, which provides maximum performance and brightness of the latest LED technology and simple customization of a lighting scheme to best fit the environment," said Koster. The new series comes in 1000- to 4000-lm versions and in a choice of 2700K, 3000K, 3500K, and 4000K CCTs.
Retrofit LED downlights
Meanwhile, the Lumination RS Series targets simple one-for-one retrofits in existing cans with minimal labor. The luminaires include an Edison screw base and clips that will hold the products in place after installation.
While the RI Series is intended at architectural specification-grade uses, GE considers the RS Series capable of serving in similar scenarios or as a contractor-grade product. GE specifically mentioned boutique, restaurant, hotel, and residential applications as targets for the retrofit products.
Evidently, the RI series is not based on the Infusion technology. GE only offers the products in 2700K and 3000K options with a CRI of 80 and a rated life of 35,000 hours. But apparently those specifications match the target applications.
"With its clean design and simple installation, the Lumination RS Series is an ideal solution for low-ceiling retrofits," said Koster. "Long life and reduced energy requirements make them the perfect choice for budget-conscious applications."