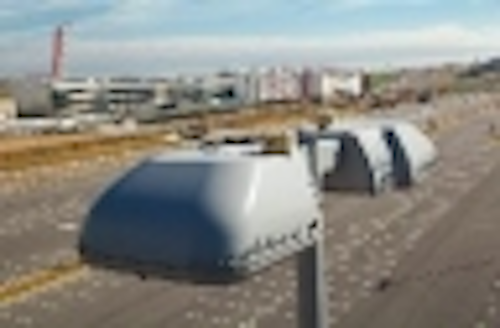 Acuity Brands has announced that it supplied an outdoor lighting system including its ROAMview lighting network technology to the new Circuit of The Americas (COTA) racing and events venue in Austin, Texas. The smart system is designed to minimize energy usage breaking the lighting into zones so that only areas being used a specific event are illuminated.
COTA is a new multi-purpose sports and events venue built in Austin to host Formula 1 auto racing, the 2014 ESPN Summer X Games, and other events. Acuity has supplied the outdoor lighting for the 1335-acre site including parking lots, the racetrack, and the associated facilities.
The lighting design primarily uses metal halide (MH) lighting that trails LED lighting in efficiency to a degree, although as we pointed out in a feature last year the latest MH technologies are very efficient. MH lighting can also provide broad-spectrum white light with good color rendering. And the ROAMview controls technology can further enhance energy savings.
"The system is exceeding expectations; it successfully maintains parking lot, roadway, and public walkway lighting with flexibility," said Leo Garcia, COTA head electrician of energy management. "It has created a safe and manageable environment for a multitude of events and situations."
The lighting design features five lighting-control scenarios based on having the total system broken into five lighting zones. There are ROAMview control nodes installed in 139 places spread around the facility. The wireless-network systems enables the facility to optimize lighting for minimal energy usage and visitor safety while automating maintenance operations.
The ROAMview system includes a central control system implemented in a web-based user interface that allows facilities employees to instantly or programmatically control the lighting. "Venue staff has expressed a high level of satisfaction," said Garcia. "The ability to easily adjust light settings across such a large area from one central location has made turning on and off lights really flexible for staff, so we hear a lot of positive feedback."
COTA is a multi-purpose facility that includes the first racetrack built in the US specifically for a Formula 1 race. The venue can host 120,000 fans and includes many facilities beyond the racetrack such as a 40,000-ft2 conference center.