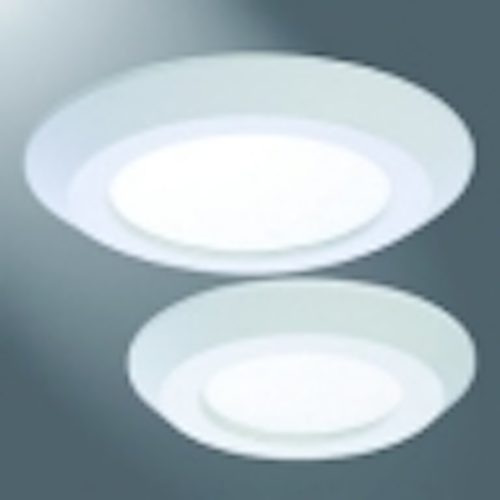 Eaton's (NYSE: ETN) Cooper Lighting division has announced the Halo Surface LED Downlight (SLD) family of products based on the WaveStream light-guide technology that Cooper originally licensed from Rambus. The planar surface-emissive luminaires provide both an elegant look and Eaton asserts 80% energy savings relative to a traditional incandescent fixture.
The WaveStream technology relies on miniature optical elements, which Cooper calls AccuAim optics, that are manufactured in the planar light guide and direct the light from LEDs that light the guides from the edge. Cooper demonstrated the first WaveStream-based commercial products at LightFair International 2013 after offering a technology demonstration the prior year. The company subsequently announced a round parking garage planar fixture, and now the SLD round downlight products.
"The WaveStream LED technology allows us to provide downlighting and wall-mount solutions that are efficient and cost-effective, while bringing installation convenience to satisfy both commercial and residential applications," said Mark Eubanks, president of Cooper Lighting. "Our new series of Halo surface-mounted LED downlights offer unique design freedom combined with mainstream value."
Eubanks' comments hint at the flexibility and elegance that the new fixtures bring to solid-state lighting (SSL) applications. The fixtures extend only 0.7 in. below the mounting surface, such as a ceiling. Moreover, the depth of the entire luminaire is 1.5 in., meaning that little depth is required to install the recessed lighting in walls or ceilings.
Cooper is offering the SLD family in 4- and 6-in. round versions with a variety of trim options. You can install the luminaires directly to most any type of an electrical junction box, or into many 4-, 5-, and 6-in. recessed housing. Indeed, the Cooper data sheet specifically lists upwards of 50 compatible housings and many types of junctions boxes that have been tested and verified compatible.
Cooper is offering the fixtures with a CCT of 3000K. You can specify CRI of 80 or 90. The integrated driver supports legacy phase-control dimmers — both triac and electronic dimming controls.
The 12.5W SLD products are Energy Star qualified. The can be installed in wet locations. Cooper says that the products are rated for 22 years of life based on six hours per day of average usage. That lifetime equates to $400 in energy savings over the life of the products at an electrical rate of $0.115 kWh.