Cooper Lighting slashes energy use at IDI facility, collaborates with BACC
Cooper Lighting has announced its participation in the San Francisco-region-wide Bay Area Climate Collaborative, and also detailed a new outdoor LED lighting project at a warehouse in Jurupa Valley, CA.
Oct 1st, 2013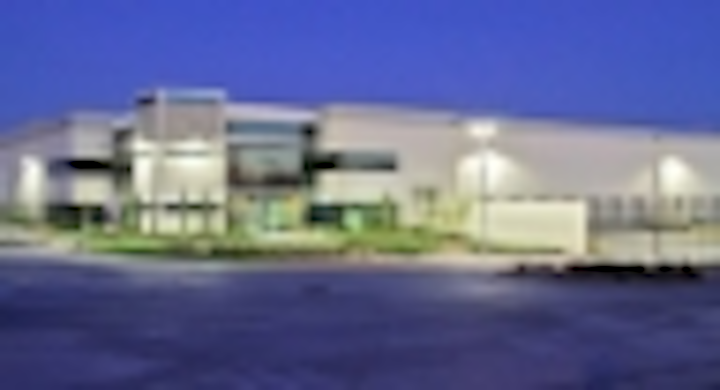 Cooper Lighting has announced that Industrial Developments International (IDI) has installed LED lighting at its Jurupa Valley, California warehouse facility and realized 50% energy savings relative to metal-halide (MH) technology. The company has also announced its intention to participate in a formalized program to upgrade 200,000 San Francisco-region streetlights with solid-state lighting (SSL) technology.
The IDI project was focused on the building exterior and parking lot where lighting must be balanced to provide a safe environment while levels are also controlled to minimize energy costs. Indeed, outdoor lighting is often an easy target for inherently-efficient LED technology given that the lights consume energy for long hours each night.
"Our goal with this project was to create one of the first LED warehouse buildings in Riverside County," said Alan Sharp, senior vice president of IDI. "Working with the solutions from Eaton's Cooper Lighting division, we were able to do just that, saving on energy and reducing maintenance costs for the future."
Contractor Excellence in Electricity designed and installed the lighting system. In the parking lots, the company selected LED-based Ventus luminaires from Cooper's McGraw-Edison brand. The 309W SSL products were used in place of 458W MH lights.
To light the exterior of the building, Excellence in Electricity installed Crosstour wall-pack fixtures from Cooper's Lumark brand. Those 30W fixtures provide light levels comparable to 175W MH fixtures, according to Cooper.
Beyond functional façade lighting, IDI also chose to add some dramatic architectural lighting given the efficiency of LEDs. Vision LED floodlights from the Cooper Invue brand offer optical distributions installed specifically to emphasize dramatic elements of the façade while eliminating light spill.
While long life and energy savings prompted the project, IDI is also pleased with the light quality and aesthetics of the LED lighting. Sharp added, "We're extremely pleased with the outcome and hope to be a model for success in the industry."
Bay Area Climate Collaborative
In other outdoor lighting news, Cooper has also announced that it will participate in the Bay Area Climate Collaborative (BACC) that is a San Francisco region-wide project focused on upgrading 200,000 streetslights in the region with LED luminaires. The BACC hopes to achieve $50 million in cost reductions in the region over five years while creating jobs.
"While energy costs continue to rise and local governments grapple with ongoing budgetary constraints, return-on-investment for LED streetlighting is continually improving," said Rafael Reyes, executive director of BACC. "We are thrilled to be collaborating with Eaton's Cooper Lighting division to help local governments understand next-generation lighting technologies and save millions from streetlight upgrades."
The BACC is part of the Bay Area Next Generation Streetlight Initiative and is being managed in partnership with the California Lighting Technology Center based at the University of California at Davis. Among other things, the organizations have published the "Next Generation Streetlights: LED Technology and Strategies for Action" guidance for municipalities doing LED streetlight projects.
"LED streetlighting benefits local governments in so many ways — lowering energy and maintenance costs, reducing greenhouse gas emissions, and improving community safety — but without education, many municipalities don't know where to begin," said Mark Eubanks, president of Eaton's Cooper Lighting division. "As one of the largest LED fixture manufacturers in North America, we are proud to be contributing our expertise to help the BACC and the Next Generation Streetlight Initiative."
Cooper is the second major lighting company to join in the collaborative project. Previously, GE Lighting also announce its participation. LED manufacturer Bridgelux is also participating in the project.