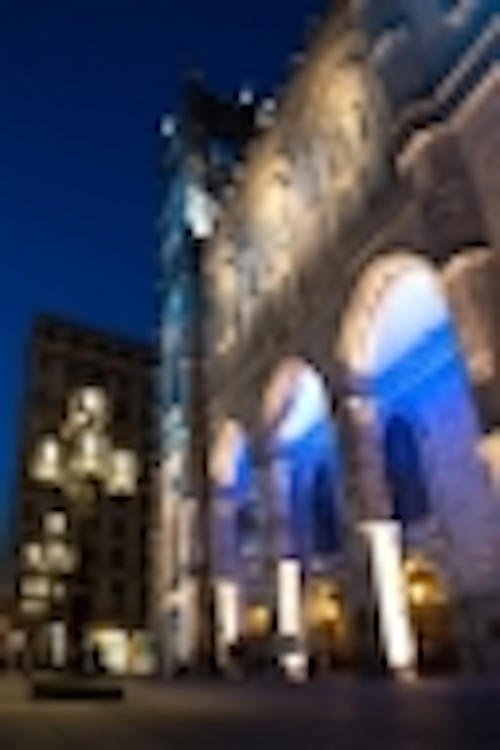 A national historic site in Canada, the Notre-Dame Basilica located in the Old Montreal historical section of the bustling Quebec city, now features a new exterior LED lighting system designed to highlight the Gothic Revival architecture. The design firm Éclairage Public installed over 150 solid-state lighting (SSL) products from Lumenpulse with variations in CCT and lighting technique to deliver a dramatic and energy-efficient centerpiece in a revival project that will cover the entire Old Montreal district.
Without question the energy efficiency and long life offered by LEDs was an important part of the decision making process for the city. The new lighting uses half the power relative to the old system — 11,000W compared to 22,000W. Moreover, the new lights are rated for 120,000 hours of life compared to 12,000 hours for the prior lighting. The energy and maintenance cost savings will be significant going forward.
Still, the LED approach brought more to the project in terms of flexibility and dramatic impact than could easily be achieved with legacy sources. The project is part of the city's Plan Lumière to relight the Old Montreal and create a renaissance of interest in the historic area.
According to Éclairage Public principal Gilles Arpin, LEDs are opening up new ways of thinking about exterior lighting. "For a long time, we tried to recreate daylight in architectural lighting," said Arpin. "We'd place large projectors at a distance and floodlight the façade in a way that would flatten it."
Arpin sought to do the opposite in the new design with fixtures grazing and highlighting structural elements and facades. Moreover, the design uses products with varying color temperature or CCT to dramatic effect.
For example, the design uses 3000K Lumenbeam Medium fixtures with a narrow beam to highlight the statues above the entrance. Cooler 6500K fixtures essentially backlight features such as the cross, pinnacles, and parapet on the roof and towers. The results include contrast and dramatic silhouette effects.
"Sometimes, the shadows help us understand a building," said Arpin. The exterior lighting scheme was designed to harmonize with the famed blue interior ceiling, but Arpin suggested that the exterior lighting needed to be both subtle and dramatic, adding, "Good lighting should be discreet. The art is not the lighting; it's what we light."
The project includes the use of 20 different Lumenpulse fixture models with CCT ranging from 2700K to 6500K, and some blue fixtures. The fixtures all were specified with relatively narrow beams for lighting controls. It was the flexibility in the available fixtures that in part enabled the project.
"The Notre-Dame Basilica is a landmark project that demonstrates that LED technology is up for any challenge," said François-Xavier Souvay, Lumenpulse president and CEO. "It shows how much flexibility Lumenpulse LED luminaires offer designers, and what kind of impact they can have in terms of maintenance and energy savings."