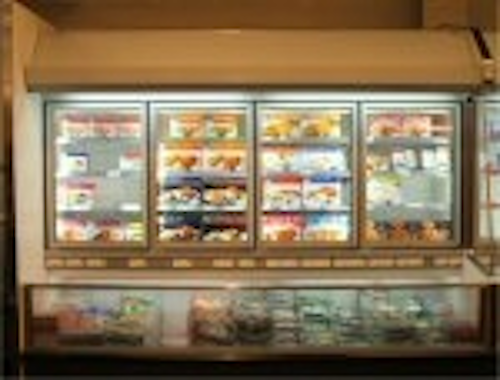 Marks & Spencer (M&S), a leading UK-based retailer, has selected the CryoLED2 LED luminaire from NuaLight for installation in temperature-controlled display cases. The LED lights will help M&S achieve the objectives of its "Plan A" energy initiatives.
Working with case manufacturer SPG, NuaLight has developed a unique LED solution for this style of half glass door case, addressing the lighting requirements in both the glass doors and the freezer well.
The lighting also has an impact on the refrigeration system performance, as there are fewer watts of lighting in the temperature-controlled zones, thus reducing the total energy consumed.
If rolled out across the 450 M&S grocery store locations in the UK and Ireland, this type of LED lighting could result in savings of 4.26 gigawatt-hour. The associated reduction in CO2 production could amount to 1,850 tonnes.
Bob Arthur of Marks & Spencer said "Although this style of display case represents a small percentage of the total linear footage of temperature-controlled display cases deployed in our stores, this project shows the significant CO2 reduction that can be achieved by focusing on the niche applications that best match emerging technologies.
Arthur added that the installation meets both the carbon footprint and financial objectives of the company. "The beauty of this project is that all of these energy and CO2 savings are achieved with an acceptable return on investment," he said.
Commenting on the development NuaLight's sales and marketing manager Paul O'Shaughnessy said "This project represents the culmination of 12 months of development work and testing with both Marks & Spencer and SPG which has resulted in the delivery of a highly efficient and effective LED lighting system that will deliver significant energy savings over the life of the display case.
"We are delighted to be awarded this business by Marks & Spencer and look forward to working with them on delivering this and other energy initiatives in the future."
O'Shaughnessy told LEDs Magazine that M&S has completed installation of the new cases in their store in Hedge End, Southampton, and other stores are currently being refitted in a number of other UK and Irish locations such as Belfast, Dublin and London.