Lightfair announces Innovation Award winners
Bridgelux and Molex won the Most Innovative Product of the Year award, while Traxon and NXP also won prestigious awards for their LED-related products.
May 13th, 2010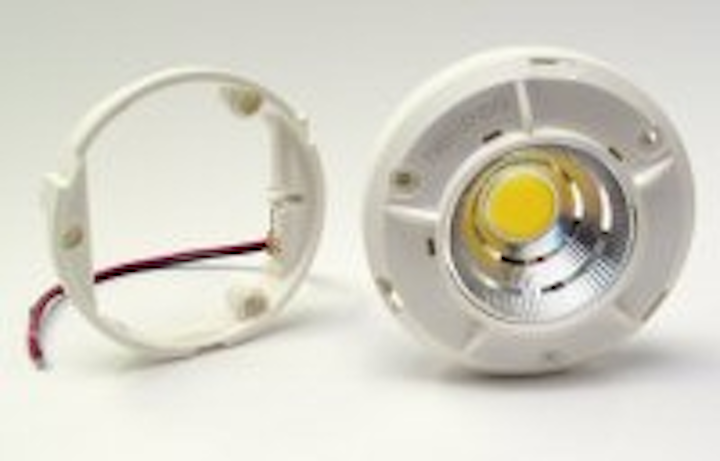 The opening of the Lightfair International (LFI) tradeshow in Las Vegas on May 12 was marked by the LFI Innovation Awards to recognize innovative product design and technology. The awards program encompassed nearly 200 products debuting on the 2010 LFI trade show floor.
The LFI Innovation Awards covers lighting-related products and designs introduced over the last 12 months or launched at LFI 2010. This year, LFI received nearly 200 submissions for the 14 designated categories, and each individual product was judged by an independent panel of renowned lighting professionals. The winners were awarded for product entries that exemplify the best in innovative design and thinking. The 2010 key award winners are:
Most Innovative Product of the Year
Helieon Sustainable Light Module System by Bridgelux and Molex
The program's highest award, recognizing the best, most innovative new product
Design Excellence Award
Light-Drive Elite by Traxon USA
Recognizing outstanding achievement in design and application
Technical Innovation Award
SSL2102 by NXP Semiconductors
Recognizing the most forward-thinking advancement in lighting technology
Judges' Citation Award
LightLouver Daylighting System by LightLouver
Special recognition of an innovative product at the judges' discretion
Best of Category winners:
Research, Publications, Software, Unique Applications
Lighting and the Visual Environment for Senior Living: Recommended Practices by the Illuminating Engineering Society (IES)
Conventional Lamps
Professional LED Bulb CTA by Ledzworld Technology SDN BHD
Ballasts, Transformers, Drivers
Quicktronic QHE T5HO/SS System by Osram Sylvania
Chandeliers, Pendants, Sconces, Task Lights & Decorative Luminaires
Locking Ring and Decorative Lights by Recesso Lighting
Downlights, Wallwashers, Accent Lights
Element 3 LED Downlight by Generation Brands Tech Lighting
Track, Low-Voltage, Cable & Rail Systems
Paloma by W2 Architectural Lighting/WAC Lighting
Fluorescent Based Troffers, Suspended, Surface Luminaires
DSBL Bi-Level Stairwell Luminaire with Deco-SMART system by DECO Lighting
Industrial, Vandal, Exit & Emergency Lighting
SAFR Series LED Luminaires by AZZ/RAL Rig A Lite
Roadway, Sports, Outdoor Architectural, Site Lighting
Sentinel Plasma Luminaire by PEMCO Lighting Products
Landscape, Pool & Fountain Lighting
Luca by Structura
Theatrical, Floodlights, Specialty Luminaires
Series 6000 HP LED Cove Light featuring CANDLELED LEDs by TEMPO Industries