Lynk Labs collaborates to promote AC LED applications
AC LED developer Lynk Labs has unveiled collaborations with Optek and American Bright on AC LED systems, while Brillianz will distribute AC LED replacements for fluorescent lamps in the UK.
Jun 22nd, 2006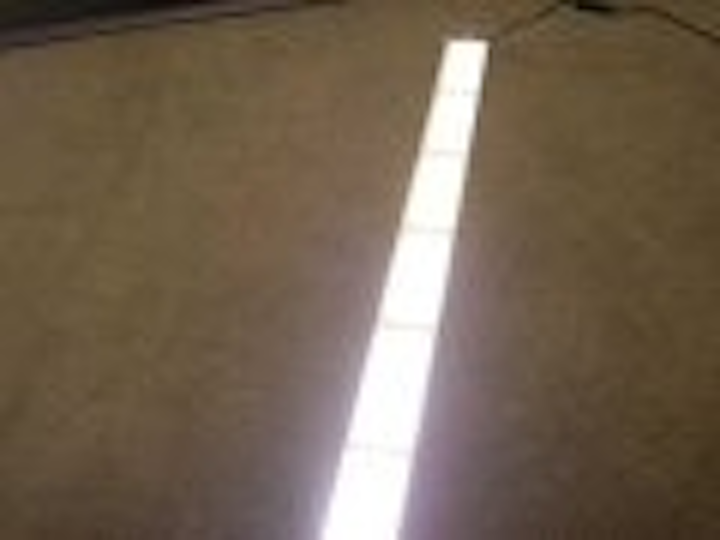 Lynk Labs, a developer of AC LEDs, drivers and system based in Elgin, Illinois, has unveiled several collaborations that should help to move AC LEDs into the marketplace.
Lynk Labs' CEO Mike Miskin told LEDs Magazine that two LED makers, TT Electronics Optek Technology and American Bright Optoelectronics, have formed separate partnerships with Lynk to develop AC LED system solutions for different target markets.
Miskin also said that Lynk is speaking with several general and specialty lighting companies that have expressed strong interest in the advantages of Lynk Labs AC LED technology.
Unlike traditional DC-driven LEDs, AC LEDs work from an AC source which can be a 50 Hz mains supply or, more effectively, a high-frequency, low-voltage AC source. Lynk Labs suggests that AC LEDs offer a 10-30% improvement in power efficiency, depending on system design parameters, and are also more reliable and produce less heat than equivalent DC LEDs (see "Running LEDs from an AC supply" for more details).
Equally important is the LED power source. Lynk Labs has developed the BriteDriver, which it says has a lower cost per watt than regulated DC supplies and a much higher power rating in a significantly smaller package with no need for fan cooling, even at 250 watts.
At Lightfair International, Richard Saffa, vice president of visible LEDs for Optek Technology, told
LEDs Magazine
about the company's partnership with Lynk Labs to offer AC LED system solutions. Essentially these are plug-and-play solutions combining AC LED drivers from Lynk Labs, and
LEDs and LED assemblies
from Optek.
A similar partnership has been established with American Bright Optoelectronics. The company's booth at Lightfair had a demonstration of a total solution that included a 12-W assembly built using American Bright Opto's 3-W NovaBright LEDs in warm white (3300K) and Lynk's BriteDriver AC LED drivers. The system generated strong interest from visitors at the show.
Brillianz distributes SnapBrite™
Lynk Labs has also teamed with Brillianz, a UK-based lighting and signage specialist, to offer products based on Lynk Labs' patented technology for applying AC power sources to LEDs.
The first products from the collaboration with Brillianz are a series of AC LED lamps known as SnapBrite™, which are direct replacements for fluorescent tubes. The products provide more lux per watt than fluorescent equivalents, and are available in various color temperatures from 6000 K to 2500 K.
The SnapBrite-T series offers a "build your own fluorescent" solution according to the length needed. The product has a very thin profile, low heat output, and high brightness, with the plug-and-play features of Lynk Labs' AC LED technology.