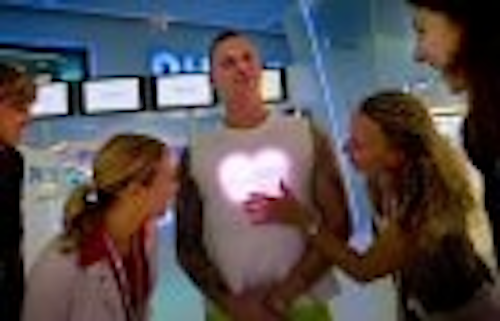 A fabric from Philips that emits light thanks to the multiple LEDs embedded within it has been used for the first time by a leading fashion designer. Lumalive textiles contain an array of LEDs that can display text, graphics or even animations. The LED matrix is soft and flexible and fits invisibly into the fabric, and the patterns only become obvious when illuminated.
German fashion designer Anke Loh's collection was launched in Chicago at a special fashion show in the glass-encased lobby of 1 North Wacker Drive. "I spent a long time looking for the right technology to bring into my fashion," said Loh. "I tried optical fibers - even weaving them together with black cotton. But when I approached Philips and they showed me their Lumalive textiles I found something special."
Bas Zeper, managing director of Photonic Textiles at Philips Research, says the material is completely unique, and describes it as thin, soft, flexible and light. "You hardly notice you're wearing it unless it's switched on. It's like a second skin," he says. "The electronics and batteries are completely hidden and you can easily remove them from the garment for washing."
Loh says that Philips Lumalive is the only technology that allows moving images to appear on the body in such an elegant way. "It's the perfect combination of art and technology," she says. "We recorded video of city life and of different faces in Chicago and Antwerp and will display them as animations on the fabric using Lumalive technology. It takes personal expression to a new level. It has limitless possibilities and my collection is just the beginning."
Philips sees Lumalive as part of its vision for a future where our surroundings and the clothes we wear become more intelligent, and interact with the environment around us. Lumalive textiles are currently being developed for commercial use and will be available on the market in 2007.
Osram presents the world's first "Light Dirndl"
In time for Oktoberfest 2006, lighting manufacturer Osram teamed with a renowned designer Lola Paltinger to create the first-ever traditional Bavarian Dirndl dress with light emitting properties.
About 100 LEDs were sewn by hand onto the Dirndl using more than five meters of fine wire to connect the LEDs with each other and deliver the necessary electrical power from the batteries attached under the garment.