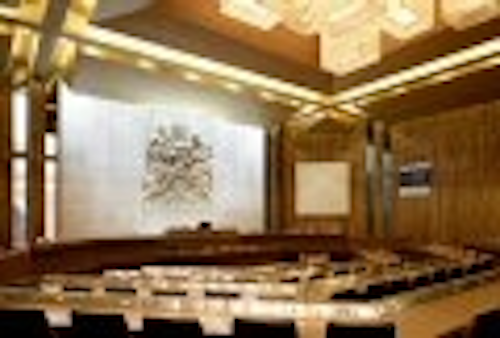 Philips LEDline2 technology has been employed to illuminate a 12-m high engraving in the Central Chamber of the Kensington and Chelsea council building in London.
The engraving lists mayoral appointments. Formerly lit using halogen spotlights, only the first few inscriptions on the white stone mural were decipherable, the remainder resting unrecognisable in the shadows.
Now, the engraving is lit using two rows of LEDline2 fixtures positioned along the top of the structure. As shadows between modules are eliminated there is a continuous line of light skimming across the entire surface. Contrast has been provided by creating light and shade, allowing the carved names to be clearly legible even from the back of the large assembly room.
Since the LED module has been designed to blend into its surroundings there is minimal visual disturbance and therefore can be sited very close to the façade itself. To add further definition and bring out the central crest within the sculpture, additional modules were placed at its base.
George Hutchinson, working on behalf of the Kensington and Chelsea Council, stated: "LEDline has provided us with exactly what we had hoped for. The plaque is now clearly defined and the detailing is excellent. We are more than happy with the results."