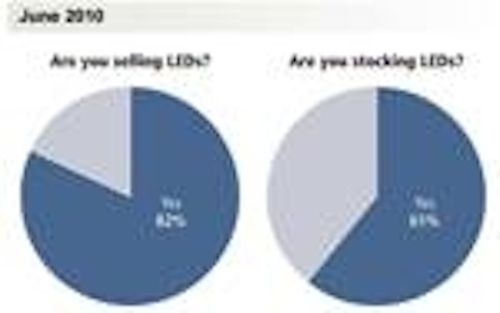 According to a recent survey of lighting industry executives and buyers, in less than two years the number of lighting distributors stocking LED-based products spiked by more than 50%. A March 2012 survey of the group revealed the significant jump. It indicates that 93% of electrical distributors are stocking LED-based solid-state lighting (SSL), as compared to 61% found in a June 2010 survey. Still despite the growing support for SSL, the legacy lighting industry is in the process of adapting to LED technology and a completely new approach to selling lighting products.
Less than three years ago, many distributors deemed SSL too expensive to justify stocking, or even selling LED-based products. As Fig.1 shows, only 61% of distributors stocked SSL back in 2010, although 82% said they sold the products.
In 2010, many distributors felt LED lighting was fraught with complex issues: warranty questions, high price points, questionable efficiency claims, varying standards of performance, and confusion within the market. Fast forward to 2012. LED lighting is now understood to be a game-changing technology, one that's energy efficient and financially gratifying in the long-term. Further, price points have dropped because of a rapidly growing technology emphasis, a production glut of LED emitter chips, and mass acceptance in certain markets such as commercial and outdoor-lighting applications.
LED technology is revolutionizing the lighting industry as more and more commercial lighting distributors are stocking LED lamps or fixtures, anticipating demand from a growing customer base. Similarly, manufacturers are seeking ways to stay ahead of the curve, producing innovative LED-based lighting solutions for the growing market.
200 distributors surveyed
The aforementioned survey, conducted by Egret Consulting Group – a retained search firm specializing exclusively in the electrical industry – confirms this dramatic shift. Most notable is the fact that more than 93% of distributors are stocking SSL equipment, and 71.5% stock both LED-based lamps and fixtures (Fig. 2).
The survey shows a steadfast confidence in LED-based lighting. More than 900 executives from the top 200 distributor companies answered the survey. The top 200 electrical distributors represent more than 10,000 branch or distribution-center locations throughout the United States and Canada.
Ultimately, demand is driving the uptake. Large-scale consumers are buying into the benefits of LEDs. Municipalities, large building owners and other institutions seeking a short return on investment with long-term financial benefits are turning to LED-based lighting solutions.
Given that LED technology is redefining the lighting industry, some of the biggest electrical lighting companies – i.e. Philips, Cooper, Hubbell and Acuity – are striving to find ways to change and stay relevant in a sector that is quickly becoming more technological and scientific. The Big four were slow to adopt LED technology due to legacy investments in traditional lamp sources, but have emerged in the past year with complete introductions of lamps and fixtures; as well as control solutions. Simply put, the biggest lighting companies in the world have grudgingly accepted the new dynamics of technology, innovation, and research and development.
Company leadership
For lighting companies, a big step in the journey to LED success is making additions to leadership at the top of organizations. Chief Technology Officers (CTOs) are mainstays at LED-component-manufacturing companies, but at lighting fixture companies they were non-existent -- even two years ago. Moreover, intellectual property (IP) hasn't historically been a concern of lighting companies.
Technology and IP leadership now needs to be a top priority as technology and research drives innovation in the lighting world. To this point, intellectual property attorneys are being hired at the largest lighting companies to ensure innovation is protected from patent infringements.
Top electrical and lighting distributors are making changes too, following the lead of mega retailers like Home Depot, Menards and Lowes, which now have a growing number of LED-based lighting products on the shelves. When the CEO of a leading distributor, Graybar, openly embraces changing the company's sales philosophy from "fulfillment" to "promotion," the clarity of the industry's adoption becomes apparent.
LED-based lighting will require new sales techniques to be successful. Sales people need to be proficient in electronics, software, and financial ROI when presenting LED products. Such a breadth of industry knowledge is tantamount to survival in this new era of electronics.
Industry initiatives
The path to success in SSL is becoming streamlined to a degree. Programs such Energy Star, Lighting Facts, and other Department of Energy (DOE) endorsements all help lighting manufacturers to document their product claims, and distributors and buyers to make valid comparisons among hordes of products flooding the market.
It's apparent that SSL is a gateway for lighting companies looking for the path to becoming technology-minded. This wasn't the case as late as a few years ago, when the threat of a higher cost LED-based lighting system thwarted many distributors from carrying such solutions. But as the new Egret survey shows, most have jumped on the bandwagon and embraced the LED renaissance. The overall benefits LED technology brings in terms of lighting, colors, automation, and energy savings are tough to argue against.
Still why are 6% of distributors still not stocking LED lighting? The electrical industry has historically been technology-averse. There is little direct demand for new technology from distributors' customers, so LED lighting requires pure sales efforts rather than order taking. There are people who believe the world is flat -- they will continue to sell incandescent and CFL technology for as long as they can find demand. For the rest of the industry, the LED market is expected to grow at a 40% rate annually until at least 2015. That's a growth market!
The electrical industry has been largely inbred for a long time. New products meant new shapes, sizes, colors or mechanical modifications. LED lighting brings a new era to the overall electrical industry. Low voltage, electronic devices require new installation techniques, and enable control devices and measurement and reporting devices that can be integrated into building, area or global communication systems. Change is already here. As Winston S. Churchill aptly put it: "To improve is to change; to be perfect is to change often."