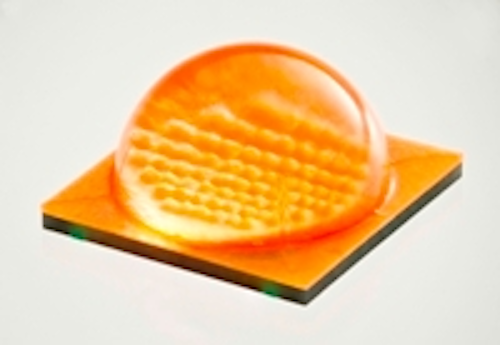 Cree's EasyWhite technology enables narrow color binning of LED components, and the new XLamp MT-G2 LEDs deliver 2100 lm at a 3000K CCT, 25W drive, and 85°C operating temperature. Meanwhile in the R+D lab, Cree announced that it has achieved 254 lm/W LED efficacy, and such gains are key to accelerating the adoption of solid-state lighting (SSL).
The new MT-G2 LEDs are packaged arrays based on Cree's third-generation, silicon-carbide, manufacturing platform that the company calls SC3. The EasyWhite technology allows Cree to offer components in 2- and 4-step MacAdam Ellipse bins over CCTs ranging from 2700K to 5000K. Cree offers the 8.9x8.9-mm LEDs at 80 or 90 CRI.
The EasyWhite technology relies on mixing emitters with slightly different CCTs to consistently achieve narrower binning than LED manufacturers can deliver with individual emitters. SSL manufacturers can perform the mixing function with individual emitters, but the array approach allows Cree to directly offer the tighter color control in readily-available components.
LEDs target directional retrofit lamps
Cree says that the MT-G2 LEDs are 25% brighter than the prior MT-G products. The LEDs are designed for applications such as retrofit lamps including products that can replace directional halogen lamps.
Cree apparently has some interested potential customers. "The MT-G2 LED truly pushes the envelope of what's possible, redefining lumen levels and efficacy while delivering color consistency and superior optical control," said Richard Turner, R & D director at Havells Sylvania. "Combined with the small footprint and uniform emitting surface, the MT-G2 is an especially attractive device to further grow our leading position in professional-quality LED retrofit lamps."
"The new MT-G2 LEDs enable true halogen performance across a wide range of single-source lighting applications and provide the industry's best color consistency," said Cree's senior marketing director Mike Watson. "Cree's continued breakthrough in high lumen output demonstrates the advantages delivered by leveraging the SC3 Technology Platform."
Cree hasn't released all of the array configurations that it will support in the MT-G2 family, but did say that the portfolio will include multiple input-voltage options. The prior MT-G products included LEDs with the individual emitters arranged in series that required a relatively high 36V input. Other options have included parallel strings of emitters that operate from 6V. Judging from the photo, the new MT-G2 LEDs include more emitters than Cree has used in earlier products.
Efficacy record
In the lab, Cree pushed its milestone for efficacy from 231 lm/W to 254 lm/W. Cree measured the performance with a 4408K LED driven at 350 mA. The results are impressive, although you should note a couple of things. State-of-the art LEDs are regularly driven at higher currents these days and efficacy does decrease at higher power. And while 4000K wouldn't be considered cool white, it's well above the 2700-3000K CCT that is considered warm white and that is preferred by many people. Again, a lower color temperature also results in lower efficacy.
Cree says that elements of the SC3 platform were enablers of the new efficacy record. "The latest innovation from our R&D labs is another game changer for the industry," said John Edmond, Cree co-founder and director of advanced optoelectronics. "The core of the Cree R&D culture is a relentless focus on innovation that ultimately drives LED adoption. Higher-performance LEDs can enable new and better LED-based applications and drive down the solution cost of LED designs."