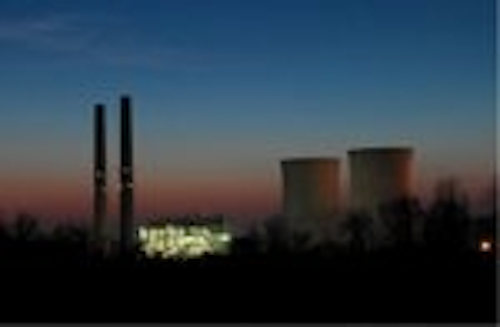 When PPL Generation needed to replace xenon obstruction lighting at the Martins Creek Power Plant near Easton, PA, the utility sought to find a lighting technology that would minimize energy consumption and deliver reliability given the difficult–to-reach mounting on towering chimneys. Fuellgraf Chimney & Tower (FC&T) recommended Dialight LED High-Intensity Strobe systems for both energy efficiency and reliable operation with no need for regular service.
The 1700-MW power plant includes twin natural-gas fueled generators that each deliver 850 MW. The generators each have 600-ft ventilation stacks that must be lit with obstruction lights based on US Federal Aviation Association (FAA) requirements.
The FAA requirements include two sets of three lights mounted at 296- and 586-ft on the chimneys. The three strobe lights allow pilots to see the obstruction from any direction.
The previously deployed xenon lights both wasted energy and were costly to maintain. The power plant had to replace 10 of the 12 lamps in 2010 and all 12 lamps the prior year.
PPL contracted with FC&T to contemplate a replacement. FC&T recommended the Dialight L864/865 dual obstruction fixtures after working with the products on a project at the nearby Lower Mount Bethel Energy plant.
The decision was driven in part by the five-year Dialight warranty along with the fixture tolerance for shock and vibration. Moreover, FC&T had documented energy savings at the prior project. "Considering the energy efficiency and reduced maintenance cost of the LEDs, it adds up to substantial savings, making it an easy decision for our customers when it comes to upgrading their outdated xenon systems," said Joe Geiger of FC&T.
The newly installed solid-state lighting (SSL) system includes optics to eliminate light scatter on the ground. The LED lights consume 250W during the day and 10W at night compared to 500W and 300W for the xenon lights. The daytime energy usage is greater because the FAA requires much brighter operation to warn pilots of danger in sunlight.
Still, it's the maintenance savings that may prove most beneficial to the utility. PPL Generation may not have to service the lights for a number of years.