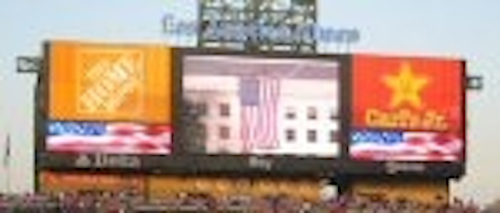 The Los Angeles Dodgers will add five displays to their existing Daktronics integrated system. One large ProAd® display, measuring more than 1,100 feet long, will be added on the fascia inside Dodger Stadium. Four smaller full-color displays will be installed on field level.
The Pittsburgh Pirates will replace their existing non-Daktronics video screen with a new Daktronics ProStar® display, operated with Venus® controllers and V-Link® video processors. The large new ProStar® screen will measure approximately 24 feet high by 45 feet wide.
The Tampa Bay Devil Rays will add a large ProAd® fascia display in the "Beach Area" behind left field at Tropicana Field in St. Petersburg, Fla. The display will measure approximately 6 feet high by 255 feet in length.
The San Diego Padres will add another Daktronics display inside Petco Park. A ProStar® video display will be positioned in the outfield wall in right-center field to provide live video, instant replays and other information to fans with obstructed views of the primary video screen. The new video screen will measure approximately 9 feet high by 17 feet wide.
The Milwaukee Brewers will add two large ProStar® displays outside Miller Park to promote games and provide other information. Each of the displays will measure approximately 12 feet high by 24 feet wide.
These projects are in addition to the super system projects previously announced for the Colorado Rockies and Toronto Blue Jays being installed for the start of the 2005 season, and the super system for the St. Louis Cardinals' new Busch Stadium opening in 2006. Daktronics is also manufacturing and installing baseball systems for numerous collegiate, minor league and spring training facilities this spring.