LED contour lighting lends drama to garage forecourts
TIR Systems has supplied curved LED lighting sections for a garage forecourt canopy in Northern Ireland.
Nov 16th, 2005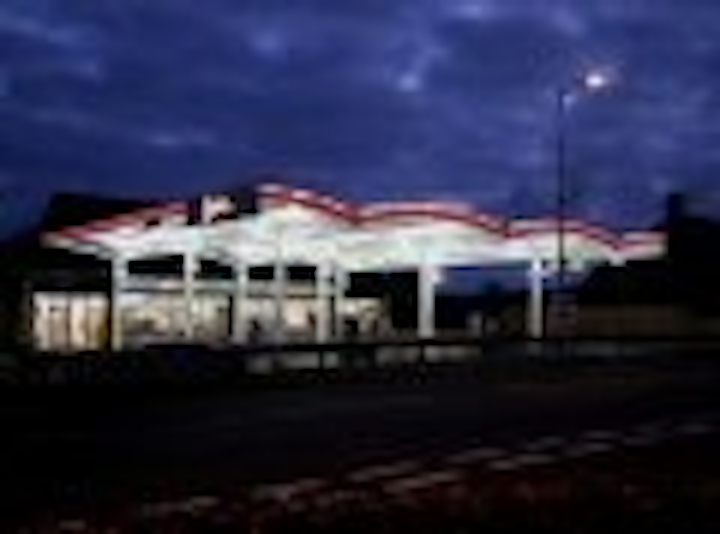 TIR Systems, through its UK distributors Robert Horne Sign & Display, has supplied an LED-based lighting system to provide contour lighting for a new design of forecourt canopy. The 54 m long canopy, which has been commissioned by Heathcotes Garages in Dromara, Northern Ireland, features three curved arches that will be edged by TIR's LightMark contour-lighting product.
The LightMark system has already been installed on one of the new canopies by Image Technical Services, one of Ireland's largest mechanical/electrical and signage installation companies. The Irish company has so far focused on neon lighting for signage applications, but has been won over by the low running costs and vibrant appearance of LED-based lighting.
"The days of transformer failure and gas depletion are gone and, once installed, LightMark provides a low-cost, high-impact delineation to any outline," says Kenny Allen, Image Technical Services business development manager. "The low running cost of the LightMark system, coupled with a 3-year manufacturers warranty and no maintenance visits, ensures that customers can see immediate cost savings."
TIR's LightMark has been designed as an alternative to neon for signage and corporate imaging. The Canadian company claims that an LED signage product enables an 80% reduction in electricity usage, which -- combined with the need for little or no maintenance over the lifetime of the product -- delivers a return on investment within two years of installation.
For the Heathcotes project, Image Technical Services sent the exact dimensions of the garage canopy to TIR, which supplied 3 m lengths of LightMark that were pre-bent and ready for installation. To achieve continuous illumination along the length of the canopy, a system of coloured bellows are used to connect sealed LED units together. A small LED at the end of each larger unit lights up the bellows, giving an uninterrupted line of light.
These small connecting sections must a sealed on site, a technique that was new to the installation engineers at Image Technical Services. "TIR sent out two experts from their team to demonstrate how to infill and seal between sections," explains Allen. "We now have two trained technicians of our own and the equipment and skills to do it ourselves next time."
This approach is part of wider strategy that has been adopted by TIR and Robert Horne, TIR's distributor in the UK. "We have been working closely with a selected group of our customers to ensure they receive expert training and support from TIR and ourselves. This ensures that installations are completed to the manufacturer's specifications resulting in optimum performance for the end-user," says Clare Burke, marketing manager for Robert Horne Sign & Display.
Heathcotes Garages is certainly impressed with the result, and has now commissioned Image Technical Services to install LightMark illumination to another four new garage canopies over the coming 12 months.