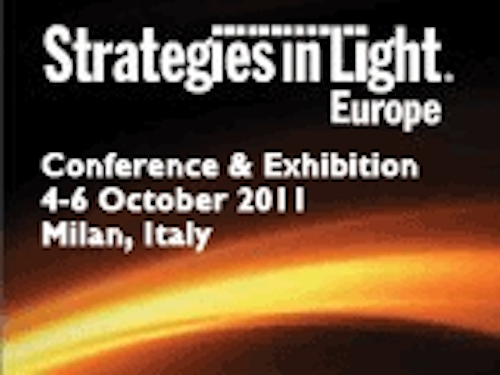 Visit our magazine page to access all issues of LEDs Magazine (requires FREE subscription to download the PDF file).

+++ Cover +++
Cree has acquired Ruud Lighting (p.19), which has supplied LED lights for numerous projects, including this one at San Francisco airport.

+++ Features +++

OUTDOOR
Street-lighting market shows momentum is behind quality luminaires
A new market-research report from Strategies Unlimited indicates that street-lighting applications are taking off, though the market is currently suffering from a temporary setback.
SIL EUROPE PREVIEW
Strategies in Light Europe addresses LED lighting market challenges
With a theme of "Enhancing the Quality and Performance of LED Lighting," this year's Strategies in Light Europe 2011 conference takes place in Milan, Italy on October 4-6.
MARKETS
Lighting market report predicts strong growth for LED lighting, varying by application
A recently-released report from McKinsey & Company on the worldwide lighting industry indicates sizable growth for LED-based lighting, says LAURA PETERS.
CONFERENCE: DOE WORKSHOP
DOE workshop discusses LED success stories, labeling programs and quality issues
Presenters at the DOE SSL Market Introduction Workshop looked at the SSL success stories, analyzed different cost-reduction strategies and ways of reporting luminaire reliability, and examined the implications of the FTC Lighting Facts label. LAURA PETERS reports from Seattle.
BUSINESS
Getting the innovation right: the need for evaluation, measurement & validation of LED lighting
Success in the solid-state lighting market requires a system-engineering approach that demonstrates real value to customers, where results can be validated by real-world testing, as MARTHA CARNEY and JIM FAY explain.
INFRARED LEDs
LEDs enable an optimal near-infrared sensing system
Today's high-efficiency, low-cost, near-infrared (NIR) LEDs and lasers enable many commercial applications. A few straightforward formulas can help the designer approximate the performance of an NIR sensing system and then optimize it to best handle the real-world variables of a particular application, as ROLF WEBER explains.
CONFERENCE: SEMICON WEST
Semicon West delivers technology update on LED manufacturing
A day-long LED session at semiconductor tradeshow Semicon West addressed efficiency droop, MOCVD developments, new packaging schemes, and epitaxial layer transfers, reports Maury Wright.
METROLOGY
Precision tools support critical PSS metrology from R&D through high-volume LED fabrication
The different capabilities of the atomic-force microscope and the white-light interferometer are well suited to the metrology demands of high-brightness LEDs built on patterned sapphire substrates, explains XIAOMEI LI.
PROCESS CONTROL
Advanced analysis and control systems could multiply yields in LED manufacturing processes
Significant yield enhancements in LED fabrication can be achieved by the integration of yield analysis, fault detection and classification, and run-to-run process control, says MICHAEL PLISINSKI.
DESIGN FORUM
Brighter LEDs can simplify driver designs
LED vendors are producing components that can operate at higher drive currents and produce more lumens, and system designers can move to a simpler two-stage driver as the number of LEDs in a fixture is reduced, explains BERNIE WEIR.
LAST WORD
Large-area LED display industry faces pricing and supply challenges
The LED display industry needs intelligent pricing that enables sustainable businesses, as well as a secure supply chain, including reliable LED suppliers, writes PETER PIHOS of EDG RESEARCH.

+++ Columns/departments +++

COMMENTARY
SSL industry activity fans the flame in a simmering summer

NEWS + VIEWS

Philips wins L Prize for 60W-replacement LED lamp
Osram IPO under threat
Cree buys Ruud, shows 152 lm/W prototype LED lamp
GE acquires Lightech, invests in Nuventix
US House votes down incandescent bulb-ban bill
LEDs may be reaching "tipping point" with electrical contractors
Osram extends LED patent battle against Samsung and LG
FUNDING+PROGRAMS
Philips savors L Prize, plans product launch
Skepticism over LED T8s
CELMA and ELC publish documents