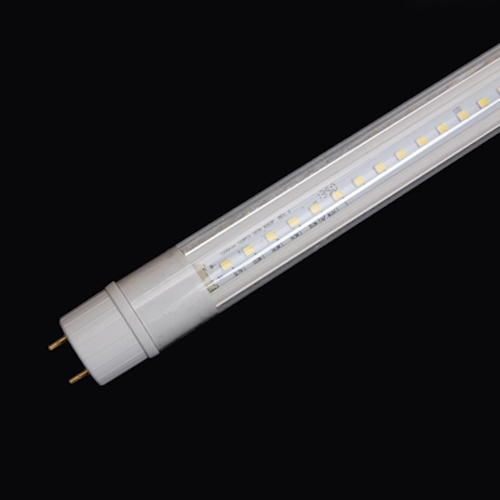 Innovative All-Plastic Product Design Offers an Inexpensive, Lightweight, High-Efficiency LED Retrofit Solution for Commercial, Industrial and Municipal Lighting Applications

STAMFORD, Conn.-- Revolution Lighting Technologies, Inc. (NASDAQ:RVLT) ("Revolution Lighting"), a leading provider of advanced LED lighting solutions, announced today the launch of its Seesmart brand Generation 3 (G3) LED tube lamps. This new generation of T8 LED lamps features an innovative all-plastic construction with a thermoplastic heat sink for cool, efficient operation. The unique design delivers a significant cost reduction that facilitates a faster return on investment as compared with Seesmart's previous generation T8 LED lamps. Because of their lightweight design, Seesmart's G3 LED tube lamps also weigh the same as standard T8 fluorescent tubes.

The G3 LED lamps are currently available in four-foot or two-foot lengths and have milky or clear lens configurations with 180-degree light distribution. The four-foot, 15-watt G3 LEDs emit approximately 1,800 lumens, which amounts to 120 lumens per watt. The two-foot, 9-watt G3 LEDs have a total lumen output of 1,000 lumens, yielding an efficacy of more than 111 lumens per watt. All G3 LEDs can be ordered in four color temperatures (two warm whites, natural white, and day white) and have standard bi-pin connectors (G13) with internal power supplies wired for single-end power.

With DLC and UL listings and an industry-leading 10-year warranty, these LED tube lamps provide a highly efficient and cost-effective retrofit solution for virtually any lighting application, including commercial office spaces, hospitals, hotels, convention centers, retail stores, classrooms, cafeterias, food-preparation areas, stairwells, and many others.

"The launch of our G3 tube lamps is a prime example of the innovative products we are bringing to market to offer our partners and customers a broad, state-of-the-art LED product portfolio that significantly improves energy efficiency and reduces lighting and operational costs," said Charlie Schafer, President and Chief Financial Officer, Revolution Lighting Technologies. "These highly efficient and cost-effective tube lamps will further accelerate the transformation from inefficient and less desirable fluorescent bulbs, and will play a key role in driving our growth as we continue to penetrate commercial, industrial and municipal markets."

About Revolution Lighting Technologies, Inc.
Revolution Lighting Technologies, Inc. is a leader in the design, manufacture, marketing, and sale of LED lighting solutions focusing on the industrial, commercial and government markets in the United States, Canada, and internationally. Through advanced technology and aggressive new product development, Revolution Lighting has created an innovative, multi-brand, lighting company that offers a comprehensive advanced product platform. The company goes to market through its Seesmart brand, which designs, engineers and manufactures an extensive line of high-quality interior and exterior LED lamps and fixtures; Lighting Integration Technologies Inc., which sells and installs Seesmart products; Lumificient, which supplies LED illumination for the signage industry; Relume Technologies, a leading manufacturer of outdoor LED products; and Sentinel, a revolutionary, patented and licensed monitoring and smart grid control system for outdoor lighting applications. Revolution Lighting Technologies markets and distributes its products through a network of independent sales representatives and distributors, as well as through energy savings companies and national accounts. Revolution Lighting Technologies trades on the NASDAQ under the ticker RVLT.

Contact:

Revolution Lighting Technologies, Inc.
+1-203-504-1111

E-mail:

Web site: