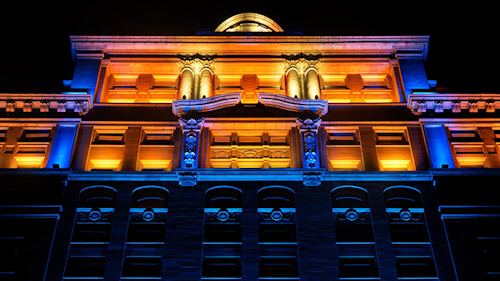 During the USCM 87th Winter Meeting, Mayor Schieve of Reno, Nevada and Chair of the US Conference of Mayors' (USCM) Tourism, Arts, Parks, Entertainment and Sports Committee presided over an exciting best practices forum - Have It All-The Newest Innovations in Tourism, Entertainment, and Sports. The conversation focused on the power of light and its positive impact on the local community and tourists alike.
In 2018, Mayor Schieve spearheaded a trip for a delegation of mayors from across the U.S. to Black Rock City, the name of the temporary city 80K people gather in for Burning Man, the annual festival held in the desert near Reno. Artists like Kate Raudenbush and Jen Lewinintegrate fantastical light art into their habitable sculptures which bring people together and communicate powerful messages on sustainability, culture, and infrastructure.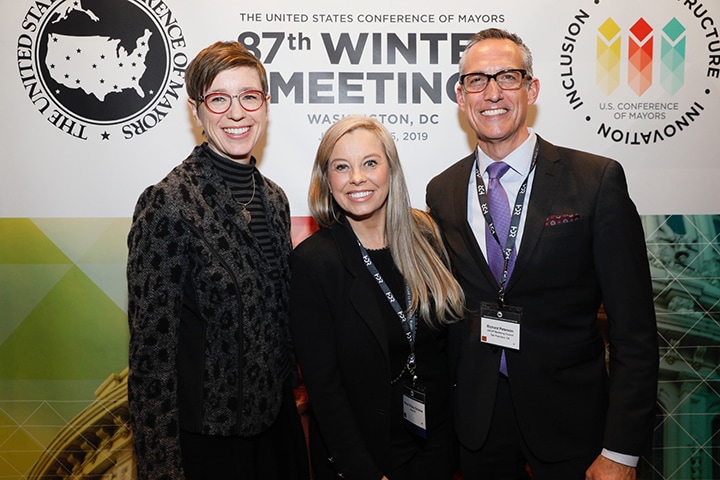 (l-r) Susanne Seitinger, Mayor Hillary Schieve, Mayor of Reno, Richard Peterson, CEO & President, US Cultural & Heritage Tourism Marketing Council
Photo: David Hathcox Photography
Driving economic activity and tourism is a universal challenge for cities of all sizes. Signify – formerly Philips Lighting – has been honored to be involved in some extraordinary lighting installations and projects including show stoppers like the Bay Lights in San Francisco which was named by United Airlines as one of the top 10 attractions to visit globally. The bridge lighting contributed $97 million to the local economy in its first 2 years. The online presence of the project, includes thousands of Instagram photos posted by visitors, testifies to the high degree of public engagement this lighting project has achieved.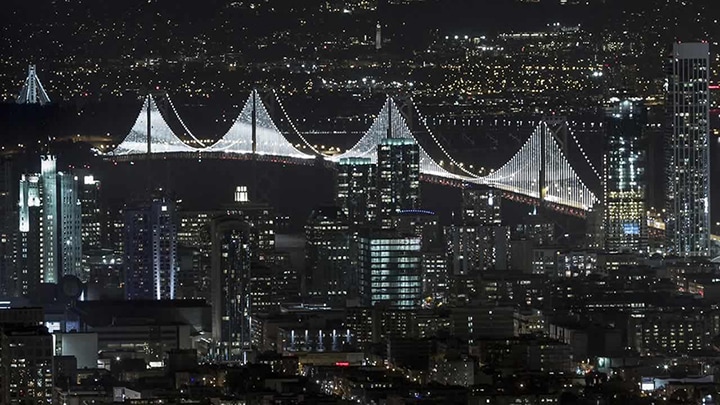 The Bay Lights, San Francisco, California, USA
Artist: Leo Villareal
Photo credit: James Ewing
We've compiled a practical "how-to" guide designed for civic leaders to drive successful lighting projects that can have a similarly transformative impact:
Have a strong vision or concept

– A successful project needs a guiding principle or idea that can help you pick the best implementation approach for your transformative lighting project.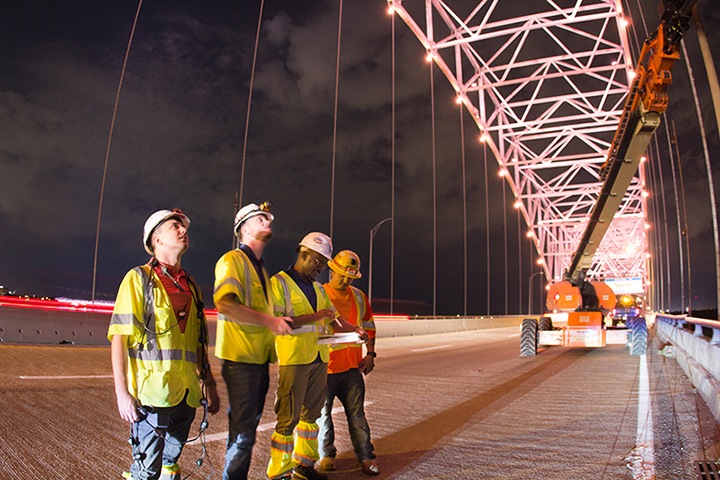 Hernando De Soto Bridge
Memphis, TN
Photo: Dain Marvel, Signify
Engage stakeholders –

The visual impact of small demonstrations or mock-ups can be used to excite and bring stakeholders on board to projects.

Digital technologies like social media platforms have a role to play

– Both for tracking public acceptance and excitement as well as for up-to-the-moment maintenance information IoT sensing platforms and analytics programs. Leveraging social media listening techniques can provide valuable insights for public sector leaders.
Many cities report significant upticks in restaurant, hotel, and convention business even the creation of new businesses like night time kayak tours, evening Segway tours and after-hours festivals. City lighting projects drive public/private partnerships, enhance community pride and often attract new investment for project development in a city, as recently witnessed by the city of Lynn, MA.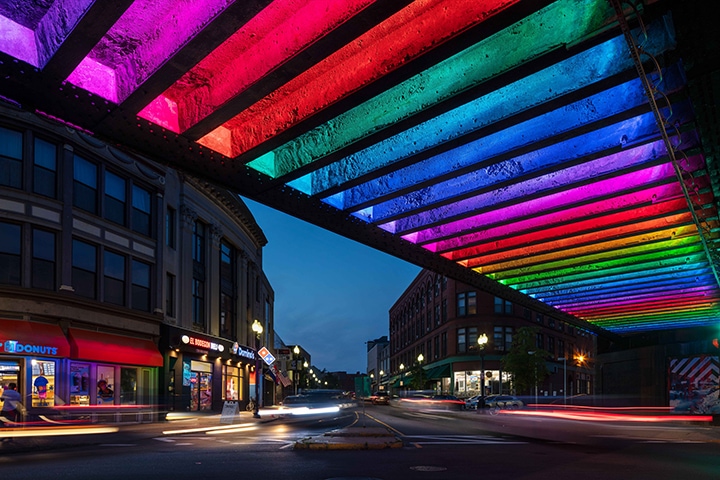 Beyond Walls
Lynn, MA
Photo: Warren Jagger
Lynn, MA is a culturally diverse melting pot of 90K residents. Unfortunately, the light coverage in downtown Lynn made it uninviting to venture out after dark. But, Al Wilson, the Founder and Executive Director of the non-profit Beyond Walls, initiated what would become a transformative project.
"The idea is that we wanted to literally and figuratively bring art to light. Lighting has been the most impactful part of this project- we stayed away from regular white light that might've well catered to the safety component; the idea was to tap into the creative sides of residents, we wanted more inviting public spaces that would instill both safety and greater community engagement."
Bringing in renowned street artists and lighting experts, Beyond Walls decided to reinvigorate downtown Lynn as the community's focal point – drawing visitors from across the region. Neon art pieces, street murals, and dynamic LED underpass lighting were set to reanimate the scene with an initial $50,000 donated and matched by MassDevelopment – a Commonwealth of Massachusetts-based development & financing agency. Beyond Walls reached their $260,000 funding goal with an additional crowd sourcing campaign which raised $80,000 – important because state dollars were contingent upon grass-roots, crowd-source funding. In 2017, more than 1,300 individuals contributed to the project in a single day. They repeated their success in 2018 securing another round of financial support from MassDevelopment.
Soon other partners followed suit. Port Lighting Systems coordinated sourcing for all materials, installation and integration of all the systems. IBEW- the International Brotherhood of Electrical Workers- Forty retired local union electric contractors volunteered their time and talents for the systems' installations. Payette, a Boston based architectural firm, provided vision and planning of lighting design using the Color Kinetics range of products. LAM Partners, an architectural firm based in Cambridge, MA, provided design concepts for all systems. At the opening event, a cheering crowd of 500+ community residents, including Mayor Thomas M. McGee, danced to the beats of a local band.
By comparing examples from across the US and speaking with different stakeholders, we've identified four categories of potential funding sources.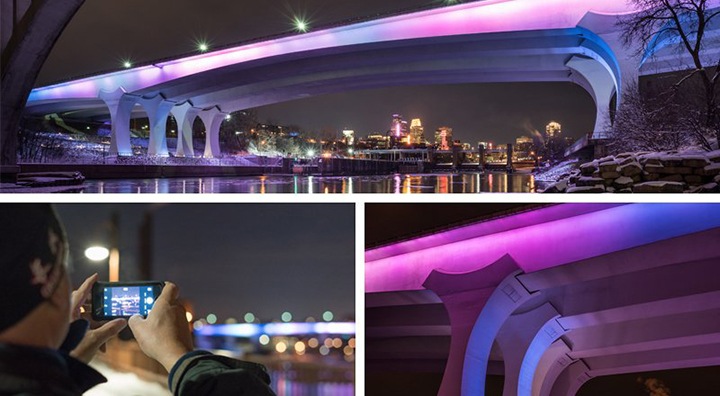 I-35W St. Anthony Falls Bridge
Minneapolis, MN
Photo: Kuda photography
Public funding: Incorporate lighting into all big capital projects since many places from Long Beach, CA to Little Rock, AR have seen lighting play a key role in amplifying the value of city-based projects such as convention centers, public parks, bridges and monuments.
Private: Partner with philanthropic and business leaders in your city to drive funding. Whether you leverage small donations from many citizens or large donations from philanthropists, this collaborative public-private partnership can kick-start something much larger.
Combination public/private:

Work with the non-profit community or form a new 501(c) 3 to solicit funds from various sources and develop a strategic vehicle for leading and implementing a transformative project.

Grants:

Take advantage of arts grants, local, state, and federal grants to encourage your partners in other governmental agencies to consider innovative models like the commitment from MassDevelopment. These make the local impact highly visible and allow people to participate actively in the budgeting and routing of resources.
Some examples of grant programs for the arts are listed here: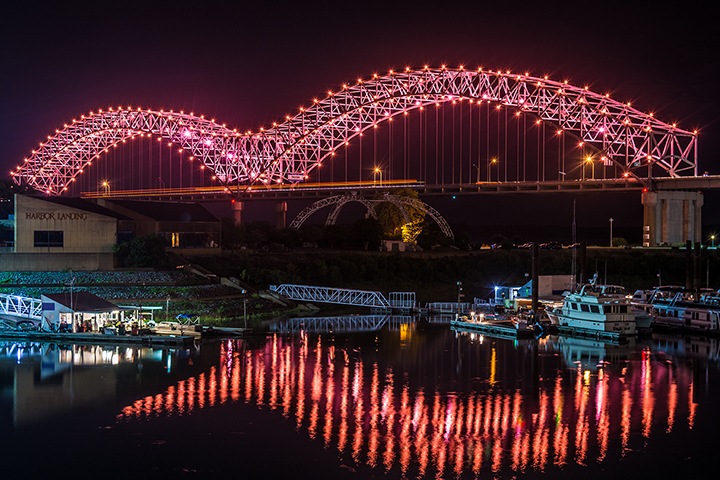 Mighty Lights De Soto Bridge
Memphis, TN
Photo: Mighty Lights
Big River Crossing, the country's longest active bike-pedestrian rail bridge, reached its two-year anniversary October 22, 2018. Since then Big River Crossing has welcomed nearly 460,000 visitors from across the world and received regional, national, and international acclaim for its architecture and state-of-the-art Mighty Lights LED display.
Our simple how-to guide "What cities can do with light," will be available soon and we hope you will discover how your city can unlock the potential in your key landmarks and sites which can pay dividends and become part of the fabric of your city.