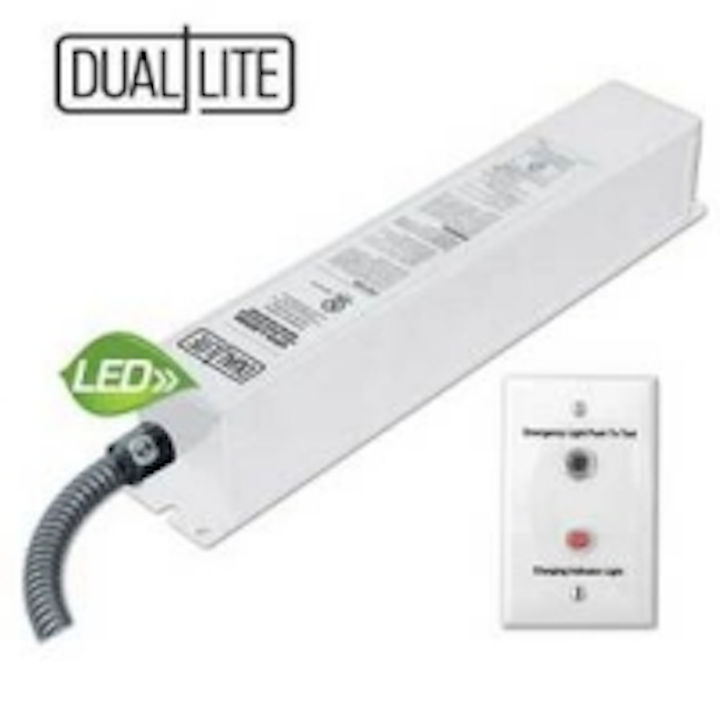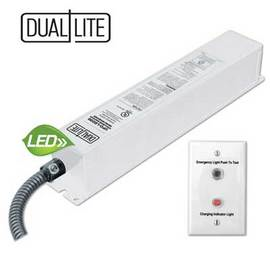 Date Announced: 11 Jul 2011
Greenville, SC – Dual-Lite, a Hubbell Lighting Inc. brand, is proud to introduce the UFO-LED20 battery pack inverter further expanding its emergency lighting portfolio. This new emergency lighting battery pack has the fit and form of a typical battery pack, but delivers the function of a central lighting inverter system. The UFO-LED inverter detects AC input line voltage (120/277) and automatically sets the output voltage during emergency mode.
The UFO-LED battery pack inverter unit is designed to power an LED luminaire in the event of interruptions or failures. It provides full lumen output to any LED luminaire that requires 20 VA/W or less of AC power and has a true sinusoidal wave form output that enables it to be rated to work with incandescent and fluorescent luminaires. The unit will operate the LED luminaire at full lumen output continuously for 90 minutes during an input power interruption and it can be used with normally-on, normally-off, or switched luminaires.
Ideal for retrofit or new construction, the UFO- LED20 provides 7 to 10 years of reliable performance with a Nickel Cadmium battery permanently installed in the unit. The unit can be installed indoors within the luminaires recessed housing, outside the luminaire housing, or it can be easily mounted up to 250 feet away from the indoor or outdoor luminaire. Constructed with a heavy duty steel enclosure and white powder coat finish, the UFO-LED20 battery pack provides an economical, inverter-derived emergency power for indoor or outdoor lighting fixtures.
UFO-LED20 Battery Pack
Key Features:
•Battery pack with 120/277 VAC 60Hz inverter output to power driver for an LED luminaire
•Sealed nickel-cadmium battery; powers driver/LED at full lumen output for 90 minutes
•Can be used with switched or unswitched luminaires
•Installation may be within, or remote from the luminaire; indoor installation for indoor or outdoor luminaires
•120/277 VAC 60 Hz input operation
•Remote test switch with AC-On indicator light
•Temperature range: 0˚C to 50˚C (32˚F to 122˚F)
•UL 924 Damp Location Listed
For additional information on the Dual-Lite UFO LED Battery Pack, visit www.dual-lite.com.
About Hubbell Lighting:
From its inception in 1963, Hubbell Lighting established its position in the lighting industry by producing outdoor lighting of the highest quality. Through an in-depth knowledge of the electrical distributor and contractor markets, Hubbell Lighting has been consistently able to combine innovative technology with practical lighting brand solutions and service oriented performance. Hubbell Lighting provides a full range of indoor and outdoor lighting products for commercial, industrial, institutional, sports lighting, landscape and residential markets, including green initiatives for vacancy sensors and daylight harvesting controls.
Contact
Cindy Foster-Warthen cindy@cfwevents.com Kent Welke kwelke@hubbell.com
E-mail:Dual-Litemarketing@dual-lite.com
Web Site:www.dual-lite.com