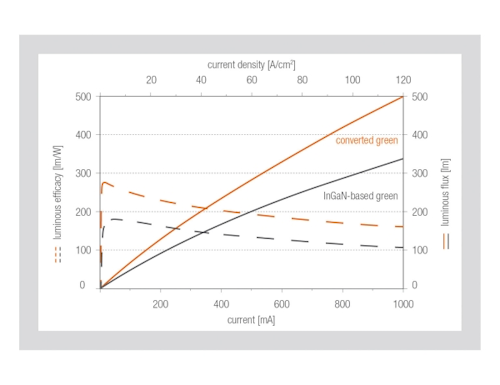 The Germany Federal Ministry of Education and Research funded Hi-Q-LED project has yielded a more efficient green InGaN LED and a phosphor-converted green LED with even higher efficacy.
Osram Opto Semiconductors has announced the results of a research program called Hi-Q-LED that has been funded by the Germany Federal Ministry of Education and Research (BMBF). The project was focused on closing the so called green gap — the efficiency deficit common in green indium-gallium-nitride (InGaN) LEDs. The work has yielded a 147-lm/W InGaN LED and a green LED based on a blue emitter and green phosphor that exceeds 200 lm/W in efficacy.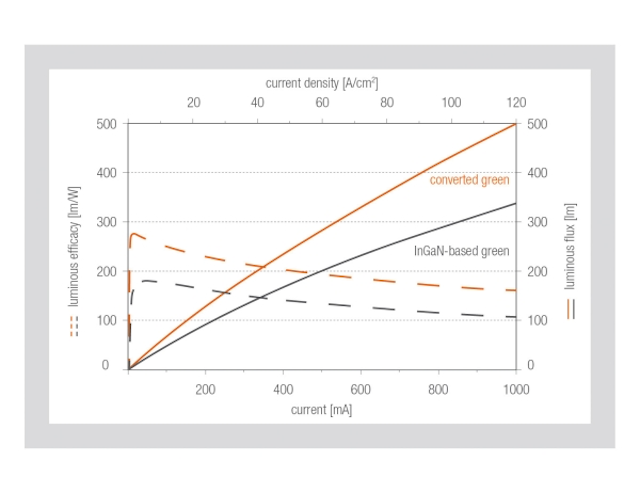 Osram research project increases efficiency in InGaN and phosphor-converted green LEDs
The green gap has been challenging in a number of solid-state lighting (SSL) applications. For example, RGB (red, green, blue)-based approaches to delivering white light require more green LEDs than blue or red LEDs. Moreover, monochromatic applications such as green lighting in traffic signals require driving the green LEDs at higher current levels, or using more LEDs, relative to yellow or red signal lights. The green gap has also been an obstacle in LED displays or projectors and in backlight systems.
The industry has long sought an answer to the green gap, and phosphor-converted blue LEDs have been a common approach. For example, the lime-green LED that is a key enabler of Philips color-tunable Hue products is a phosphor-converted LED. Moreover, back in 2010, Osram released results of R&D efforts in which a 3M green phosphor was applied to a blue emitter.

Native green LEDs can deliver a more narrowband emission than phosphor-converted LEDs, and therefore would be the preferred approach if the green gap can be overcome. The InGaN LED resulting from the BMBF project produces light over a narrow band at 530 nm. A 1-mm2 chip with 350-mA drive current delivers in the range of 150 lm for a current density of 45 A/m2. Osram said the LED can deliver 338 lm at 125 A/cm2, although efficacy would drop at the higher current level. Osram explained that the advances in the native green LED came via a reduction of carrier density and improved material quality.
"InGaN-based LEDs, in which the light output is generated by an InGaN semiconductor exclusively, offer a much more narrowband emission with a spectral width of approximately 35 nm compared to green LEDs that are based on phosphor conversion," explained Andreas Löffler, project manager at Osram Opto Semiconductors. "This breakthrough is an enabling technology for highly efficient projection systems requiring a high color rendering index. After all, a high color rendering index (CRI) or an increased color gamut means a more vivid, higher-quality image."
Still, some applications will always leverage the phosphor-converted option until native green LEDs match the higher efficacy. And for now, the efficacy above 200 lm/W remains significantly higher than the native green LEDs. Indeed, the R&D program yielded a 210-lm LED and 209-lm/W efficacy at 350 mA of drive current. The LED can deliver more than 500 lm at 160 lm/W. "Continuous improvement of the blue LED chips, an optimized excitation wavelength, and an increased degree of conversion of the phosphor converter are the winning combination underlying this new record-breaking LED," said Thomas Lehnhardt, research engineer at Osram.
Of course, it will take time for Osram to bring LEDs from the lab to market. The company has not detailed the expected timeline, but in general it seems to take the LED industry two years or more to move a new architecture from the lab to the production line.