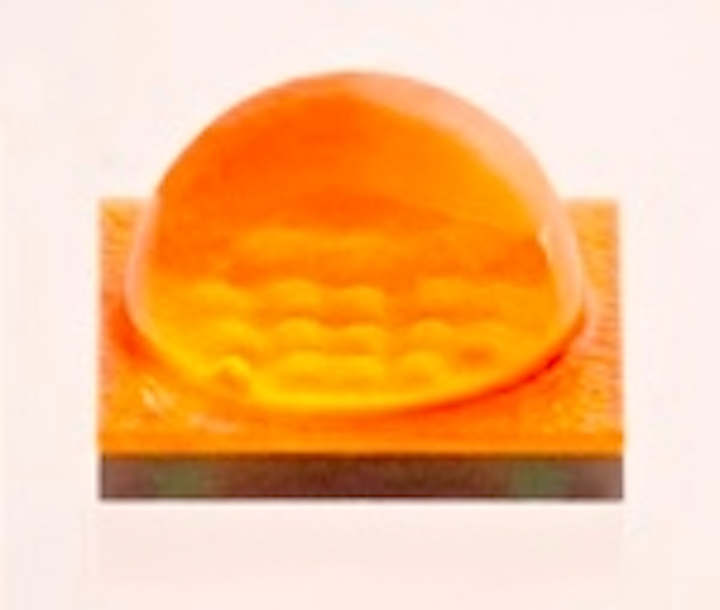 Cree has introduced two new high-voltage (HV) LEDs, the XLamp XM-L and XT-E, that the company says can boost driver efficiency by 10-20% in small retrofit lamps. The company also announced a new version of the XLamp MT-G LED for solid-state-lighting (SSL) applications that's 10% brighter than predecessors with the new LEDs delivering 1670 lm. Osram, meanwhile, launched new orange, yellow, and red Oslon SSL LEDs that can deliver 20% more light than predecessors.
Cree XM-L and XT-E LEDs
The Cree XM-L and XT-E LEDs target small retrofit-lamp application such as B10 candelabra lamps along with E17 and GU10 lamps. The HV-LEDs will deliver efficiency and thermal advantages in such lamps that are severely space constrained with limited options for cooling.
The LEDs are packaged and sold as discrete components, but in reality are built using an array of 16 very-small die. The XT-E is 3.45 mm on a side and the XM-L is 5 mm on a side. According to product marketing manager Paul Scheidt, target applications such as B10 lamps will use one or perhaps two of the LEDs.
By connecting the array in series, Cree was able to boost the forward voltage to 48V. According to Scheidt the higher voltage improves efficiency because the driver doesn't have to drop the line voltage down to the 4V level that would be required in a single emitter that's equivalent in size and lumen output to the array.
In the simplest case where a rectifier diode drives an LED, the system efficiency goes from 87.5% with a single emitter to 98% with the HV array. Cree says that in actual products the driver efficiency advantage may reach 20% while also enabling smaller, lower-cost drivers that run 10% cooler .
Driver efficiency
"Maximizing the LED voltage, as Cree has done in the new high-voltage XM-L and XT-E LEDs, is a very effective way to minimize current through the LED driver output rectifier," said Peter Vaughan, director of applications engineering at driver-IC manufacturer Power Integrations, Inc. "This can reduce losses and heat dissipation in the driver and increase the overall system luminous efficacy by several percentage points."
The concept of HV-LEDs and the efficiency advantage is not new. Indeed Cree offers a number of HV-LEDs in larger arrays. But Scheidt said, "Most HV-LEDs are efficient and large or small and inefficient." Scheidt showed efficacy graphs for the new LEDs compared to unnamed competitive products that would indicate a roughly 20-40 lm/W advantage for the new LEDs.
Cree says the LEDs will enable the first competitive SSL replacements for small lamps and received an endorsement from one customer. "The XLamp XM-L High-Voltage LED eliminates the trade-off between size and efficacy, allowing us to take advantage of the efficacy of high-voltage drivers," said Ken Chakravarti, chief technology officer, Ledzworld. "This translates to more efficient, better and more cost-effective small LED lamps and luminaires such as the B10 replacement lamp for our customers."
Scheidt said existing B10 SSL products can only deliver around 100 lm. Cree has built three reference designs that deliver 204 to 292 lm at under 5W that it says could replace 25 or 40W incandescent lamps.
When questioned as to how Cree achieved the efficacy boost, Scheidt said Cree's design, packaging the array of discrete emitters, provides an advantage. He said most other small HV-LEDs are made using a single die that is processed at the lithography stage of the manufacturing process to create the array. Cree is simply dicing the wafer to create smaller emitters and Scheidt said that delivers better efficacy.
Cree MT-G
With the new Xlamp MT-G LED, meanwhile, Cree is targeting what it calls "energy-wasting halogen light sources." The 1670-lm output mentioned earlier is for a warm-white 3000K color temperature specified at a realistic 85°C operating temperature.
Cree is offering the LEDs with a minimum 90 CRI for applications such as retail lighting. Commenting on the new LEDs, USAI Lighting president Bonnie Littman said, "Being able to offer our customers halogen-like color and brightness along with the energy-efficient benefits of LEDs is going to be a game-changer."
Cree will offer the LEDs over a color temperature range from 2700-5000K. Customers can specify the LEDs with a choice of 2- or 4-step MacAdam ellipse color bins.
Osram color LEDs
Osram's latest LED announcement is focused on brighter more-efficient light for applications in horticultural, stage, entertainment, and architectural lighting. The new Oslon SSL LEDs are manufactured with indium-gallium-aluminum-phosphide technology to deliver 10 to 20% improvements in light output.
The biggest gain came in a 660-nm LED that Osram calls Hyperred. The LED delivers 400 mW of radiant power at 400 mA of drive current. The product will be especially useful in commercial horticultural lighting as we covered in an article in the April/May 2011 issue of LEDs Magazine, "Precise LED wavelengths spur plant growth."
Osram says that the brighter LEDs are especially important for reducing energy in applications such as horticulture where lights operate continuously. Luminaires can use fewer of the brighter LEDs to deliver the same light. Martin Wittmann, marketing manager at Osram Opto Semiconductors said "Our customers benefit from the large increase in brightness because it leads to much shorter payback times. In commercial horticulture, for example, lighting systems with these LEDs can result in huge energy savings and low electricity costs."
Osram is offering the LEDs over a color range of 590-660 nm. The packaged LEDs measure 3 mm on a side and come with a choice of 80° and 150° beam angles.