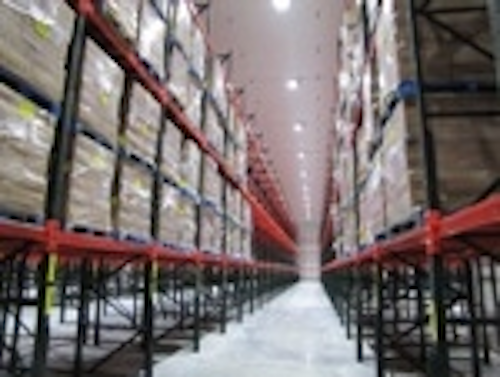 Americold cold-storage warehouses in Massachusetts, Utah, and Wisconsin now feature the LED-based Digital Lumens Intelligent Lighting System featuring networked fixtures and adaptive controls. Digital Lumen's partner Groom Energy will install the solid-state lighting (SSL) system in four more Americold warehouses in Alabama, Arkansas, Illinois, and Texas, seeking 90% energy savings relative to legacy lighting.
The Digital Lumens system is especially suited for warehouses because workers are only sporadically in aisles stocking or retrieving pallets. Occupancy sensors and network controls, combined with instant-on-and-off LED lighting mean that many of the lights can remain off during a significant portion of the operating hours. It's the combination of energy-efficient SSL and controls that can deliver 90% energy savings.
The installation that has been completed in the first three facilities will reduce energy consumption by 2.3 million kWh according to Groom. Those three facilities comprise 850,000 square feet of warehouse space. Digital Lumens is currently shipping products to the other four sites.
Commissioning and training
Groom is handling installation in the nationwide project including commissioning the systems and training Americold employees in the operation. The typical operational scenario delivers high light levels in the areas where warehouse employees are working while dimming to what Groom calls nightlight levels when no one is present.
"Groom Energy has led a successful process for our facility upgrades. They knew our operators' needs and designed and managed the implementations very effectively. Our teams are very pleased with the increased light levels, functionality and the significant energy savings," said Americold's Vice President of Engineering, Fred Walker. "This is another example of Americold's green initiatives having a positive impact on the environment."
When asked about the SSL choice, Walker said, "It's all driven by economics." Walker said that lighting is an expensive retrofit. But in discussing a range of energy-saving initiatives such as solar energy, better insulation and others, he said, "The best payback we are getting is from lighting retrofits." That payback comes from a combination of energy and maintenance savings, and incentive from utilities and government agencies. Walker indicated that Americold seeks to achieve a two year payback.
The latest Americold project includes one new warehouse whereas the remainder are existing facilities where SSL is replacing metal-halide (MH) lamps. The MH lamps are both less efficient than LED lights and require a prolonged restrike time (off-on cycle) that won't work in an adaptive-control scenario.
LEDs vs. dimmable fluorescents
Americold has utilized dimmable, high-efficiency linear-fluorescent systems in some facilities. Walker indicated that such lighting was an improvement over MH saying, "We got a lot of savings out of that too." But according to Walker, LEDs now offer even greater benefits. Walker lamented that you could only dim the fluorescent systems to 50% of full output because the system must keep the ballast warm to support an immediate return to full brightness.
Bob Kirby, Executive Vice President of Groom Energy, pointed out other limitation of the fluorescent systems. The lifetime of the dimmable fluorescents can be shortened by frequent on-off cycles. Kirby said facilities managers would typically set the fluorescent systems to stay lit for 30 minutes once triggered by an occupancy sensor.
The long on time would eliminate cycles and prolong lamp life in the case where workers returned to the same area of the warehouse in a short period of time. But the loner on period would also waste energy when workers don't return to the area. The LEDs can achieve far greater energy savings via much shorter on periods and the fact that on-off cycles don't significantly shorten the lifetime of the light source.
Financial incentives and rebates
Groom also plays a major role in helping companies such as Americold work through the financial implications of a major lighting upgrade. Groom operates nationwide, and the rebate and grant programs vary greatly across the US. Groom's Kirby said, "One of our values is figuring out what the incentive will be and guaranteeing that incentive to the customer."
Kirby said that Groom must exhaustively evaluate each project and calculate the energy savings while also searching out all potential incentives. After the installation, Groom performs the required measurement and documentation to ensure that the customers receive the incentives or rebates.
Kirby said Groom has worked across a variety of scenarios where incentives cover anywhere from 0 to 70% of the cost of a project. Even with no incentives Americold's Walker said "LEDs can still pencil out if you have a lot of operating hours."
In the Americold project, LEDs were really a good fit for even more reasons. Walker said that all seven facilities are low-temperature warehouses. The fact that the LEDs produce no heat helps save on energy used for refrigeration.
The Americold project is one of a series of design wins for Digital Lumens in the warehouse space. "We are delighted that Americold has selected and deployed the Digital Lumens Intelligent Lighting System across multiple sites, and appreciate Groom's expertise and commitment that has led to so many successful deployments," said Tom Pincince, president and CEO of Digital Lumens. "Americold's feedback during the development process was invaluable to our successful product design. In addition to broad improvements in light quality and energy efficiency, Americold is also leveraging LightRules management software for a detailed view into the facilities' operational performance and to measure progress toward company-wide sustainability objectives."