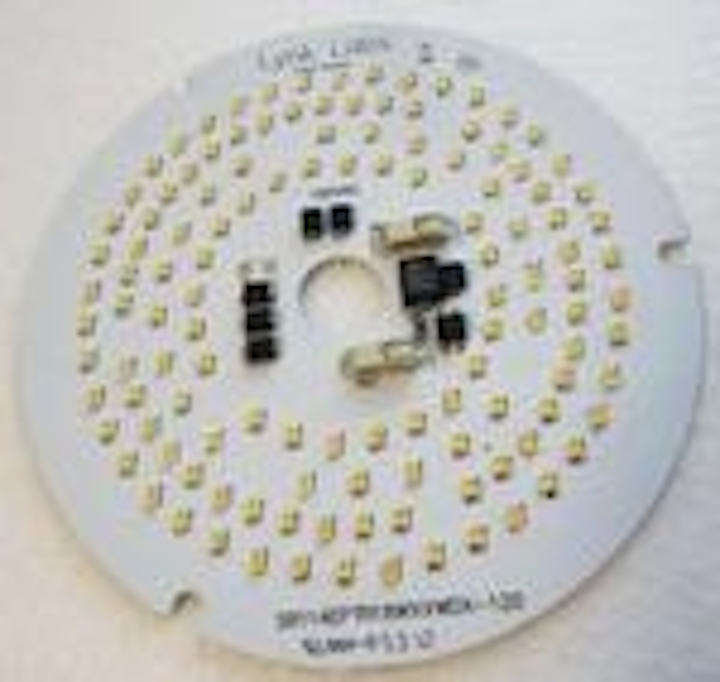 Lynk Labs has announced a new chip-on-board (COB) module in its SnapBrite family of products that for the first time relies on mid-power LEDs combined with AC driver circuitry. The 114-mm-diameter SR114 solid-state lighting (SSL) module accepts 120-VAC input direct from the power line and delivers 2000 lm at an operating temperature of 65°C.
The new modules achieve 100 lm/W efficacy based on the mid-power LEDs used and the efficiency of AC-drive technology that eliminates a power conversion stage relative to more typical DC-driven LEDs. "The 100 lm/w result includes all the required drive and protection circuitry to run the module direct from the mains," said Chick Huber, vice president of business development at Lynk Labs.
The SR114 is the first of a number of products that will use the general design captured in the new module. This first product features a 3800K CCT and CRI of 83, and when dimmed, using a legacy triac dimmer, delivers a warmer color temperature mimicking an incandescent lamp.
CEO Mike Miskin said that the company has a number of options in how to implement the dim-to-warm technology including using some amber or red LEDs. This first design, however utilizes two channels. One channel uses 4000K LEDs and the second uses very warm 2200K LEDs.
At full brightness, the 4000K LEDs deliver the bulk of the light and the enhanced efficacy that's common in higher-color-temperature LEDs. As the product is dimmed to lower drive currents, energy usage is generally decreased and the warm-CCT LEDs contribute more of the light mix.
Potential applications
The module delivers a 120° beam pattern that enables its use in applications such as downlights, flush-mount fixtures, and ceiling fans. Miskin said, "Now that we have reached 100-lm/w plug top efficiency with incandescent quality dimming, AC LEDs can fill the need for cost-sensitive, form-factor-challenged lighting applications with high system efficiency."
The new Lynk Labs module follows a growing trend of companies using more mid-power LEDs in products as opposed to fewer high-power LEDs. That trend allows product designers to take advantage of the cost savings inherent in the plastic-packaged mid-power devices that are generally built on production lines developed for LEDs that serve in display backlight applications. Moreover, more close-spaced mid-power LEDs can in cases provide a more even-looking light distribution.
The initially available SR114 uses Epistar LEDs. At this point the LEDs have not been fully LM-80 qualified. Miskin said, however, that such tests are ongoing and that the qualification should be in place around mid-February. He also added that based on customer requirements, Lynk Labs can utilize a variety of LED types to meet specific application needs.
Apparently the mid-power design uses a high-voltage drive scheme that works at 120-Hz relying on a rectified AC input, unlike the simplest AC-LEDs where only half of the LEDs are on for each half cycle. Miskin said in the SR114 that all of the LEDs are powered at the same time.