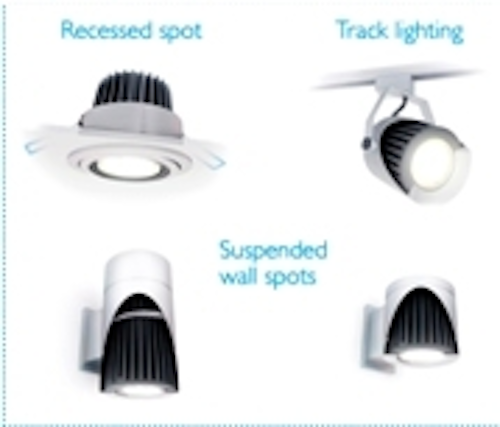 Philips'
Fortimo LED Integrated Spot Gen2
, an all-in-one solid-state lighting (SSL) solution that includes an integrated driver, optics and heat sink, has evolved into a dimmable module. This 600 lm module provides luminaire manufacturers with high quality of light in three color temperatures (2700, 3000, and 4000K) and varying beam angles (15, 24, and 36 degree).
The Gen2's new dimmability allows designers to create the desired ambience in each setting it is placed. To experience the benefits of this new SSL product you can watch the video embedded below.
This module is just right for smart LED redesigns of 50W LV halogen-type fixtures. It can be fit into recessed, ceiling, wall-surfaced, and suspended fixtures in environments such as hospitality, retail, and residential. As for its use in commercial spaces – such as hotel lobbies, reception areas, bars, and elevators where lights run for many hours each day – the Gen2's low maintenance costs and reduced energy consumption make it a good choice. Its lifetime is 50K hours.
"The existing 50W LV halogen market is enormous and waiting to be transformed to attractive LED solutions that come with quick pay back times," said Marius Schlatmann, regional product marketing manager, low lumen."The Fortimo LED Integrated Spot Gen 2 dimmable module can be connected directly to the mains and is an efficient and affordable solution.The integrated system means that no external driver is required. No extra costs, no additional installation time and space needed, and no compatibility issues. This makes life easy and allows a fast time-to-market."
The Fortimo LED Integrated spot is now commercially available. Small numbers of samples for testing and design-in purposes can be ordered via the Philips Technology web shop.