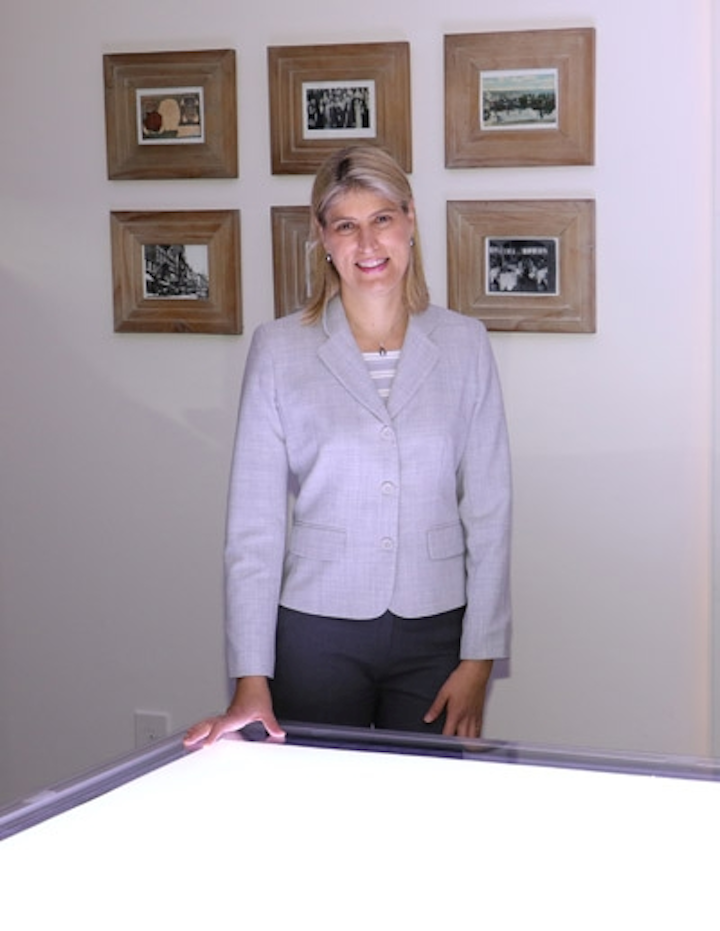 "Light tables" help administer correct doses of light and assist tunable general lighting in rebalancing circadian rhythms, Rensselaer finds.
More evidence that properly engineered human-centric lighting can help wellbeing: Researchers at Rensselaer Polytechnic Institute have found that tables that emit light at Alzheimer's patients' faces improved the individuals' sleeping patterns.
Interested in more articles & announcements on human-centric lighting?
The "self-luminous light tables" also reduced depression and agitation, Rensselaer (RPI) said. It's the latest in a series of findings in the expanding studies of light's effect on human physical and mental wellbeing.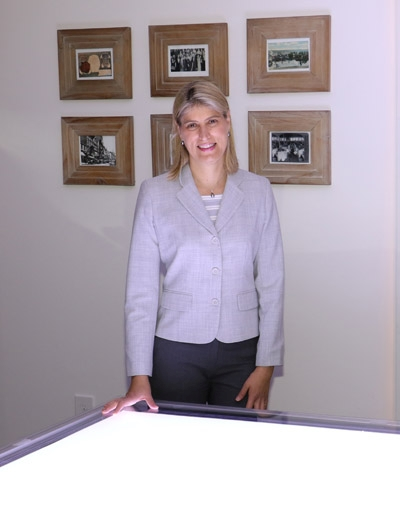 Alzheimer's patients benefit from human-centric lighting designed to be emitted by tables
Researcher Mariana Figueiro with a light table that has demonstrated the ability to improve Alzheimer's patients' circadian rhythms in a human-centric lighting study. (Source: Rensselaer Polytechnic Institute Lighting Research Center [LRC].)

Alzheimer's patients and other dementia sufferers typically stay indoors and thus don't receive enough daylight to stimulate their circadian rhythms — something that RPI and other groups, including St. Augustinus Memory Center in Germany, have been studying, as LEDs Magazine reported last week.
While RPI's Lighting Research Center has, like St. Augustinus, been experimenting with room lighting in an effort to mimic daylight patterns, it recently added a new twist to its research: the light tables, which provide a more direct dose of light aimed at patients' eyes, in addition to general room lighting tuned to different day and evening frequencies (blue frequencies during the day for stimulation, warmer colors at night for relaxation).
"Light can be used to consolidate sleep in individuals with Alzheimer's disease and related dementias, but the light delivery method is one of the greatest challenges for successful treatment," lead researcher Mariana Figueiro said in peer-reviewed scientific journal Lighting Research and Technology. "Based on our field observations, it was hypothesized that a self-luminous light table would be a practical way to deliver light because persons with Alzheimer's disease typically spend a significant amount of time sitting at tables."
RPI, based in Troy, NY, installed its first light table at the Albany County Nursing Home in nearby Albany.
"Compared to a baseline week, sleep percent and efficiency significantly increased and agitation and depression scores significantly decreased during the four intervention weeks," Figueiro said. "The self-luminous light table was an effective and practical method to deliver circadian-effective light to persons with Alzheimer's disease."
RPI added, "Sleep problems are all too common among older adults, especially those in long-term care facilities, yet sleep could not be more important to their overall health and wellbeing. In fact, recent research has shown that poor sleep may directly impact the onset and progression of Alzheimer's disease, and conversely, healthy sleep may prevent or slow progression of the disease."
The university is rolling out its "tailored lighting" studies using human-centric lighting principles into other care homes in the US.
MARK HALPERis a contributing editor for LEDs Magazine, and an energy, technology, and business journalist (markhalper@aol.com).