Great Xscape as LTP brightens shopping complex
LED ceiling cove lighting and a giant light box have enlivened a shopping center in Milton Keynes.
Oct 17th, 2005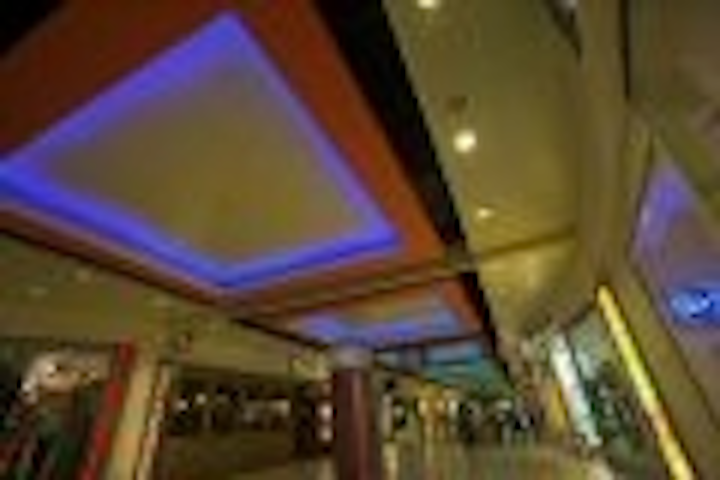 Architectural lighting specialists Lighting Technology Projects have designed, supplied, installed and commissioned the first stage of a colorful new LED lighting scheme at the Xscape shopping and leisure complex in Milton Keynes, UK.
Owners X-Leisure approached LTP asking them to liven up and revitalize the environment with creative feature lighting.
LTP's Terry Reeves saw the potential of 20 cosmetic ceiling "rafts" running down the mall's two main concourses. The cold cathode that had previously lit these was ripped out and replaced with over 1000 linear feet of Color Kinetics iColor Cove QL. This is a low-profile, 12-inch (30.5 cm) unit with a 100° x 40° beam angle.
These fittings illuminate the rafts in a chasing sequence of vibrant colours, with the LEDs more than holding their own despite the high levels of ambient lighting. The raft lighting is programmed into a CK iPlayer 2 controller with 16MB of on-board memory, which accommodates a full DMX universe of 170 individual light addresses.
Next, Reeves and his team turned their attention to the stairwell and escalators joining the two levels of the mall. 20 Color Kinetics ColorBlast 12 wall washing fittings were strategically positioned inside and outside this area to generate rich, uniform colors and color-changing effects.
The large frosted glass panels between the escalator sections were converted into a giant light box using concealed, internal fixtures, while the remainder of the ColorBlasts were bolted directly onto the stairwell surfaces.
Light from all these fixtures bounces off the many metal and glass surfaces in the immediate vicinity, reflecting a myriad of colors and shapes around the stairwell, livening up what would otherwise be a very ordinary journey between levels of the building.
"I employed a similar lighting psychology to when I lit the escalator-well at the Cornerhouse complex in Nottingham" says Reeves, "People are always surprised and fascinated by the unexpected – and getting bathed in color changing lighting as you make the short journey between floors is an ideal way to build the general atmosphere, anticipation and excitement of the environment."
The second phase of the new installation will complete in time for the Christmas season, and includes large quantities of the new high intensity CK iColor Cove MX Powercore. This will be used to light 10 internal columns, beacon style, running the length of the mall.