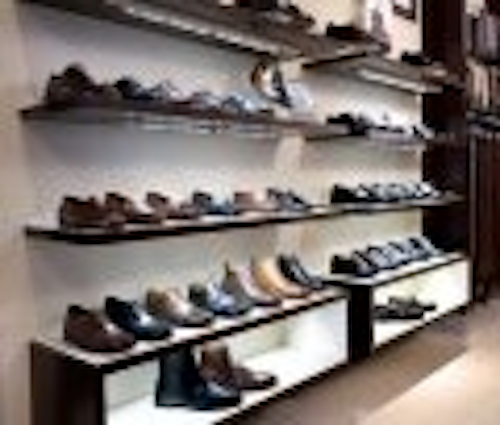 Bostonian, the specialty men's footwear brand owned by Clarks Companies, has become the first retailer to implement IntelliWhite LED lighting fixtures from Color Kinetics across multiple locations.
Bostonian and its sister brand Clarks operate a network of retail stores across the US, at least 15 of which will apply iW Profile to light their display shelving. iW Profile was chosen as a low-maintenance and long-lasting alternative to Bostonian's existing fluorescent display lights, which required costly and frequent replacement.
The retailer will design custom display fixtures that incorporate iW Profile to downlight each shelf. iW Profile also allows for different Kelvin temperatures to be set according to display location, for example, cooler shades of white for displays near store windows, and warmer shades towards the store's interior.
According to the US Department of Energy, lighting accounts for 59% of total electricity use in retail and service buildings, followed by cooling at 14%. Intelligent solid-state lighting mitigates electrical costs by consuming less power and radiating very little heat, which in turn lowers cooling expenses. As LED technology continues to advance and intersect the performance levels of conventional sources, the case for intelligent solid-state lighting as an energy-efficient alternative becomes even greater.
"This deal is an exciting indication of the fast-growing market opportunities and applications that exist for Color Kinetics' IntelliWhite series, as intelligent solid-state lighting is now a proven and cost-effective alternative to conventional sources," said Bill Sims, President and COO, Color Kinetics.
"Retailers continually seek efficient ways to light their products and spaces while managing operational and maintenance costs. iW Profile delivers on both fronts while adding the advanced capability of color temperature control."
Color Kinetics' IntelliWhite series combines advanced high-brightness white LEDs with patented digital control technology to enable both traditional and completely new uses of high-quality white light. iW Profile is a low-voltage linear unit designed for interior display, exhibit, under-cabinet, task and alcove lighting. It uniquely features variable color temperature, and can produce cool to warm gradients of white light from a single fixture. It also extends the inherent benefits of LEDs, including efficiency, long life, durability, and lack of radiated heat and UV emission, to white light applications.