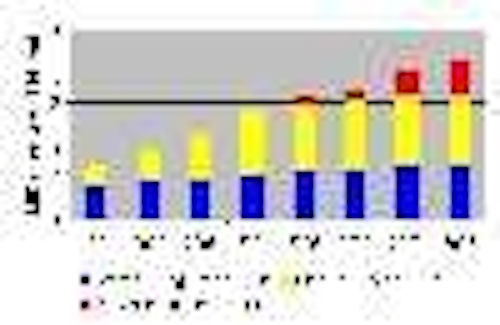 According to its new report entitled "Solid-State Lighting Market Will Continue to Experience Explosive Growth", market research company iSuppli Corporation estimates that the LED industry will continue to see rapid expansion, with shipments of LED chips reaching $6.8 million by 2008.
LEDs are continuing to penetrate new applications while increasing their dominance over competitive technologies in existing markets, says iSuppli's analyst, Jagdish Rebello. The past two years have also seen dramatic improvements in the output intensities of different colored LEDs.
2004 was the first year in which shipments of high-brightness LED chips exceeded those of standard brightness devices, which are used in indicator lamps, small displays and infrared transmitters.
The ultra-high brightness market segment will see the most rapid growth over the next several years, says Rebello.
The report examines the major application segments for LEDs; established applications for standard brightness devices; traffic signals; interior and exterior lighting in cars, trucks and buses; large screen and moving message visual displays; decorative lighting; LCD backlighting; cell phone keypad and flash lighting; and general lighting.