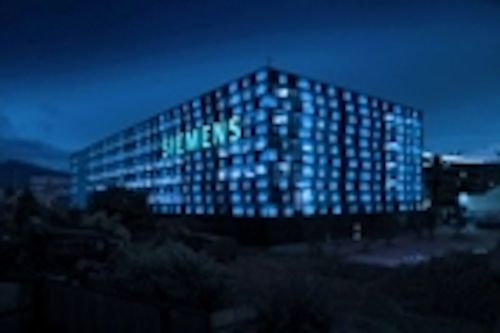 Traxon Technologies supplied 25,900 LEDs to architecturally light Siemens Building Technologies Division's new parking garage and staff restaurant. LEDs will also soon light the 350-ft wave that marks the National Aquarium located on the waterfront in Baltimore, Maryland.
Outdoor architectural LEDs can both provide needed lighting and decorative features when installed on the façade of a building such as the Siemens' garage. Moreover the lights are energy efficient. The Zug, Switzerland installation requires 39.2 kW/hr to operate – equal to the electricity needed to power 20 electric kettles according to Siemens.
Lighting designer HEFTI HESS Martignoni developed the concept and used 1230 Traxon Linear XB RGB fixtures. The lighting relies on a control system from Traxon sister business e:cue Lighting Control.
Siemens states, "The products accentuate and trace the design of the building or let it blur into the darkness of the night. The car park is an architectural masterpiece and a symbol for renewable energies which provides another landmark in this Swiss city."
In Baltimore meanwhile, the National Aquarium will utilize an outdoor architectural LED lighting system made by General Electric to replace the neon wave according to the Baltimore Sun. The aquarium is projecting that the move to LEDS will reduce electricity costs by 70%.
The Aquarium also announced the planned replacement outdoor architectural LED lighting implementation on its blog site stating that the "blue wave is going green." Work started in late July and the Aquarium said the new sign would be lit in about three weeks.
The conversion certainly comes with some concern to city and Aquarium officials as the blue wave is seen as a recognizable city landmark – it's clearly visible on TV when sports are televised in nearby venues. Aquarium representatives and Triangle Sign and Service (the company installing the new sign) believe the new version will be even better than the original neon sign. Moreover the Aquarium expects the new sign to save on maintenance cost on top of the energy savings.
The Aquarium sign update is significant of a trend away from neon in decorative lighting. Earlier this year for instance, Gillette replaced a 400-ft-long neon sign on its South Boston manufacturing plant with an LED version.