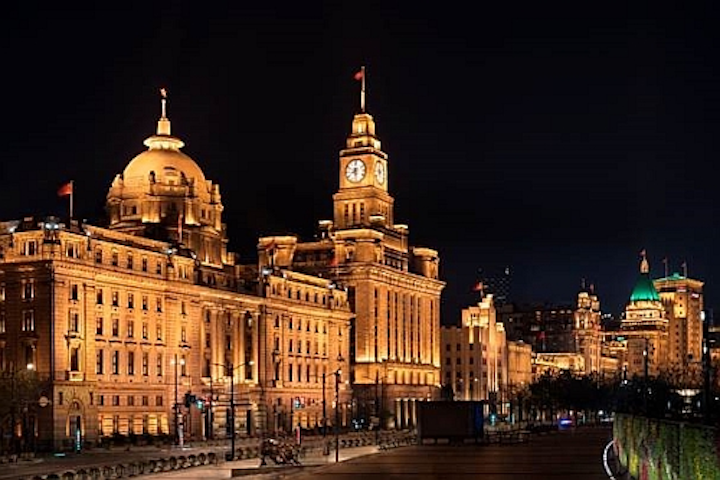 Much of China is taking SSL lessons from New York's Times Square or Las Vegas in lighting the exteriors of metropolitan buildings, but Signify has supplied more sedate tunable-white LED lighting for historic buildings in the Shanghai Bund.
Signify (formerly Philips Lighting) has announced another set of exterior LED lighting project in the burgeoning city of Shanghai, China. Working with a number of high-profile lighting designers and architects, Signify has provided tunable-white solid-state lighting (SSL) products from its Interact, Color Kinetics (formerly Philips Color Kinetics), and Philips brands. The more sedate lighting, relative to an earlier Shanghai SSL project, has been applied in the Bund or Waitan district near the waterfront in central Shanghai — home to many buildings with historical significance.
Late last year, we reported on a larger Shanghai SSL project that stretched nearly a mile along the waterfront, encompassing more than 70 buildings and three major bridges. That project generally utilized dynamic color-changing LED lighting and Interact control systems. Indeed, China has been quick to deploy over-the-top dynamic SSL including the project at the China World Trade Center Tower in Beijing where the building is now a large video screen.
Still, white-light technology can provide visual impact and help reveal intricate architectural details of buildings without the Las Vegas effect, as we covered in the New York Walker Rower retrofit supplied by Erco. And tunable-white technology affords lighting designers and specifiers more ability to reveal a building's architecture subtly.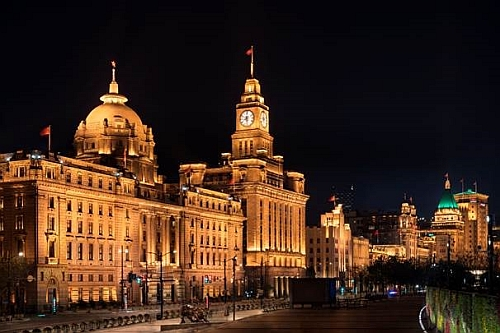 Shanghai shows restraint in using tunable white LED lighting for façades in the historic Bund
Tunable-white LED lighting illuminates the façades of many historic buildings in the Shanghai Bund or Waitan district. (Photo credit: Signify.)
Key participants in the Shanghai Bund project include:
Fisher Marantz & Stone partnered with Uno Lai Lighting Design & Associates handled the Customs House and Pudong Development Bank façades
Unolai Lighting Design & Associates designed the Asia Building and the House of Roosevelt, Shanghai Clearing House façades
Tungsten-Studio Lighting Design designed the Peace Hotel, the Swatch Art Peace Hotel, the Public Service Center of the Bund, Bangkok Bank, Bund 6, Bund 5, Bund 3, Waldorf Astoria Shanghai Hotel, and the Meteorological Tower façades
Shanghai Luoman Lighting Technologies handled the China Merchants Company Building, Shanghai Foreign Exchange Trade Centre, Agricultural Bank of China, and Industrial and Commercial Bank of China façades
Landscape Lighting Management Institute of Huangpu District Shanghai designed the AIA and Bank of China building façades
Tongji Architectural Group designed the Shanghai Federation of Trade Unions Building and China Everbright Bank façades
Shanghai Xian Dai Architectural Group handled the Bank of Taiwan and the Chartered Bank of India, Australia and Chinabuilding façades
There is a compelling video of the project that demonstrates the range of capabilities of the installation. The project can still produce dynamic shows moving along the waterfront. But it can also more subtly set CCT and spectral power distribution (SPD) in ways that best reveal the architecture, taking account of the ambient light in the area.
The Signify Interact Landmark control system delivers unified control for the entire Bund district. Philips Lighting revealed the Interact Internet of Things (IoT)-centric brand at Light+Building (L+B) 2018 about one year ago as the Signify name was just coming to fruition. Interact Landmark is just one of the implementations of Interact IoT technology and, as the name implies, is intended to light iconic outdoor sites such as monuments, bridges, and buildings. There are other flavors of Interact including Interact City for smart city applications, Interact Office, Interact Sports for professional sports venues, and Interact Retail with indoor positioning capabilities.