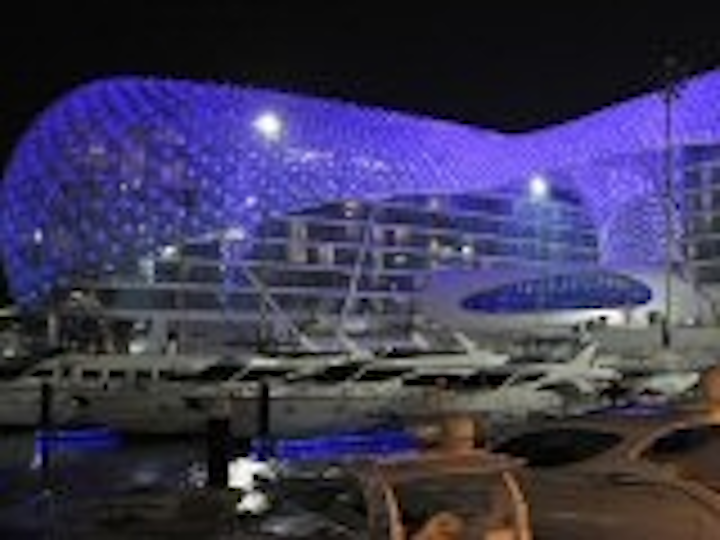 The Yas Hotel in Abu Dhabi is a 500-room, 85,000-square-meter complex built by Aldar Properties PJSC and completed just in time for the inaugural 2009 Formula One (F1) Abu Dhabi Grand Prix, which took place on November 1.
The building has been described as "an architectural landmark that embodies key influences and inspirations from ancient Islamic art and traditions, melded with the artistry and geometries associated with speed, movement and spectacle." Its visual impact is greatly enhanced by its exterior LED mesh, containing 208,800 LEDs.
The hotel is unique as the only one in the world to sit astride a race track. Because the F1 race commenced at dusk and finished in the dark, race-goers and TV viewers were treated to a spectacular LED lighting display.
The hotel's design was the brainchild of Asymptote Architecture, a New York-based architectural firm. The main feature of the project's design is a 217-meter expanse of sweeping, curvilinear forms constructed of steel and over 5,300 pivoting diamond-shaped glass panels which are illuminated via a sophisticated LED lighting system, providing limitless shades and colors.
The lighting system represents a collaboration between two UK-based companies; Cooper Lighting, a lighting solutions design and engineering firm, and Enfis Group plc, a developer and manufacturer of SMART high-power LED lighting systems.
Cooper used over 5,850 Enfis LED arrays in its lighting design for the exterior environs of the Yas Hotel complex. The products consisted primarily of Enfis 4-channel UNO Plus arrays and control drivers integrated into custom-designed IP65-rated stainless steel stanchions.
This grid-shell component gives the building an atmospheric-like veil that contains two hotel towers and a link bridge constructed as a monocoque sculpted steel object passing above the Formula 1 track that makes its way through the building complex. From the outside, the LED color-changing shroud can be seen for miles around.
The desert climate of Abu Dhabi can reach 60 °C in the summertime making havoc out of just about every form of light source – incandescent or LED. But as Managing Director of Cooper Lighting, Gavin Smith, stated, "Right from the beginning we knew that ambient would be a major challenge considering the inherent performance limitations for LEDs components and driver technology. We carried out numerous studies testing products from some of the world's major LED manufacturers."
However, said Smith, Cooper's collaboration with Enfis solved this problem almost immediately. "The Enfis array/driver solutions were the only systems that passed our rigorous environmental chamber trials." Extensive testing carried out by Cooper confirmed that the Enfis array/driver solutions actually exceeded the light output specification necessary to operate at these extreme ambient temperatures.
Enfis' technology provides the ability to control each LED array, as well as two-way communication with each driver/array combination providing real-time monitoring of fixture temperature, CCT and energy consumption. It also provides Remote Desk Management (RDM) DMX capabilities.
"I believe the designers are able to create the lighting effects they originally envisioned for this project due in large part to the ability of Cooper to come through with solutions," said Smith. "And I also believe Cooper was able to come through with those solutions in large part because of Enfis."
"The team at Cooper Lighting was great to work with, they have a unique technical acumen for how to drive LEDs, and how to package them in a fixture, and more importantly, how to integrate it all into a unique environment such as this massive structure," said Shaun Oxenham, Chairman of Enfis. "The result is a truly iconic structure that will be admired and enjoyed for generations to come. It really captures the whole essence of how to use solid-state LED lighting for achieving architectural excellence."