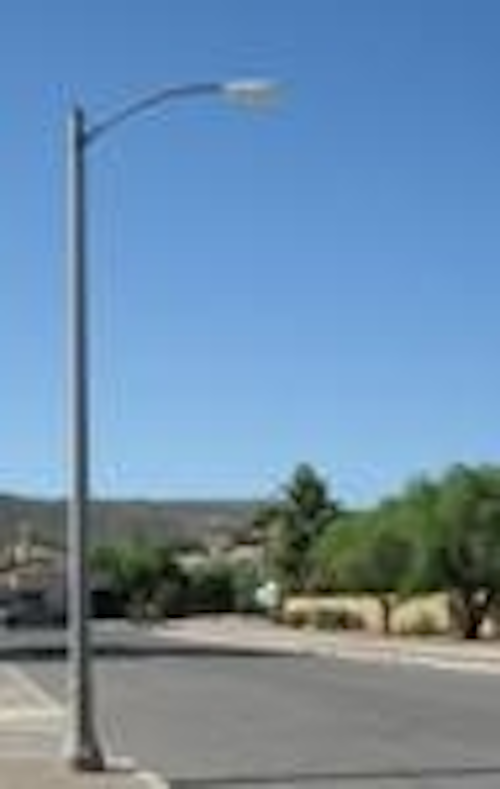 Tucson, Arizona has replaced 600 low-pressure sodium (LPS) street lights with Streetwork OVH LED Cobrahead luminaires from Cooper lighting. Chicago, Illinois solid-state-lighting (SSL) vendor PolyBrite International has signed an agreement with the Brazilian government that is projected to lead to a broad LED retrofit of street lights prior to the 2014 FIFA World Cup. Cleveland finally moves toward an outdoor LED lighting project, and LED Roadway Lighting will test GPS-enabled SSL fixtures.
Tucson funded its latest street-light project with a $425,000 grant made under the American Recovery and Reinvestment Act (ARRA). The city has completed the project and is saving $3,000 per month in energy costs since replacing the LPS lights.
It's apparent that the city is pleased with the results both in terms of energy efficiency and light quality. "The advantages that LEDs offer are unquestionable, from better visibility to lowered maintenance requirements. Most importantly, the city is seeing significant savings in energy costs because the Cooper Lighting luminaires run with significantly more efficiency than our previous street lights, and we did not sacrifice light quality to achieve those savings," said Ernie Encinas, Transportation Superintendent for the City of Tucson. "Residents and decision makers alike can see the improvement in lighting in our streets."
Tucson tested products from a number of manufacturers before choosing to deploy the Cooper luminaire. The city selected the product based on a combination of energy efficiency, the fixture design, and light quality.
The Cooper street lights utilize the company's LightBAR technology that packages individual emitters in a modular rectangular array. Total-internal-reflection (TIR) optics that are mounted on each emitter form the desired beam pattern and minimize light pollution (see, SSL luminaires must deliver reliable beam patterns in outdoor applications" for background). The luminaires are rated for 50,000 hours of life, and should therefore provide savings in maintenance costs on top of the energy savings.
PolyBrite and Brazil sign TCA
Meanwhile, PolyBrite has signed a Technical Cooperation Agreement (TCA) with the Federal District Government of Brazil that is intended to lead to LED street-light retrofits in Brazil, and new jobs both in Chicago and Brazil. The TCA is the first entered into by Governor Agnelo Queiroz, and is intended to yield an upgrade to energy-efficient lighting before the 2014 FIFA World Cup soccer tournament takes place in Brazil.
PolyBrite presently manufactures LED street lights under its Borealis brand along with a variety of other outdoor and indoor LED-based lighting products. The TCA will afford PolyBrite the opportunity to supply lights to Brazil and a "launching pad" for product distribution throughout South American markets.
Under the terms of the TCA, PolyBrite will establish an SSL assembly facility in Brazil that will supply the entire South American market. The agreement resulted from a delegation including former US Speaker of the House Dennis Hastert that travelled to Brazil for a meeting with the governor and other business and government leaders. PolyBrite president Carl Scianna was part of the delegation.
Cleveland finally moves toward SSL
In Cleveland, Ohio, what turned out to be a misguided plan to tie the purchase of LED street lights to a commitment from a luminaire vendor to build a local factory is dead, but the city may be finally moving toward an SSL project. We covered the Cleveland LED street light saga previously and the fact that no luminaire maker submitted a qualifying bid.
According to the Cleveland Plain Dealer, the city is now going to launch an LED pilot project in which as many as six luminaire makers will supply 60 street lights each. The city is also going to test LED indoor lighting at the new Cleveland Public Power service center.
LED Roadway Lighting supplies Canadian projects
In Canada, luminaire maker LED Roadway Lighting has announced a couple of major SSL street-light projects although the newsmaker in many accounts is the use of GPS technology to control the operational timing of the lights. The GPS functionality will allow street lights to discern their location and automatically determine when lights should be switched on or off.
While the GPS approach will work in street-light control, it seems a poor investment in terms of ROI considering that an inexpensive photocell can do the same job. If a buyer intends to invest in wireless technology in a street light, and the inherent microprocessor required in such a module, a wireless communication scheme that provides adaptive controls would seem to be a better choice (see, "Wireless networks enable city-wide control of LED street-light installations" for background).
LED Roadway Lighting will trial the GPS technology in a 200-light pilot at a location to be named later. The $500,000 contract came courtesy of the Canadian Innovation Commercialization Program.
LED Roadway Lighting will also supply 2,500 fixtures to the province of Nova Scotia. The province hopes to slash 31,000 tonnes of greenhouse gas emissions attributable to electricity generated for the street lights.
Finally, LED Roadway Lighting announced that its Satellite Series fixtures have been added to the DesignLights Consortium (DLC) qualified products list. The list serves as a de factor approved vendor/product list for many municipalities and utilities, and should thereby expand the market for the luminaire series.