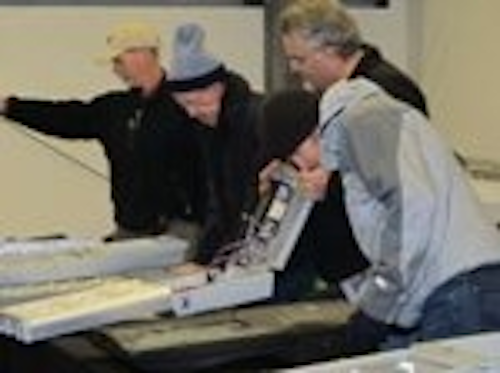 The US Department of Energy (DOE), the Illuminating Engineering Society of North America (IESNA), and the International Association of Lighting Designers (IALD) have jointly announced the results of the latest Next Generation Luminaires (NGL) Solid-State Lighting (SSL) Design Competition. At the Strategies in Light (SIL) conference, the partners announced 37 LED-based products that were recognized as winners in the 2012 NGL outdoor competition – and four of the winners were also named best in class.
NGL was launched in 2008 and through 2012 included both indoor and outdoor categories in a single competition. After the 2010 competition, when winners were announced at SIL 2011, the annual program was split into two separate competitions with the 2012 indoor winners announced last spring at Lightfair. The NGL winners announced at SIL were the first products recognized in the outdoor category since the 2010 competition.
The program was designed to recognize products that lighting designers and specifiers could then feel comfortable recommending or installing. "The goal here is to recognize products that are not only attractive, but that are also energy-efficient and deliver good lighting quality," said DOE SSL program manager Jim Brodrick. "It reminds me of football, where the most-effective quarterbacks aren't just good passers - they can also run well and see the whole field."
The 2012 outdoor competition features the most contentious field to date. The DOE said that 176 products were entered, with the partners ultimately approving 151 to continue through the judging process although that number was narrowed to 120 in the early stage of judging.
Judging included a comprehensive review of documentation. The judges also performed a hands-on tabletop examination of all products.
Ultimately, the Virginia Tech Transportation Institute (VTTI) installed the 120 products from 42 manufacturers that made it to the in situ judging. For example, street lights were mounted on VTTI's test track at appropriate pole height and spacing, and parking-garage luminaires on a truss in a parking area. The judges worked after dark scoring each product.
We will have full coverage of all of the recognized winners in the Winter issue of our Illumination in Focus magazine. Below you will find the products listed starting with the Best in Class award recipients followed by the remaining Recognized Winners.
Best-in-Class winners
Fraqtir Outdoor Style S170 by The Lighting Quotient
Evolve LED Scalable Cobrahead by GE Lighting
Oxford by Relume Technologies Inc.
TV and Dial LED by Edge Lighting
Recognized winners
Evolve LED Scalable Cobraheads by GE Lighting
Navion LED Roadway Luminaires by Cooper Lighting
SL2 Roadway Street Light by Excellence Opto Inc.
Hyperion LED Bollard by LSI Industries Inc.
Eon 303-B1 Bollard by Lumiere
LEO by Landscape Forms
Evolve LED Contemporary Conical Post Top by GE Lighting
Evolve LED Small Modular Area by GE Lighting
TopDek by Kenall Lighting
Arieta by Leotek Electronics USA Corp.
Cree THE EDGE High Output LED Area Light by Cree Inc.
ETG-A200 by Horner
Mini 300 LED Gen-2 Gas Station Canopy by Philips Wide-Lite
PLED by RAB Lighting Inc.
ParkVUE 50HB by Relume Technologies, Inc.
eW Graze MX Powercore by Philips Color Kinetics
Lumencove XT by Lumenpulse
Lumenbeam Small and LBX by Lumenpulse
D-Series Floodlight: Size 1 and 3 by Lithonia Lighting
AccuLite LED Mini Security Light - MSL Series by Juno Lighting Group
LGOOSE by RAB Lighting Inc.
Cylinder by G Lighting
LPACK52 by RAB Lighting, Inc.
LytePro 16 by Stonco Lighting - a Philips Company
Patriot LED Wall Sconce by LSI Industries, Inc.