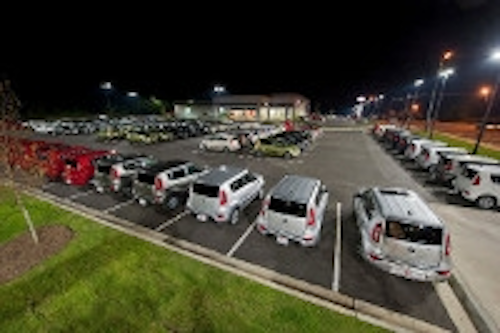 Until recently, lighting the so-called front line of cars in an auto dealership has remained the province of metal halide (MH) lighting because dealers demand high light levels and quality that make the colors pop when customers shop at night. A new Kia dealership in Columbus, Georgia, however, found that it could achieve the desired results with LED-based GE Lighting Evolve area lights and save 20–33% in energy relative to other lots under the same ownership group.
Kia AutoSport had a blank sheet of paper in contemplating lighting for its new dealership in Columbus, GA. Owner Monroe Lee has other Kia dealerships that use MH lighting. But the new facility afforded flexibility in pole placement, spacing, and height and a chance to reduce lighting costs — among the largest sources of electrical costs at an auto dealer. "We tried to use energy-saving techniques throughout the whole design of this new dealership, which included energy-efficient lighting fixtures and timers to control when the lights are on," said Lee.
The Georgia Power utility recommended to Lee that LED lighting might be a viable option for energy savings. "The unique characteristics and improved uniformity of LED lighting allow it to provide superb lighting coverage with fewer lumens and at a fraction of the HID system wattage," said Dave Smolinski, senior market specialist at Georgia Power. "Because this was a new facility, lights and poles could be placed to provide optimum coverage and minimize the number and location of poles in vehicle display areas."
Working together, Lee and Georgia Power selected the GE Evolve LED Area Lights. The luminaires uses concentric reflective rings that help form the desired beam and eliminate spill light. Moreover, the fixtures feature low-profile aesthetics. Lee said, "GE's thin Evolve lighting fixtures have a more elegant look compared to bulky metal halide fixtures."
Ultimately, the dealership installed 69 202W LED fixtures mounted on 30 25-ft poles to light the 350-vehicle inventory. Lee chose 4000K CCT lighting with a CRI of 70. Lee said, "The new LED lighting showcases the cars individually, and really highlights the color of the vehicles on the lot."
Of course, other characteristics such as uniformity and light spill were also important considerations. Lee added, "The light is spread uniformly around the facility without the high and low spots you often see in parking lots." He said the lighting is superior to his other lots.
The LED lights also deliver on both energy and maintenance savings. "When compared to a similarly sized dealership that I built five years ago using metal halide fixtures, it appears I'm saving between 20–33% percent on energy costs as a result of the LED lighting," Lee explained. "Plus, I have had no maintenance with the light fixtures since installation a year ago. That was one of the main selling features that put me over the edge. If everything continues to operate smoothly, I anticipate using this same outdoor LED lighting in the remodel of my other KIA dealership locations."