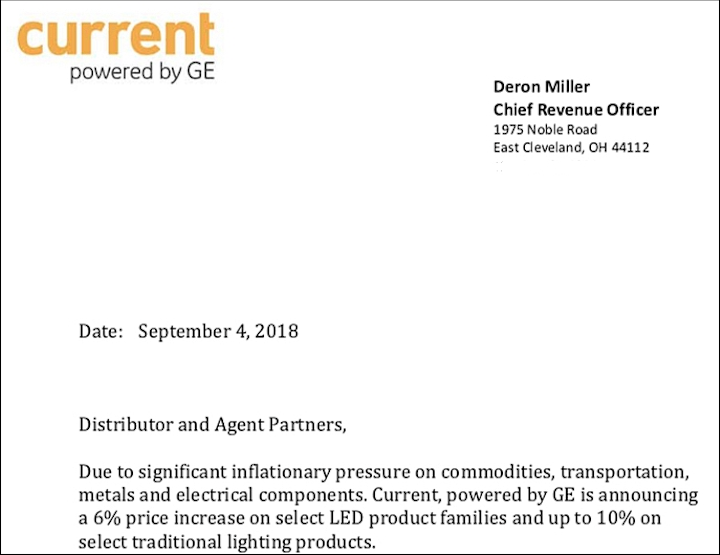 It was a bit startling to see Current – the once overarching energy services company – announce price increases on LED luminaires and "traditional lighting products." It felt like GE Lighting all over again.
When GE's Current division quietly announced price rises on LED and on "traditional lighting products" last week, it wasn't the increases per se that were so notable. Rather, it was the company that made them: Current, or to use its full corporate name, Current, powered by GE.
In a memo addressed to "Distributors and Agent Partners," Current advised that "Current, powered by GE is announcing a 6% price increase on select LED product families and up to 10% on select traditional lighting products."
The announcement, first reported by the Edison Report website, reaffirms that GE has scaled back Current's initial overarching mission from what was to have been a multifaceted energy services and data company, into one that looks as concerned with selling LED luminaires, fluorescent tubes, and even incandescent lightbulbs as it does with gathering data and monitoring and controlling energy consumption.
In other words, Current, despite its attempt to redraw LED lighting as part of a broader business model that ties together usage information from solar panels, electric car chargers, storage batteries, lights, and other modern energy devices, has also remained very much a lighting company that sells, er, lights — including "traditional" models as well as solid-state lighting (SSL) products.
Nothing really wrong with that.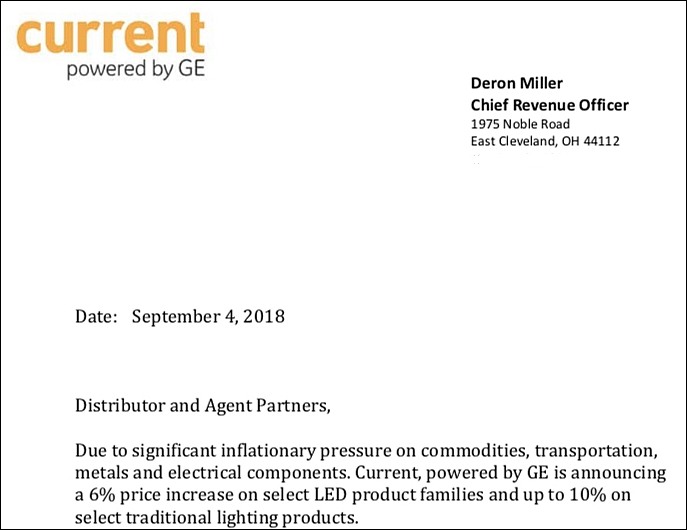 In a back-to-the-future move, GE's Current offers fluorescent tubes, bulbs, LEDs
The top of the announcement which you might have expected from GE Lighting, not from Current — known officially as Current, powered by GE. Regardless, the company's spellchecker apparently struggled with the unwieldy corporate moniker, as, grammatically speaking, there should be a comma, not a period, between the sentences. (Memo first posted online by Edison Report.)
And to be fair, within the context of lighting, Current has not forsaken its IT push as it aims to equip lights and lighting hardware with chips and sensors tied into its Predix data analysis system. In Canada, for instance, it hopes to provide sensors — but not necessarily luminaires — that Nokia would mount on street poles for smart-city purposes. Current has already done something similar in a project for the city of Portland.
The company has also delivered some impressive projects that it can rightfully claim are ambitious smart lighting installations that make use of Internet-connected, sensor-equipped luminaires that intelligently alter lighting levels as needed, such as what it's doing at the headquarters of Charleston, SC-based technology company Blackbaud. A project with Morgan Stanley also entails a dose of smart and Internet-connected lighting, although the exact amount is opened-ended.
And in a deal with the Mandalay Bay Convention Center in Las Vegas, Current is providing an intelligent Daintree control system rather than any lights.
However, it will be hard to find a single solar panel, EV charger, storage battery, or other such device connected in any of these schemes. It is all a far cry from the original grand vision articulated by then GE chairman and CEO Jeff Immelt when he launched Current in October 2015.
"Current combines GE's products and services in energy efficiency, solar, storage, and onsite power with our digital and analytical capabilities to provide customers — hospitals, universities, retail stores, and cities — with more profitable energy solutions," Immelt said at the time. "The creation of a new company within GE reinforces our commitment to take energy to the next level, focusing on custom outcomes for our commercial and industrial customers, municipalities, and utility partners, and delivering a platform that can be upgraded as technology advancements are made."
We already knew that Current had backed off its march toward Immelt's "next level," and that GE is trying to sell the operation as part of a general corporate paring down at the once-mighty conglomerate. LEDs Magazine has revealed Current's quiet retrenchment, noting earlier this year that GE had combined Current's revenue stream with conventional lighting's, that it had toned down Current's mission, and that one of Current's highest-profile customers, Walmart, is known for having bought 1.5 million luminaires from Current rather than for any smart lighting or IoT (Internet of Things) deployment.
But last week's price announcement symbolically closes the chapter on Current as a highfalutin cornucopia of energy products, services, and information — something that many industry watchers and perhaps GE itself never fully understood.
It drives home the importance that good old lighting hardware sales continues to have, even as lighting companies try to recast themselves as services and data outfits. Current is certainly not the only lighting company to demonstrate this. The world's largest lighting company, Signify, reminded us that lights themselves still have a place in a business model that emphasizes data-oriented services, when it introduced some 20 new Hue lamps and strips last month.
But then Signify, for all of its IoT prowess, has not ventured into solar panels, EV chargers, and the like. Seeing a notice about the price of luminaires and fluorescent tubes from the once broadly-ambitious Current is startling. It feels a bit like a fine dining restaurant offering Big Macs and fries.
The memo, written on Current letterhead, didn't even come from GE's and Current's fancy new headquarters in Boston. Rather, it was issued from more pedestrian digs at a Current office in East Cleveland, OH, long the home of GE's conventional lighting business, GE Lighting. It's becoming difficult to differentiate between the two; at Current's launch, GE Lighting was to have carried on as the vehicle for conventional lighting product sales, but Current is now handling them as well (GE has reached an agreement to sell the European arm of GE Lighting).
"Pricing for LED product families will be updated on October 4th," stated the memo, signed by Deron Miller, whose job title alone comes straight out of the old lighting business — he is Current's chief revenue officer. "Pricing for traditional lighting will be updated on November 1st," he added.
Price increases on lighting products are in vogue across the industry now, as Lux has been reporting, for example.
Still, some Current distributors and sales agents might find it a bit puzzling.
"Please refer any questions you may have regarding these changes to your local GE sales representative," Miller stated in the letter.
GE sales rep? That sounds about as old school as a Current can get.
MARK HALPER is a contributing editor for LEDs Magazine, and an energy, technology, and business journalist (markhalper@aol.com).