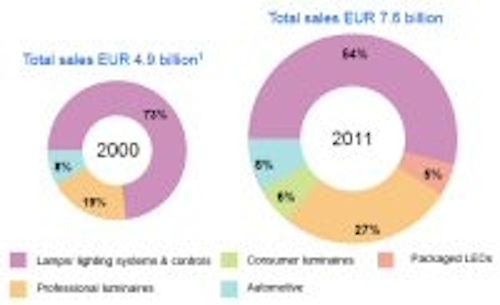 Philips has revealed that sales in its lighting business were EUR 2.072 billion for the fourth quarter of 2011, (from total company sales of EUR 6.7 billion). The company said that its LED-based sales (including all types of products, from packaged LEDs to lamps and luminaires) grew 37% compared to Q4 2010: LED products now represent 18% of total Lighting sales (or EUR 373 million for the quarter).
Philips' overall Lighting sales for the quarter increased 7% year-on-year, driven by double-digit sales growth in the Lamps and Automotive groups, and mid-single-digit sales growth at Professional Luminaires, but this was partly offset by a sales decrease at Lumileds, the company's LED-manufacturing subsidiary. Lumileds will be hoping that its new CEO and new product lines such as the multi-LED Luxeon K modules (see below) will reverse this trend.
Earnings before interest, taxes and amortization (EBITA) for the lighting business were EUR 41 million, compared to EUR 198 million in Q4 2010. Philips said that the year-on-year EBITA decrease was due to "continued operational issues at Consumer Luminaires and Lumileds, as well as macroeconomic factors which impacted pricing in our consumer lighting businesses."
In 2011, Philips' total sales for lighting were EUR 7.638 billion (see chart), of which 5%, or EUR 380 million (approx. $500 million) was from packaged LEDs (i.e. Lumileds).
In comparison,
Cree's revenue for LED products
(including LED components and chips, but not lighting products) was approximately $760 million in 2011.
Elsewhere, Philips said that its sales of all LED-based products amounted to EUR 1.2 billion in 2011, up from EUR 1.0 billion in 2010. The company described itself as "the largest LED luminaires company" and said that its "LED lamps market share exceeds our share in conventional lamps." Also mentioned was that Philips' LED licensing program has over 140 licensees.
According to an article on the Smart Planet website, Philips CEO Frans van Houten indicated that the company could soon cut prices on LED light bulbs. A spokesperson for Philips was quoted in the article as saying: "We expect that prices of LED light bulbs will go significantly down in the next couple of years because of product/cost innovation and volume, thereby lowering the threshold for LED light-bulb adoption."
New products join new CEO at Lumileds
Meanwhile, at Lumileds, the company started the year by announcing a new CEO, Pierre Yves Lesaicherre, and has since revealed two new families of LEDs that will be on show at next week's Strategies in Light meeting.
The Luxeon M is designed for outdoor and industrial LED lighting applications, and is a multichip, 8-watt, 12-volt package on an aluminum nitride (AlN) substrate. A rnage of color temperatures – 3000K, 4000K, and 5700K – will be available with a minimum CRI of 70.
All the products are "hot tested" and specified at 85°C junction temperature. Luxeon M produces more than 900 lm at 700 mA, and has 120 lm/W efficacy at 350 mA.
The Luxeon K family is a range of LED arrays, with between 4 and 24 LEDs, which are designed for retrofit and downlight LED-lighting applications. The typical flux at 700 mA ranges from 620 to 4455 lm, measured at 85°C.
The CCT will be 2700K, 3000K or 4000K, with a guaranteed minimum CRI of 80 and typical CRI of 85.
Both Luxeon M and Luxeon K will be available in the second quarter of 2012, says Lumileds.