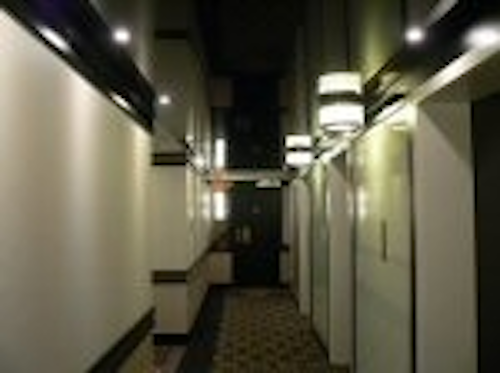 The Palace Pier, Toronto's premiere waterfront condominium, has become the first residential building in Canada (and likely North America) to convert to LED technology for interior lighting, as part of a $2.4 million renovation to the interior corridors.
"This is the largest residential interior lighting conversion to LED in Canada and North America," said Jim Lord, President of the Palace Pier Condominium Board, adding "The (Palace Pier) Board and Residents were committed to finding a 'green' solution for the new lighting and LED proved to be the answer."
The lighting project will employ close to 1300 LED-based MR16 lamps in the hallways on all 44 residential floors. Faced with using the traditional halogen MR16, which draws 35 watts of electricity, the new LED product, supplied by Canadian company CRS Electronics, will require only 4 watts.
The Palace Pier has been noted to have the first panoramic view of Toronto's waterfront, but now with a correlated colour temperature (CCT) of 3000 and a colour rendering index (CRI) of 92+, the view inside has also achieved a first and reached the pinnacle of quality. Both of these lighting metrics are very important to designers, as they determine the colour and quality of light and how it reflects on other surfaces to truly represent the colour of the finishings and treatments.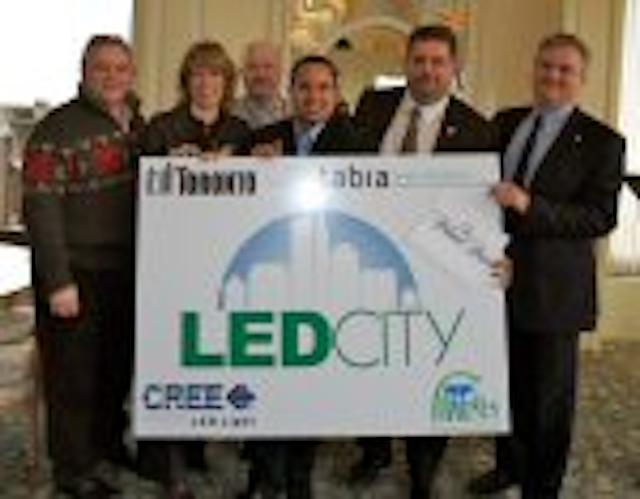 The designer of record for the entire renovation project is Toronto firm Heather Ann Scott. "Above and beyond all of the other components of the entire project, a great amount of time was devoted to researching LED technology and suitability for our application, as well as current and available products and solutions," said the firm's principal, Heather Ann Scott. "Determining who was a reputable company and the verity of their product performance claims was critical and essential. Lighting quality was very important. We believe the solution provided by CRS Electronics represents the very best."
"We were very pleased to be selected to provide the LED product solution for this project," said Scott Riesebosch, president of CRS Electronics of Welland, Ontario. "We listen carefully to our customers' needs and we also understand the specific lighting principles associated with interior design. We knew that we had to deliver a product that satisfied the need for both the desired lighting quality as well as providing the energy efficiency associated with LED."
The CRS LED MR16 has a lumen maintenance rating of 70% at 40,000 hours, equivalent to 5 years continuous use. With a lumen output comparable to the 35W halogen that it is replacing, the CRS LED MR16 uses 87% less energy.
During the review process, Scott's firm contacted greenTbiz, a Toronto program that provides energy conservation and efficiency assistance to businesses and commercial property owners and facilitates the LED City Toronto initiative. "greenTbiz was instrumental in assisting us and guiding us in the right direction." said Scott. "We recognized that they [greenTbiz] had the experience in working with LED technology, products and suppliers and could provide us with an independent overview."
"We facilitate and undertake a number of LED pilots and projects every year, but the Palace Pier is special because it demonstrates how urban residential energy conservation can work on a large scale," said Chantal Brundage, Program Manager of greenTbiz. "There is no shortage of inferior product or overstated performance claims. Our experience dictates caution and an unbiased evaluation protocol."
Lord is also a principal of the Toronto-based firm ecovert (motto: "Committed to greening the planet - one building at a time") and in this project is bringing his work home with him. "Lighting is a very large component of building operating costs," he said. "It is our intention to reduce the energy and maintenance costs by employing LED. Energy efficiency is extremely important in this application as the lighting operates 24 hours per day."
The difference between halogen and LED will save the Palace Pier residents approximately $40,000 per year. Electricity demand is approximately 40 kW less, and overall annual consumption will be approximately 349,226 kWh less per year. This translates into approximately a 110 tonne reduction in greenhouse gas emissions.
The LED MR16 will last 40,000 hours as compared with 2000 hours for a halogen MR16. Relamping maintenance costs such as lamp purchase and labour will be drastically reduced. When considering both the reduced energy as well as maintenance costs, payback of the initial purchase will be within 9 months.
Peter Love, Ontario's Chief Energy Conservation Officer of the Ontario Power Authority commented, "It is exciting to see energy efficiency projects of this nature, which merge the very best in commercial energy efficient technology and residential property design. This project will provide insight, lessons learned and best practices for other residential developments."
"Green technology of this type is not only good for energy conservation and the environment, but is also good for our economy. Seeing an Ontario company [CRS Electronics] striving to be successful in the energy efficiency marketplace is proof of what I often say in my presentations: That energy conservation generates opportunity and jobs in this province."
Congratulations were received from Ontario Member of Provincial Parliament Laurel Broten in attendance at the launch and Toronto Mayor David Miller, through Councillor Mark Grimes, also in attendance, welcoming the Palace Pier to the LED City Toronto initiative.
The Palace Pier will continue looking into the 'LED' light. There is further interest in the elevators, lobby and individual private suites. This past Holiday Season, the Palace Pier also hosted the first 'in residence' holiday lights exchange turn-in, as residents converted their exterior holiday tree lighting to LED. Over 300 sets of incandescent lights were turned in and electricity demand was reduced by 30 kW, resulting in a seasonal consumption reduction of over 10,000 kWh, enough to power an average house for a year.
"The only 'ups and downs' of LEDs in future at the Palace Pier will be in our elevators," concluded Lord.