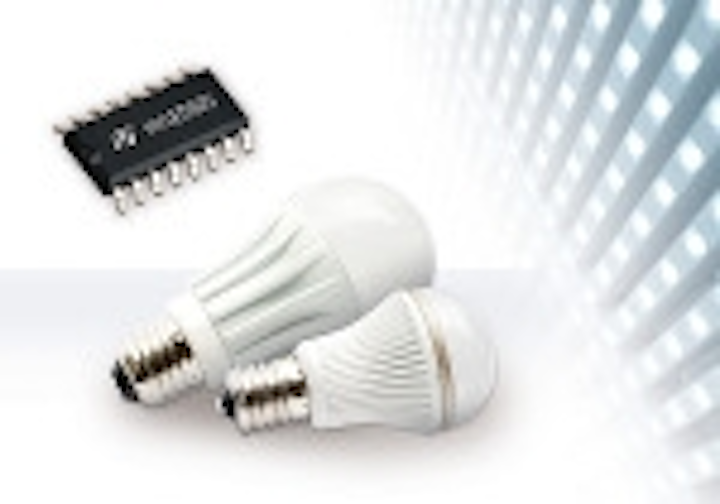 The Strategies in Light (SIL) conference (Feb 22-24, Santa Clara, CA) played to a record crowd this year, and vendors of LED driver ICs and solid-state lighting (SSL) enabling technologies were prominent on the exhibit floor with demonstrations and new products. STMicroelectronics, Marvell, On Semiconductor, ad NXP semiconductor focused on retrofit lamps, while NXP and Texas Instruments (TI) had new drivers for backlight LED applications. Tyco Electronics, Microsemi, and Intematix, meanwhile showed recently announced module and remote-phosphor technologies for the first time.
Both the conference presentations (watch for detailed reports in our March issue of LEDs Magazine) and the exhibits at SIL covered a broad range of SSL-centric applications. Mainstream applications such as general illumination and backlighting were prevalent in talks and on the show floor, although specialty applications such as LEDs in life science and horticulture were also addressed. Attendees learned about advancements throughout the value chain from LED components to luminaire design techniques.
Much emphasis remains on LED retrofit lamps because those products are easily deployed in place of incandescent or CFL lamps. Indeed Philips showed its US Department of Energy (DOE) L-Prize candidate at one of the opening-day workshops on LED light quality. And Philips Lumileds' Ray Chock provided an excellent presentation on design tradeoffs for retrofit lamps. The key technical challenge is high temperature that can impact the LEDs, electrolytic capacitor, and even the solder – all of which figure into reliability. But Chock also reminded the audience of the price pressure saying, "Those don't mean much is you can't design a low-cost bulb."
Retrofit lamp drivers
Designing the driver electronics and packing that design into a compact space is a major part of the challenge of designing a retrofit bulb. New, more-efficient driver ICs can simplify the task. STMicroelectronics, for instance, rolled out the HVLED805 driver at SIL that can dynamically change operating modes based on the load to maintain efficiency.
The STMicroelectronics driver is based on PWM control of the LED strings and utilizes primary-side regulation that eliminates the need for an opto coupler on the secondary side of the transformer for safety issues. The opto coupler is a key point of failure in lamps that require them. The driver also includes features to ensure safe operation with both open and short-circuit LED strings.
NXP introduced the SSL21081 driver based on its GreenChip technology platform that can deliver a 95%-efficient retrofit lamp using only 14 components. Jacques le Berre, director of marketing and business development, lighting solutions, NXP Semiconductors said, "The NXP SSL21081 was designed with small size, high integration and high efficiency in mind, allowing retrofit lamp manufacturers to reduce application size and cost and introduce LED lighting in small form factor applications."
A-lamp reference bulb
Marvell didn't announce a new driver IC at SIL, but instead focused on its retrofit lamp reference design that it has been demonstrating and optimizing for a year. Being a semiconductor company, Marvell isn't planning to sell retrofit lamps but has produced quite a few lamps as a proof of concept. Moreover, the company will supply customers with every element of a design required to produce such a bulb. The available elements include a printed-circuit-board (PCB)design to host the LEDs, an optimized driver module/PCB based on the 88EM8080/81 driver that can fit in the base of the bulb, and the heat sink design.
Cree director of business development Mark McClear, was eager to praise Marvell's design. McClear pointed out that replacements for 40W incandescent lamps are the sweet spot of the LED retrofit lamp market right now. According to McClear, Marvell's design uses only four LEDs to provide 40W equivalent illumination. Fewer LEDs means less heat and lower cost.
Marvell reduced the design to four LEDs by utilizing higher-current components designed for general illumination. As you might guess, Cree's LEDs are in one of Marvell's lamp designs but they also have a four-LED design based on Philips Lumileds LEDs. According to McClear, the bulk of 40W LED retrofit lamps on the market use seven or more LEDs.
On Semiconductor was also exhibiting its NCL30100 retrofit lamp driver. That product targets the ultra-small form factor of MR-16 lamps. The driver can hit 95% efficiency based on the low-voltage input to MR-16 bulbs.
Modules and enabling technologies
Microsemi is another IC supplier that's employing module designs to help sells its driver components. The company announced the LXMG221W modular driver last year that is designed to be integrated into residential and commercial luminaires. The initial product supports 5 to 16 LEDs and was developed primarily as a reference design.
Irene Signorino, director of marketing for lighting and automotive products at Microsemi, indicated that the company plans to expand the module product line in the coming months with more configurations. The company remains an IC maker primarily, but found customers that weren't comfortable designing and building their own drivers that wanted to buy the Microsemi design as a finished product. Separately in a conference presentation, Signorino implored the audience to fully explore the related but different concepts of MTBF and life expectancy when specifying drivers.
Tyco Electronics announced its Nevalo system of modular SSL products a month ago, and demonstrated the system publicly for the first time at SIL. The company has yet to announce a design win but asserts that several luminaire makers are working on products. Expect some announcements by Lightfair. Tyco also announced a new soldeless socket for Phillips' new Luxeon S LED at SIL.
Intematix demonstrated its new remote-phosphor technology at SIL. The company announced the remote-phosphor-oriented platform called ChromaLit last month. The company believes that the remote phosphors will simplify luminaire designs and allow manufactures to eliminate LED binning since blue LEDs will drive the remote phosphor-lenses in the ChromaLit family. The company presented demonstrations on the exhibit floor and in the conference, but has not announced a design win for now.
Backlight drivers
For LED backlight applications in displays and even message boards, TI announced the TLC59282 IC that can drive 16-channels or Led strings. The IC can output as much as 17V to each channel while providing constant current control.
The TI design includes several features that are useful in large display applications. A design can cascade multiple of the ICs to support larger arrays of LEDs. Moreover, the driver IC breaks the 16 channels into four groups and slightly staggers LED switching to minimize switching transients and EMI.
NXP also introduced a new backlight driver – the UBA3077. Targeting TVs and computer monitors, the driver handles three channels each with a dedicated boost converter and delivers 94% efficiency. Each string can include 20 LEDs, and the driver can dim the strings to 1% of max light output to improve picture quality via better contracts.