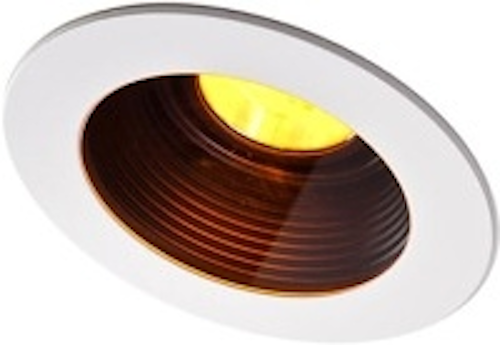 Dasal Architectural Lighting has announced two outdoor LED-based downlights that are certified by the Florida Fish and Wildlife Conservation Commission's Wildlife Friendly Lighting Program. The solid-state lighting (SSL) products produce amber-to-yellow light and target use in soffit-lighting applications under the roofline of both commercial buildings and residences located adjacent to the ocean.
The round Aqua Amber and square Nemo Amber downlights are specifically design for usage in areas where loggerhead, leatherback, and green turtles are known to nest, especially along the southeast coastline in the US. Coastline regulatory agencies often require lights that minimize light pollution and emit yellow or longer-wavelength light.
Hatchling turtles are drawn instinctively toward bright broad-spectrum light, which, in the absence of artificial lighting, would be moonlight or sunlight guiding the turtles toward the water and relative safety. Outdoor fixtures based on white LEDs can instead draw the hatchlings away from the water and in many cases the hatchlings die of dehydration or predation. Bright white lights can also discourage mature turtles from coming to shore to lay eggs.
Dasal Amber products
The new Dasal products produce 588-nm light — an area in the spectrum to which turtles have little sensitivity. Humans, meanwhile, can still see under the lighting and feel safe at night. The fixtures also rely on recessed LED sources so that they minimize spill light and glare.
Both the round and square products dissipate 16W and deliver 290 lm. Dasal offers a choice of trim including white, chrome, black, silver, bronze, and nickel. The products are rated for 50,000 hours of life.
"Ninety percent of sea turtle nesting occurs on Continental US beaches and all of these species are either threatened or endangered," said Karen Shudes, sea turtle lighting specialist at the Sea Turtle Conservancy. "We appreciate those manufacturers who work collaboratively to give property owners more options and produce the right lighting for use near critical turtle nesting sites."
Light Science Group area light
Dasal isn't the only lighting company to offer turtle-safe lighting of late. At the recent Lightfair tradeshow, Lighting Science Group demonstrated the Coastal Light that uses amber LEDs and targets area lighting applications. The SSL products deliver light at 590 nm or above and can be used to light streets, parking lots, or campuses.
The company also has a PAR30 retrofit lamp called the Shortneck Costal Lamp that can be used in turtle nesting areas. The 13W lamp delivers 125 lm, also at a 590-nm wavelength or higher.