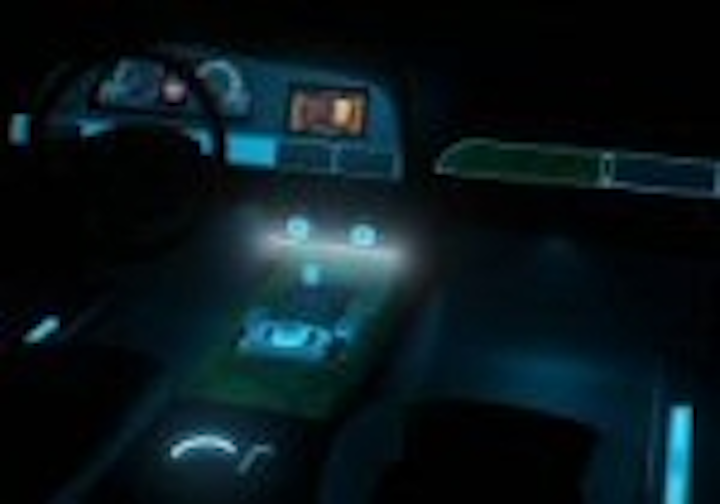 Latest
LED modules offer a bright future for aviation lighting (Sep 06)
LED lighting offers exciting benefits for aircraft both in terms of how the lighting can be designed and the installed functionality it can deliver, according to James Stratford of Universal Science.
Innovative applications for LEDs in automobiles (Aug 06)
New applications for LED lighting in cars include a dome light with a removable flashlight, a wing mirror with an LED warning light, and an infrared driver monitoring system.
Grote uses Cree XLamps in interior vehicle lights (Aug 06)
LED manufacturer Cree is supplying high-power white LEDs to vehicle lighting manufacturer Grote.
Taiwan develops production-ready auto/motorcycle LED headlamp (Jul 06)
An industry alliance in Taiwan says it has developed an LED headlamp ready to enter production for cars and motorcycles.
Feature Articles
Optical and thermal designs hold key to Schefenacker's LED headlamp development (Jul 06)
Schefenacker is using sophisticated optical and thermal approaches, as well an in-house LED manufacturing capability, to develop automotive forward lighting using LEDs.
Boeing turns to LED lighting for its new 787 Dreamliner (Jun 06)
Aircraft such as the new Boeing 787 Dreamliner represent a significant opportunity to replace traditional light sources with LED lighting systems. These offer longer lifetimes, reduced maintenance downtime and lower power consumption, as well as benefits to passengers.
Interior LED lighting signifies driver luxury and comfort (Mar 06)
LEDs are one of several technologies that are starting to be using for interior ambient lighting in vehicles, ranging from top-end luxury cars to long-haul aircraft. Tim Whitaker reports from the Intelligent Interior Lighting conference.
Resonant-cavity LEDs fire up latest in-car networks (Mar 06)
The plastic optical fiber networks that feature in many of today's cars have data transmission rates that are limited by LED switching speeds. This barrier can be overcome, though, says Firecomms' John Lambkin, if these light sources are replaced with resonant-cavity LEDs.
Valeo introduces novel automotive lighting concepts with LEDs (Dec 05)
Hybrid xenon-LED headlamps and light-guides for rear lighting are among the technologies developed by French automotive supplier Valeo.
LEDs and concept cars at Frankfurt Motor Show (Dec 05)
The annual automotive technology showcase in Frankfurt included many examples of manufacturers experimenting with the use of LED lighting concepts for interior and exterior lighting.
Hella demonstrates white-LED headlamp technology suitable for production cars in 2008
By 2008, all the major technical and regulatory barriers to implementing LED headlamps in production vehicles will be overcome. LEDs Magazine spoke with Norbert Schiermeister, who is head of LED development for front-lighting applications at Hella.
Automotive industry embraces LED use for forward lighting
The introduction of higher-flux LED systems and standardized modules is likely to help automotive forward lighting follow the development path of rear lamps, writes Deval Desai.
Constant-current drivers provide power for automotive LED lighting
In automotive lighting and signaling applications, high-brightness LEDs require specialized power converters that deliver constant-current output. Ahmed Masood of Supertex explains that it is crucial to ensure that the LED driver is immune to conducted electrical disturbances.
Solid-state lighting in the automobile: concepts, market timing and performance
Despite the advantages offered by LEDs in automotive front lighting, the technology should not be considered a "plug and play" replacement for either tungsten-halogen or HID lamps, write Tom Pearsall, Eric Mounier, Jean-Christophe Eloy and David Jourdan.
Visteon LED innovations improve automotive visibility
Automotive lighting suppliers such as Visteon are working towards all-LED solutions for LED lighting.
LEDs for heavy trucks and commercial vehicles
The proportion of LED lamps used in commercial vehicles continues to increase and LEDs will largely replace incandescent lamps in a few years, writes Newel Stephens of Grote Industries.
North American automotive market to see more LEDs LEDs will continue to penetrate the North American automotive market, driven by factors such as higher light output, long lifetime, lower power consumption, greater styling opportunities and safety.
Signature lighting and competition with HID drive development in the automotive LED lighting sector
LEDs Magazine spoke with Jianzhong Jiao of North American Lighting, Inc. (NAL) to discuss the trends in automotive LED lighting, and the factors that will influence future development.
The case for LED headlamps
A large number of car manufacturers have experimented with the use of white LED headlights in their concept vehicles, although production models with LED headlights are not expected to hit the marketplace until 2006-2007.
Honeywell applies LEDs to aircraft position lights
Honeywell Lighting and Electronics has used high-brightness LEDs in its Astreon aircraft position lights, which have been flying since December 2003 on business jets.
Hyundai HCD8 sports coupe demonstrates design innovations enabled by LEDs
Among the many concept vehicles that have used white LED headlights in the past few years, Hyundai's HCD8 is among the most distinctive. LEDs Magazine spoke with the Chief Designer, Joel Piaskowski, who described the advantages of using LEDs for exterior lighting.
LED headlights illuminate UK Motor Show
A number of manufacturers are experimenting with advanced lighting concepts using LEDs.
LEDs continue push into automotive applications
LEDs are already established in some aspects of the automotive lighting market, while speakers at the Intertech LEDs 2003 conference described new applications including headlamps.
Selected News
Production cars use Lumileds LEDs for exterior lighting (Jul 06)
Lumileds' high-power LEDs have been used in several exterior automotive lighting firsts, replacing conventional bulbs or lower-power LEDs.
Articulated enters joint LED development agreement with Grote (May 06)
Articulated Technologies has established a joint development agreement with Grote Industries to manufacture robust LED-based lighting for vehicles.
PerkinElmer and Osram supply LEDs for concept car headlights (May 06)
PerkinElmer has supplied LEDs to Visopia for a Scion concept car, while a new demo vehicle from Saab uses just 3 Ostar LEDs from Osram for the headlights.
Ficosa launches LED-based multi-signal rear-view mirror (May 06)
Ficosa has developed a rear-view mirror for cars that uses LEDs to provide both a turn signal and a front position lamp.
Osram Opto's Color on Demand LEDs win auto award (Apr 06)
A technology allowing car makers to select the color of LEDs used in interior illumination has won a prestigious award.
Goodrich supplies LED lighting for Boeing 787 flight deck (Mar 06)
A contract to supply LED flight-deck illumination for the Boeing 787 Dreamliner is the latest example of solid-state lighting on this new aircraft.
Renault Altica
Renault concept car uses novel lighting technology (Feb 06)
Micro-optical features in the headlamp cover create a veil of light in certain operating modes while leaving the main and low beam functions unaffected.
Visiopia uses PerkinElmer LEDs for Mazda concept car (Jan 06)
PerkinElmer's ACULED has been selected by Visopia for lighting design-in for Mazda's Kabura concept car.
Vehicles: LED lighting used by Ford, Boeing (Jan 06)
Ford is showcasing LED-based adaptive front lighting on a concept car, while Boeing will use LED lighting in its 747-8 jumbo.

Audi S6
White LEDs used for daytime running lights on Audi S6 (Jan 06)
Audi's new S6 model features white LED daytime running lights incorporated into the front bumper.
Army tests LED headlamps in Alaskan extremes (Feb 06)
The US Amy has tested white LED headlights on a Hummer vehicle in a frigid environment.
LEDs and collisions support growth in lighting aftermarket
The lighting aftermarket in North America is being driven by a rising number of vehicle accidents and demand for new lighting technologies such as LEDs.
Hella uses LEDs to create unmistakable looks for the rear
Hella has unveiled a series of prototypes highlighting advances in rear lighting technology.
Valeo supplies LED headlamps for the Renault Egeus
Renault's new concept car uses LEDs for all its lighting functions, while Valeo has developed some interesting LED lighting technology.
Fairchild applies SEPIC topology to automotive LED lighting
Fairchild has developed new driver designs to address expected European automotive daylight headlight regulations.
Hella and Stanley develop LED headlamps
At the upcoming motor show in Frankfurt, Hella will showcase dynamic LED cornering lights and a rear LED light curtain.
Ford Europe unveils Iosis concept car with LED lights
Hella introduces LED lighting for caravans, motorhomes
Rear lights, interior lights and marker lights are included in a new range of Hella products.
Osram, Hella supply automotive LED lighting
Osram Opto Semiconductors has provided white LEDs for the headlight of a Maserati concept car, while Hella has supplied LED lighting for the rear cluster of the presidential limo.
Hella earns auto prize for LED headlamp concept
A prototype LED headlamp developed by Hella and VW has been awarded a top innovation prize at the Barcelona Motor Show.
Osram unveils Joule LED lighting system on Mercury car
Osram Sylvania has unveiled its Joule LED lighting system, with a standardized, plug & play design, on the 2006 Mercury Mountaineer.
Hella warns against direct replacement of LEDs in tail lamps
Hella has cautioned against using LED modules in commercial vehicle tail lamps which have been approved exclusively for use with filament bulbs.
Two-in-one taillights feature in new VW Golf Plus
Hella taillights for a new Volkswagen car feature LEDs containing red and amber chips.
LEDs help Torana concept look "Pretty in Pink"
LEDs were used to give the Torana TT36 concept car from GM Holden a highly distinctive "hot pink" appearance.
Hella develops LED headlamp prototype
Automotive lighting supplier Hella has developed an LED headlamp prototype in cooperation with Volkswagen.
Visteon provides LED front lighting for GM vehicle
Visteon has supplied LED front lighting for the Cadillac STS SAE 100 Technology Integration Vehicle, claiming it to be the industry's first road-worthy, available application of this technology.
911EP files patent suit over LED emergency lights
A manufacturer of LED light bars for police vehicles claims its rivals are infringing its IP.
LRC and Boeing to develop aircraft lighting solutions
The collaborators will evaluate current interior lighting designs and specify new lighting concepts.
Agilent and Lumileds introduce automotive SMT LEDs
ThinGaN LEDs from Osram illuminate Ford concept car
Nova chooses Osram technology for warning signals
LEDs enable unique lighting on luxury yacht
LEDs strongly in evidence at North American Auto Show
Automotive manufacturers are using LEDs on their vehicles as well as in the displays on their exhibits.
Philips teams with Lumileds to target automotive applications
Philips and its part-owned subsidiary are taking steps to gain a foothold in the automotive market for solid-state lighting.
Conceptual LED headlamps see around corners
White LED strip headlamps supplied by Valeo for Renault's latest concept car are capable of dynamic directional lighting.
LEDs illuminate advertising panels on buses
LEDs supply light source for BMW head-up display
High-brightness red and green LEDs are providing the backlight for an LCD that generates images for the head-up display in the new BMW 5 Series.
Selected Products
Steerable LED array for adaptive headlight systems (Apr 06)
Truck-Lite LED lowers trailer lighting costs (Apr 06)
Vishay red Telux LEDs target automotive applications (Feb 06)
Hella's LED rear lamps add individuality, safety (Jan 06)
Agilent introduces PLCC-4 LEDs with 30-degree viewing angle lens
ROM brings LEDs to emergency vehicle compartment lighting
Peterson adds brilliance with new Great White(r) LED lights
Agilent introduces SMT white LEDs for automotive interiors
Nova announces new ultra-slim LED warning signal
Nova Electronics launches Mini Slim LED warning signal
Hot new SpiceLED from Dominant spices up auto interiors
LEDtronics unveils drop-in replacement reading lights
Truck-Lite unveils LED strip lights, interior trailer lamps
MFOT unveils 7-color LED under-car kit
LED FlareAlert replaces "unsafe" incendiary flares