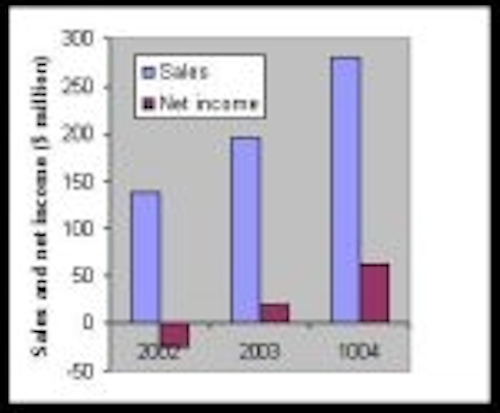 Japanese LED manufacturer Nichia is forecast to report sales of 212 billion yen ($2.08 billion) for the year ended December 31, 2004, according to a report in Nihon Keizai Shimbun, a Japanese newspaper.
The record sales figure represents a growth of 3.4 % year-on-year, and a roughly 13-fold increase since fiscal 1993, when Nichia first introduced blue LEDs to the commercial marketplace.
Nichia's is the world's largest manufacturer of LEDs, and has a dominant position in supplying blue and white LED lamps. The company recently settled a lawsuit with its former employee, Shuji Nakamura, for a total of 843 million yen, or 0.4% of its fiscal 2004 sales.
Lumileds
Lumileds Lighting, the joint venture between Philips and Agilent, has focused on the high-power LED market with its Luxeon product range, and is beginning to enjoy considerable success.
A
presentation
by a Philips executive revealed that Lumileds' sales for the fiscal year ending October 2004 were $280 million (see graph). Lumileds also had a net income of $62 million, or 22% of sales, compared with a net loss of around $25 million reported 2 years previously.
The company's average annual sales growth over the last 3 years has been 43%.
Cree
Cree's latest financial results indicate that the company reported a total revenue of $361 million for the four quarters in calendar 2004.
Jed Dorsheimer, an analyst with Adams Harkness, believes that Cree faces a threat of increasing competition from Asian suppliers and commoditization of chip prices in the company's traditionally strong market of keypad backlighting in mobile phone handsets.
Dorsheimer says that Cree's efforts to displace Nichia and other competitors in the display portion of the handset may be more difficult than originally anticipated. Cree is looking to markets such as automotive lighting, LCD TV backlighting and general solid-state illumination as its future growth areas, although it is not clear when any of these markets will take off.