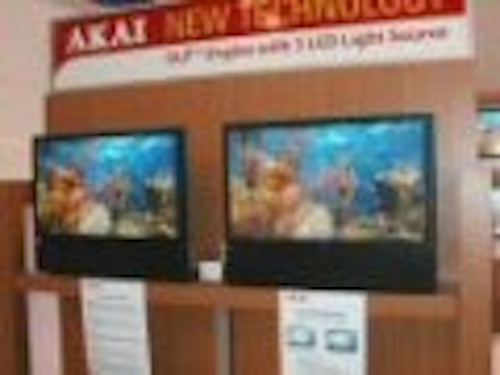 Latest
Samsung unveils 40-inch LCD TV with LED backlights (Sep 06)
Samsung is promoting its LED backlighting technology that provides a very high color gamut, and other advantages.
Osram ambient light sensor adjusts display brightness (Jul 06)
Avago introduces color controller with integrated RGB photosensor (Jul 06)
Samsung ships LED DLP set, CMO develops LCD panel (Jul 06)
Samsung is now shipping rear-projection TVs using LED backlights, while CMO is planning to launch a 32-inch LED-backlit LCD panel.
LEDs provide light sources for pocket-sized front projectors (Jun 06)
Why try to view images on a tiny handheld screen when you could project the content onto your bedroom ceiling? DLP-based pocket-sized front projectors containing LED light sources are making this possible.
SID 2006 reinforces emerging role of LEDs in electronic displays (Jun 06)
Every LCD display maker or solution provider at SID 2006 showed some type of LED-backlit LCD, reports Stewart Hough, and some highly complex backlighting technologies are now being developed.
Osram ambient light sensor adjusts display brightness (Jun 06)
Tiny Sony LED projector uses LCD technology (Jun 06)
Sony has unveiled a miniature projector that combines red, green and blue LED light sources with three 0.62-inch diagonal LCD screens. Plus news from Unaxis, Novalux and Bookham.
GLT and Luminus unveil LED-based edge-lighting for LCD TVs (Jun 06)
Combining high-brightness LED sources and micro-optical extraction techniques enables edge-lighting of large-size LCD TVs.
Avago unveils new color controller for RGB LED backlighting (Jun 06)
Televisions the one to watch for LED industry (May 06)
A new report says that LCD backlighting will become a major LED growth driver and that televisions will overtake mobile phones as the key consumer product for LEDs.
Samsung improves LED-based LCD backlighting (May 06)
Samsung is targeting reduced thickness and weight of LED-based backlights for LCDs, while Delta Electronics is also doing R&D in this area.
Luminus Devices receives $38 million investment (May 06)
Funding for Luminus will support manufacturing and marketing of the company's PhlatLight LED technology for backlighting projection displays.
Pocket projector market poised for growth (Apr 06)
Pocket projectors, which currently use LEDs as the light source, is an application with great potential, according to Matt Brennesholtz of Insight Media.
CES exhibits herald the arrival of televisions based on LEDs (Mar 06)
LEDs provide many advantages for microdisplay-based rear projection TVs, and many consumer products will be launched in 2006, according to Chris Chinnock of Insight Media.
GLT unveils single-LED molded light guides for 0.24 to 15.4 inch backlights (Apr 06)
Lumitex panels backlight digital pressure test gauges with one LED (Apr 06)
Backlighting
Articulated Light-Sheet provides flexible lighting (Mar 06)
A manufacturing process for embedding LEDs within conductive substrates enables Articulated Technologies to produce long-lasting and durable solid-state lighting sources.
Flexible and patterned LED backlights enable novel applications (Feb 06)
Many market sectors outside of traditional LCD displays can be addressed using thin, flexible and patterned LED backlights.
Slablight - the world's largest LED backlight? (Feb 06)
Using techniques developed for mobile phone display backlights, Polymer Optics Limited (POL) and Ambisol are able to manufacture very large-area backlights that use LED light sources, as POL's Mike Hanney describes.
LCD backlighting
Samsung Electronics unveils world's first 82-inch LCD TV with LED backlight (Jan 06)
New Dragon package aimed at display backlights (Dec 05)
Osram Opto, LCD makers demonstrate LED backlights (Oct 05)
Top LCD maker focuses research on LED backlights (Sept 05)
Osram Opto showcases world's largest LED backlight (May 05)
NEC to introduce high-end LCD with LED backlight (Mar 05)
Toyoda Gosei exhibits LED-backlit LCD monitor (Oct 04)
Sony introduces first televisions to feature LED backlights (Aug 04)
NEC-Mitsubishi Electronics Display launches its first LED-backlit LCD monitor (May 04)
Lumileds to supply LED backlights for Mitsubishi displays (Mar 2002)
Projection
Unaxis Optics launches dichroic filters for LED applications (Mar 06)2006 LED projection systems report from Insight Media (Mar 06)
Market report - projection market reinvigorated by new LED and laser sources (Feb 06)
Power Projector develops LED light engine for projection (Jan 06)
Goldeneye lights up brighter LED projection source (Jan 06)
Novalux laser-based light sources target projection devices (Nov 05)
Epson and Toshiba unveil LED-based projectors (Sept 05)
Mitsubishi launches super-small LED projector (Feb 05)
Qubic Light receives investment for LED projection systems (Jan 05)