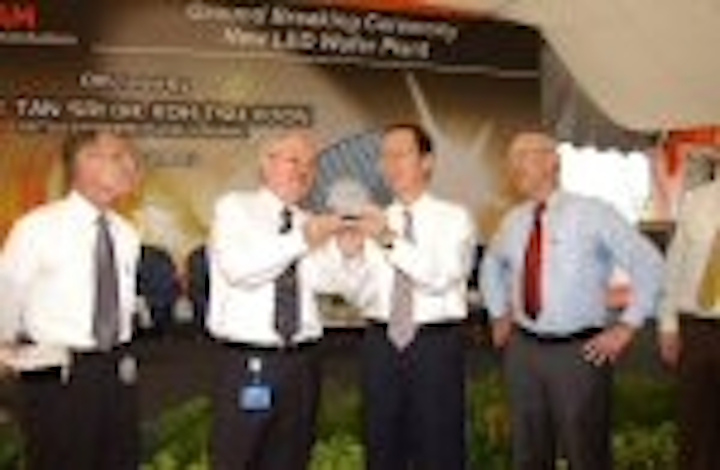 In a joint groundbreaking ceremony on July 17, Tan Sri Dr Koh Tsu Koon, Chief Minister of Penang, Malaysia, and Rüdiger Müller, CEO of Osram Opto Semiconductors, signaled the start of construction of an LED chip factory in Penang.
Osram says that, by the spring of 2009, Penang will have the world's most advanced LED chip factory, with a floor area of more than 30,000 square meters, to serve the rapidly growing LED market. The expansion in Penang is coupled with the simultaneous expansion of the LED chip fabrication plant in Regensburg, Germany (see Osram expands LED chip capacity in Malaysia, Germany).
The factory in Penang will operate in addition to the main plant in Regensburg to manufacture gallium nitride (GaN) based LED chips. Osram's total investment is in the high double figures of millions of euros.
According to an article on a Malaysia-based website, Müller said that the new plant will have the capacity to produce 500 sq.m of LED chips per annum. In future, the capacity potentially could be doubled. 500 sq.m of LED chips is equivalent to 500 million chips measuring 1 x 1 mm2.
In addition, the capacity of the existing LED assembly line in Penang, which started operation back in 1972, will be increased by more than 50 percent. This will lead to the creation of over 800 new jobs in the long term and bring the total number of jobs to more than 3000, making OSRAM one of the largest employers in the northern region.
Rüdiger Müller said: "Today marks the beginning of a new era in more than 30 years of cooperation between OSRAM and Penang. We are delighted to be further strengthening our partnership today at this groundbreaking ceremony and to be embarking on a new chapter in our shared success story.
"In constructing this LED chip factory here in Penang, OSRAM is for the first time exporting central strategic technology know-how to another market outside its home country of Germany. This is only possible because our many years of cooperation have meant that we have the utmost trust in the quality, motivation and skills of the local workforce and authorities.
Muller added that Regensburg will continue to be Osram Opto's main site, where the company will concentrate its know-how and benefit from having its research and development facilities so close to the production line.