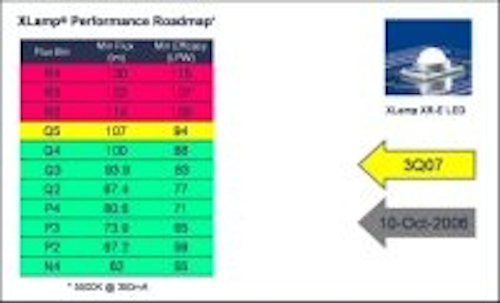 LED manufacturer Cree has announced that its XLamp XR-E LEDs are now available, in production quantities, with a minimum luminous flux of 100 lumens at 350 mA. This corresponds to a minimum efficacy of around 86 lm/W.
Cree describes the announcement as setting a new standard in lighting-class LED brightness and efficiency. These are impressive numbers, but what do they mean?
First, the numbers refer to cool white LEDs. Second, they refer to Cree's "Q4" bin, with a luminous flux range from 100 lm to 107 lm. Other bins with lower minimum flux are also available (see chart).
Third, this is not a new product, but an evolution of the XR-E introduced in October 2006 (see Cree unveils 160-lumen XLamp LED). At that time, Cree said that the typical value at the center of the production distribution was 80 lumens, equivalent to 70 lm/W.
As Mark McClear, Cree's director of business development, explained, this latest announcement is not a new chip, package or phosphor platform. "This is the same XLamp we have been shipping since last October, but we have moved down the learning curve," he said.
The fourth point relates to whether you can actually buy these products. "This is an announcement of volume availability, not an R&D result or availability of a few parts," stated Norbert Hiller, Cree VP and general manager for lighting LEDs.
LEDs Magazine asked McClear to clarify the meaning of volume availability. "It means a standard order code, standard lead times, available on the web, and any customer can order in excess of one million units a year," he said.
In contrast, the Q5 bin (minimum flux of 107 lm) is not available in volume, but will be soon, as further improvements are made to the XR-E.
In fact, says McClear, Cree expects to be "shipping the R2 bin in volume before the end of the year". As shown in the chart, the minimum flux of 114 lm for the R2 bin equates to the magic efficacy number of 100 lm/W.
"Cree is to be congratulated on surpassing the 100-lumen level in its commercial white LED products," said Robert Steele, director of the optoelectronics practice at market research firm Strategies Unlimited. "The availability of such high-performance devices should certainly accelerate the conversion of the lighting market to solid-state sources."
Hiller concluded, "These LEDs can enable lighting manufactures to create fixtures using fewer LEDs than before, thereby lowering initial product cost and reducing energy consumption."