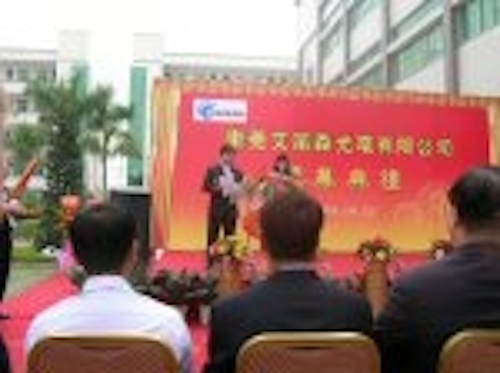 Edison Opto opens new plant in China
Edison Opto Corporation, a Taiwanese specialist high power LED manufacturer, has established another production facility in Heng-Li, DongGuan in China. With the addition of the new factory, the company expects to be able to meet the continuously increasing market demand in the coming years.
The company estimates that by the end of 2007 the Heng-Li site could produce up to 3 million high-power LEDs per month, and up to 500,000 LED modules per month.
Edison says its experienced R&D staff will be able to transfer their achievements immediately to Heng-Li factory, and cultivate local employees. This will ensure a smooth communication and interaction between Edison's headquarters in Taipei and Heng-Li, which will result in a faster R&D cycle and new products design to meet customer's demand. Edison Opto is represented by distributor First Components in Europe
Nichia reaches agreement with amusement machine maker
Nichia has reached a settlement with Taiwan Oasis Technology Co., Ltd. (Oasis Co.), a major amusement machine manufacturer. Nichia says that it discussed with Oasis the possible relevance between Nichia's patents and the white LEDs which were manufactured by Oasis and installed into its amusement machines.
Oasis has agreed to stop using its own LEDs, and will instead purchase LEDs from Nichia. Nichia says that it is also investigating sales of Oasis' LEDs to other customers.
Luminus awarded ISO certification
High-power LED maker Luminus Devices says that its Quality Management System has been certified and registered as compliant with the International Standards Organization (ISO) 9001:2000 international quality standard.
"As a manufacturing company, Luminus has always made product quality a top priority," said Udi Meirav, CEO of Luminus Devices. "We continue to strive for the highest levels of quality and customer satisfaction, and are committed to continuous improvement in all aspects of our business."