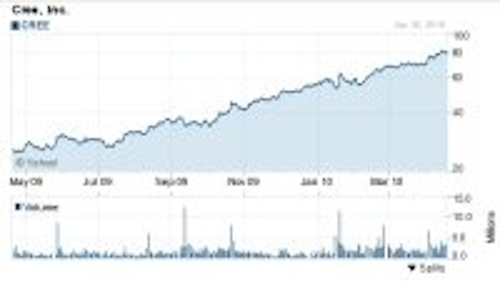 LED maker Cree, Inc. has announced record revenue of $234.1 million for the quarter ended March 28, 2010. This represents a 78% increase compared to the same quarter last year, and a 17% increase sequentially.
Revenue from LED products grew in a similar fashion, reaching $211.8 million for the quarter ended March 28, 2010. This figure is up 78% from the same quarter in 2009, when sales were "only" $199.0 million, and up 16% sequentially.
Cree's share price has risen steadily over the last 12 months, and is around four times higher than one year ago (see chart). The company's market capitalization is currently around $8.2 billion, based on a price per share of around $77.5.
The company's quarterly GAAP net income increased more than tenfold year-over-year to $44.6 million, or $0.41 per diluted share.
"We achieved record revenue and net income again in Q3 due to a combination of strong LED demand and solid execution with our factory ramp," stated Chuck Swoboda, Cree chairman and CEO. "The LED lighting revolution continues to gain momentum, and we remain focused on extending our leadership position while we build the scale, cost structure and channels to win in the market."
Cree recently introduced a new lighting-class LED platform, the
XLamp XM
, which delivers efficiency of 160 lm/W at 350 mA.
The company also claimed an "industry-best" figure for reported R&D results of 208 lumens per watt from a white high-power LED.
Also, Cree introduced its LED Module LMR4, the first of a new LED module product line that brings Cree TrueWhite™ technology to lighting manufacturers.
For the quarter ending June 27, 2010, Cree targets revenue in a range of $255 million to $265 million with GAAP net income of $46 million to $49 million, or $0.41 to $0.44 per diluted share.