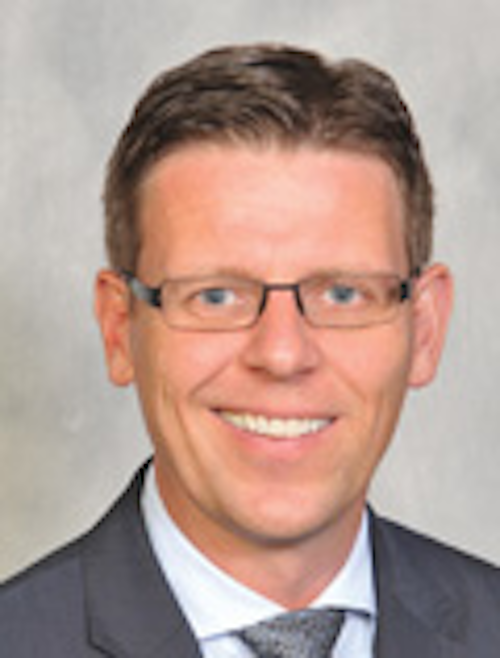 The convergence of smart building and connected lighting technologies will bring developers, designers, and customers together to achieve a brighter future, says JES MUNK HANSEN, president and CEO, Osram Sylvania.
The digitalization of lighting technology has created enormous opportunity in our industry. Thanks to a relentless pursuit of innovation, the lighting business is transforming faster each day, in ways that even ten years ago seemed impossible. Historically, we have spoken about the advances we have been making in fluorescent, metal halide, and induction lighting for years, but it's no secret that solid-state lighting (SSL) and the explosion of related technologies are the real game changers. From lamps and luminaires to powerful controls and energy management systems, I saw that disruptive innovation on display at this year's LightFair International (LFI) in Las Vegas. While the future for SSL technologies is undoubtedly bright, the future of the lighting industry will depend on us all learning how to speak "the new language of light."
We estimate that SSL will account for two-thirds of the global lighting market by 2020, compared with just 18% back in 2011. In fact, SSL initiatives accounted for 62% of Osram's research and development costs in 2013, and that figure only stands to grow. Solid-state offerings generated 29% of our revenue, up from 20% in 2010, and we're projecting that to surpass 50% by 2017.
Rapid growth demands increasing numbers of LED installations. From our relationship with the Trust for the National Mall that saw a complete LED retrofit of America's iconic front yard, to our recent work with the Sistine Chapel to install roughly 7000 LEDs, to a truly dynamic lighting installation at the Arena Corinthians in São Paulo, Brazil (one of the host stadiums of the world's largest sporting event), we have witnessed the increasing adoption of SSL technologies around the world firsthand. This growth isn't possible without the advances we've already made, but tomorrow's innovations are built on today's ideas.
If you happened to swing by the Osram booth at LFI this year, you may have seen an example of that innovation in Debut, a system of connected LED luminaires and multimedia displays designed for retailers looking to reinvent the fitting room. While retailers see this technology as a way to offer a unique, improved customer experience and increase in-store sales — a growing challenge in the world of online shopping — it was our corporate technology's research and innovation labs team in Beverly, MA that delivered a real-world application built on the concept of lighting in the cloud.
Lighting purchasing and design decisions can involve everyone from architects and electrical contractors, to distributors and designers, to end users and building owners. Recently developed technologies, especially in the facility management space, are broadening that scope even further. Much of the new language we need to learn stems from the increasing convergence of different building technology industries — smart HVAC technologies meet lighting and energy management systems, for example. Ultimately, this convergence stands to redefine best practices for sustainable facility management, but the key to making the whole greater than the sum of its parts will be "speaking each other's language."
Beyond innovation redefining lighting solutions, and on top of technology reshaping our vocabulary, SSL has us all taking a hard look at our current business model. We used to sell lamps, ballasts, and controls, but in order to deliver the technology and the value customers are looking for we need to sell lighting-as-a-service. That means instead of simply buying products, customers would work with our Sylvania Lighting Services division to sign long-term, performance-based contracts that include product installation and maintenance for the length of the agreement. The industry has already seen successful applications across the globe, because it lowers the initial cost barrier while providing expert maintenance to ensure that the system performs as promised.
Looking back on LFI, I can say the experience was nothing short of inspiring. The future of the lighting on display in Las Vegas is happening in R&D facilities across the world, but it's also on display now at places like MetLife Stadium in East Rutherford, NJ, where over a mile of Traxon Technologies' LED luminaires around the top of the stadium operate in tandem with a solar panel installation, generating nearly 25 times the electricity needed to power the integrated lighting system. Light is imagining the possibilities and making them a reality.