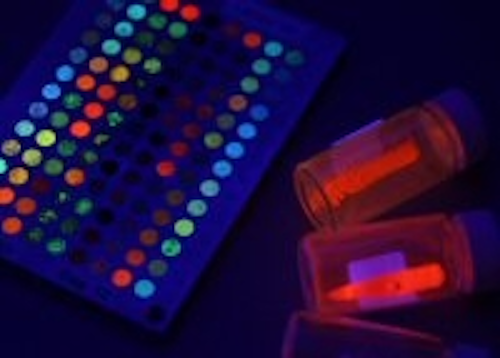 Siemens discovers dark-red luminescent material for warm LED light
Researchers from Siemens Corporate Technology and Osram have discovered a new "dark-red" luminescent material for LEDs. The phosphor, described as "stable" (although further details are not available), is an oxynitride that apparently emits at a wavelength of up to 30 nm longer (deeper red) than other materials.
The material was developed by Siemens researchers using a High Throughput Experimentation (HTE) technique, which enables automated evaluation of different material combinations, rather than testing them by hand. The researchers analyzed over 660 sample variants from twelve different material combinations over a period of just a few months to determine emission wavelength, light intensity, and structural phases (view press release).
Mouser signs several distribution agreements
Mouser Electronics, Inc. has recently signed distribution agreements with three manufacturers of LED-related products, namely LedLink Optics, Inc., The Bergquist Company and Illumitex, Inc.
Taiwan-based LedLink Optics, Inc. specializes in the manufacturing of high-quality secondary optics for high-power LEDs and is an official optical solution partner for Cree, Osram Opto Semiconductors, Seoul Semiconductor, and other leading LED manufacturers.
Bergquist is a leading developer and manufacturer of thermal-management materials, including Thermal Clad and thermally-conductive insulated metal substrate (IMS) circuit boards designed to replace conventional FR4 PCBs in LED applications.
Illumitex develops and manufactures HB-LEDs with optics integrated at the die level to provide more energy- and space-efficient illumination in general-, architectural- and horticulture-lighting applications.
Greenlux Finland Ltd signs LED luminaire deal with Fagerhult
Greenlux Finland Ltd, a Finnish lighting-design firm and producer of LED luminaries, has entered into an agreement with AB Fagerhult, the largest company in the lighting industry in the Nordic Countries. Greenlux will deliver LED luminaries suitable for general lighting to Fagerhult, and these will be sold under the Fagerhult brand name.
Initial applications for the luminaires will include car parks, warehouses and cold-storage facilities; these are applications for which Fagerhult, a 2000-employee company, has not previously had its own LED models.
Greenlux has delivered more that 10,000 units of its GLG series luminaries for car parks and industrial sites such as warehouses and maintenance and logistics hangars. The company claims to hold the leading market position in car-park LED lighting in Sweden. Greenlux's press release gives more details of the company and the projects it has been involved in.